No One Works Harder to Keep Guitar in the Nashville Sound than Lindsay Ell.
The Canadian country star talks Strats and touring with A-listers.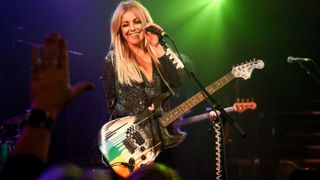 (Image credit: Rich Fury/Getty Images)
Country artist Lindsay Ell made a big statement when her major label debut album, The Project (Stoney Creek), landed on Nashville's Music Row in 2017. In "guitar town," where some of the most capable guitar-playing stars have session pickers play on their records, Ell challenged the status quo by writing, singing and playing her own songs and solos. On the cover, she's pictured holding one of her Stratocasters.
"I felt like it wouldn't be my record if I didn't play on it," she says. "Playing guitar on my record is so important. It's the other half of the song."
A native of Calgary, Alberta, Ell started out on piano but switched to guitar after hearing mainstream country stars like Shania Twain. She quickly fell in love with her new instrument and the playing of Chet Atkins and Tommy Emmanuel. While in her teens, Ell dove into blues and put together her first band. She also received mentoring from fellow Canadian Randy Bachman of the Guess Who and Bachman-Turner Overdrive.
Intense woodshedding and gigging three to four nights a week led to her landing the opening spot on a Buddy Guy tour, where the 18-year-old watched the blues legend every night. On the second night of the tour, he called her out from side stage to play.
"I walk out onstage and he's like, 'Honey, we're in G.' And then we just took off," Ell says. "It was a moment I'll never forget. He brought me out onstage every other night of the tour after that."
Electric guitar has been Ell's ace ever since. After moving to Nashville, she melded her twin loves of country and blues into an infectious hybrid that has yielded songs like the number-one hit "Criminal," and led to tours with impressed A-listers like Keith Urban and Brad Paisley. Today, no one works harder to keep guitar in the Nashville sound than Lindsay Ell.
Your music blurs the lines between mainstream country and blues rock. When did you get the idea to merge those styles?
I listened to so many amazing female country artists growing up. They were my idols when I was 10 years old, when I started writing songs. Then my love for guitar brought my mind in a completely different direction. When I moved to Nashville, it brought me back to those country roots. I was able to fuse those worlds together.
Your song "Criminal" was a huge country hit, but when you perform it live you've got an extended solo that you play at the beginning. It's such a different take on it.
I love that I can extend intros and outros and just take the show to different places. I understand that every song on an album, especially for radio, can't be eight minutes long, but in a live show that's doable.
You've toured with Keith Urban and Brad Paisley, and you got to play your own set and then do guest spots with them. What's been your favorite collaboration so far?
Brad is such an incredible guitarist. It was almost frustrating watching him play, because he would never make a mistake. We got to sing his song "Whiskey Lullaby" every night and go into this epic Pink Floyd solo at the end. It was really cool to watch Brad and Keith spend so much time every day in soundcheck perfecting their guitar solos. They were changing things all the time.
When Keith asked me to play on "Horses" [from his 2018 album Graffiti U], it felt completely surreal. And then to be able to tour with him and play it onstage every night has probably been one of the coolest collaborations I've ever been a part of.
You're associated with Strats, going back to the one you're holding on the cover of The Project.
Totally. I really love the sound of single-coils in a Strat. I typically have been playing a lot of American Standards. I have a couple of American Professionals with the humbucker in the bridge position, which have been fun to play around with.
I've been painting a lot of guitars, and some of the ones that I paint are completely simple, standard Mexican Strats. I have a slew of Strats that I normally bring out with me, everything from models that are kind of expensive to some that are $300.
In 2018, you released The Continuum Project, a song-for-song cover of John Mayer's album, Continuum. How did that come about?
In my first meeting with [producer] Kristian Bush, he asked, "What's your favorite album of all time?" And I said, "Well, it would be Continuum, by John Mayer. I love it. I listen to it all the time." And he said, "Perfect. I want you to clear your schedule for the next two weeks and record the whole record front to back."
It was the most eye-opening experience for me to pick apart every element of that record and realize that there aren't 20 instruments coming in and out of sections, and big, crazy arrangements. It was a true lesson in "less is more."
My version wasn't going to be released – it was mainly just for me to click into my own brain. Eventually, fans were like, "We wanna hear this. We wanna hear your take on Continuum." So we decided that we'd just release it. And it was not perfect by any extent. It was just the raw files that I'd recorded in my little home studio.
What other lessons did you learn from doing that?
It helped me see that John plays certain guitar parts with such intention. And I think I found that there's a deeper level of learning involved when you're studying something to record it, rather than to play it live. You learn how to approach a note – how it's bent, or the position that it's played in.
Click here for information on upcoming Lindsay Ell shows.
Listen to Lindsay Ell's latest album – heart theory – here.
All the latest guitar news, interviews, lessons, reviews, deals and more, direct to your inbox!
Jim Beaugez has written about music for Rolling Stone, Smithsonian, Guitar World, Guitar Player and many other publications. He created My Life in Five Riffs, a multimedia documentary series for Guitar Player that traces contemporary artists back to their sources of inspiration, and previously spent a decade in the musical instruments industry.