Nili Brosh on Nylon-String Excursions, the Joy of Stylistic Detours and Why You've Got to Trust the Song
Nili Brosh plays tour guide through a range of musical styles on her new album, 'Spectrum.'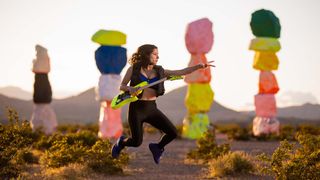 (Image credit: Future)
When Nili Brosh assaulted the stage during last year's Batten-Menn-Brosh concert in San Francisco, she was like Wonder Woman leading the Justice League and the Avengers into a ferocious battle against every supervillain on the planet.
Her loud, take-no-prisoners tone seemed to engrave each note she played deep into the walls of the auditorium. Her melodies demanded attention, whether they were aggressive and edgy, or supple and lovely.
Every song had grand, climactic moments, many shaped by impossibly fast whirlwinds of sound. From the frenzied reactions that night, it was obvious the crowd was in awe of a commanding musical force. The hero saved the day. The vile hordes were vanquished.
But Brosh's superhero persona, as powerful and impressive as it is, takes a knee on her new album, Spectrum (Nili Brosh Music). In her place are the storyteller, the traveler, the conjurer of moods, landscapes and experiences.
As a result, much of Spectrum may come as a surprise to those who desire a pummeling by the conquering warrior of Brosh's trio performances with Jennifer Batten and Gretchen Menn. Never fear - the depth, diversity and dynamics presented on this album are no less compelling.
The expansive compositions display an impressive range for someone who initially won over audiences as a fiery, instrumental electric guitarist. Spectrum is a journey, not a cage match, and those willing to dive in will experience a Nili Brosh who can still punch like a demon, but who can also make you sob with the power of her music's beauty.
The album's travelogue begins with "Cartagena," a kind of caminar por la calle (walk down the street) in an Andalusian town. It's a buoyant frolic of driving grooves, nylon-string runs and clean electric figures.
Then there's an invitation to a Romani wedding - where an accordion voices many of Brosh's melodies - an afternoon in Paris and a placid jazz lunch, before the expedition veers into overdriven and prog-style electric scores that feature all the guitar heroics you'd expect from her.
Spectrum is reminiscent of '60s albums by guitar greats such as Chet Atkins, where the players "visited" other countries, other cultures and other genres to expand their unique voices. Brosh composed all of the record's tracks, so the music focuses not only on her exceptional facility as a player and interpreter but also on her songwriting chops.
The scenic trek of Spectrum gives fans full disclosure of Brosh's varied talents as they stand today, from the charming to the belligerent, so don't just pick and choose individual tracks to stream or download - do yourself a favor, schedule some mental travel time and absorb the entire album from start to finish. Bon voyage!
What inspired your decision to navigate so many different styles on the album?
It wasn't a conscious decision at first. These were just the songs I had in my head, and it seemed like they made sense to be performed in different styles. I wasn't even sure if they would all fit in on the same record.
But then I realized that all of these genres, or colors, had at least one element in common with another genre, and I wanted to weave those commonalities throughout the album. I found that I could arrange the compositions where every song would have something from the song that came before it, as well as connect to the next one after it.
I wrote out a lot of different lists and ideas of how things could move from one song to the next. I realize it's a subtle thing that maybe only myself as the composer notices, but that's how the concept became clear to me. I was directing elements to echo past songs or foretell the next.
Can you give some examples of how you devised these elements?
Well, it could be something sonic. On "Djentrification," I have a mix of metal guitar tones, real drums and some dance-percussion stuff that prepares the listener for the metal song coming up next.
"Rachel in Paris" contains a more subtle musical example, where the song's Parisian theme also includes guitar parts that sound proggy. I'm saying, in effect, "Here's what is coming later."
Then, there's an obvious evolution of guitar sounds, because the record starts out with a classical guitar, then goes to a clean electric guitar and finally to a distorted guitar.
So you developed these narrative clues throughout the record to take listeners on an unfolding adventure. If you're the tour guide, where are you taking us, and why?
I guess I'm taking you through a journey of… It's hard to figure out a way to put it. I guess the point is that I feel all music is the same. The genre doesn't matter. You can put a bunch of different styles together and still have a cohesive listening experience, because it all works as music.
Of course, the sequencing of the tracks became very important, because the song order had to make sense for the flow of the album.
There was a lot of thought put into designing musical commonalities and ensuring the album sequence takes listeners on a journey. Would it be a bummer if people downloaded individual songs and missed the opportunity to experience the whole album played one song after another as you intended?
That's a good question, and I'm not sure I have an answer, other than trying to tell people, "Hey, it's a concept album. Try and treat it as such." There's only so much you can do to push listeners to embrace your concept.
I mean, even if people see the album as simply a collection of different songs, I hope they will still accept it. I'm happy enough with the individual pieces, so however listeners approach the album, I'd like to think I can get away with it. [laughs]
You start the album with classical guitar pieces. Did you have to woodshed to get the parts under your fingers convincingly, or are you always practicing myriad styles so that you're ready to play almost any style at any time?
Unfortunately, it wasn't like that. Playing nylon-string guitar is not something I really dabbled in much before. But when those melodies came to me, I was not going to perform them on electric, because that was not what the music was asking me to do.
So if that meant I had to woodshed on an instrument I was not familiar with in order to get my technique to a point where I could record the part well enough - if that process took a certain amount of time, then it took that time.
It wasn't like I was only considering styles I already knew how to play. Everything on the album started with an idea, and then I had to answer the question of how best to serve the music.
Did it freak you out to record classical-guitar pieces when you're not a practiced classical player, or did you trust in the technique you have in order to sell the melodic ideas?
Obviously, I'm not a classical guitar player, and I'm not trying to sell anybody on that. I can only hope my years of experience can help me perform the songs on nylon-string in a way that's somewhat authentic.
I did have some constructive criticism from trusted musician friends about classical technique, but it was definitely more about getting the melodic ideas across as best as I could. That was really all I'm concerned with.
Recommended Listening
Nili Brosh – Spectrum
"Andalusian Fantasy," "Retractable Intent," "Primal Feels," "Solace," "Djentrification"
With all those styles, vibes and feels on the album, did it take an entire armory of gear to get the sounds across?
Not at all. It was mostly my usual rig. The guitars were an Ibanez RG550, an Ibanez RG1527, an Ibanez RG2727, an Ibanez AS93 semi-hollowbody and a Cordoba GK Studio Negra classical guitar.
The amp was my Peavey JXS head into an Egnater Tourmaster 212x. As far as signal processors, I used a DigiTech Whammy on "Djentrification" and "Resistance Piece," but all other effects, such as reverb or chorus, were added in the mix.
Do you generally go pretty light on effects?
Yes. I consider my main lead tone as my voice. From there, if Alex [Argento, Spectrum's co-producer] or I felt a song could use a little something else, then we'd consider enhancing my tone with an effect. I've never been heavy on effects. There has to be a pretty specific situation for me to go, "Oh, that flanger sounds neat."
Spectrum is your third album. Do you keep an informed eye on the marketplace and study what other guitar instrumentalists release in order to learn from their mistakes and successes?
I try not to consider what other people are doing. I have my own musical priorities, so usually I'm just going to do what I'm going to do. I think if you focus too much, or too competitively, on what other players are doing, you'll get bogged down with too many opinions and ideas that will not serve the needs of your artistry.
Instead, I look inward, I search for melodies based on what I hear in the world, and I try not to overthink things. Rather than worry about other players, I trust the song will tell me what it wants me to do.
Nili Brosh's Spectrum is out now via Nili Brosh Music.
All the latest guitar news, interviews, lessons, reviews, deals and more, direct to your inbox!