How Matthew Sweet Wrote "Evangeline"
With a virtuoso solo from Richard Lloyd, Sweet's breakout hit is a six-string tour de force.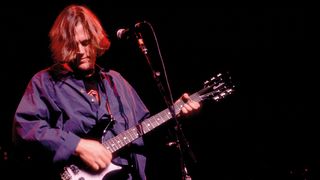 (Image credit: Paul Natkin/WireImage)
By the start of the 1990s, Matthew Sweet had released two critically acclaimed albums, 1986's Inside and 1989's Earth, but commercial success eluded him. That changed with the release of Girlfriend, issued in 1991, which established him as an alternative-rock star.
The album cracked the upper half of Billboard's Top 200, and its zippy title cut hit number 10 on the Mainstream Rock chart.
A veritable guitar-lover's paradise, Girlfriend features bravura six-string work courtesy of Sweet, Lloyd Cole, and Ivan Julian, along with stunning solos performed by a pair of virtuoso aces: Richard Lloyd, formerly of Television, and the late Robert Quine, known for his work with Lou Reed, Brian Eno, and Richard Hell and the Voidoids.
Among the album's many gems is the pop-rock masterpiece "Evangeline." Although never released as a single, the song became a calling card for the guitarist and a signature tune from his early career.
Down To Drop D
At the time that he was writing songs for Girlfriend, Sweet's main guitars were Fender Jazzmasters and Strats, but he had been reading about drop-D tuning and wanted to try it. "It didn't work so well with whammy-bar guitars," he says, "but I found that my '56 goldtop reissue held the tuning perfectly, so I started playing around with it. I thought it sounded cool and was very unlike other things I was doing."
While playing in drop-D one day, a riff appeared, and Sweet started singing along to it. "It all happened pretty easily," he says. "In that way, it was one of those songs that came out of nowhere." Just as quickly, he began to incorporate lyrics inspired by the title character from the comic book Evangeline.
"She was this scantily clad kind of babe who's a warrior on behalf of God, so there was this weird mix of religion, violence, and sexuality," he explains. "I grew up Roman Catholic, but I was pretty much an atheist by the time I was writing the songs on Girlfriend. I sort of lashed out at God a little bit on the record. In 'Evangeline,' the guy is basically saying, 'Forget about God and come be with me.'"
Sweet wasn't too familiar with the work of Neil Young and Crazy Horse at the time, but when he sent a demo of songs for Girlfriend, including 'Evangeline,' to Russell Carter, his manager, the reaction was effusive. "He said, 'You sound like Crazy Horse!'" Sweet recalls him saying.
"Russell then sent me cassettes of Crazy Horse, and I was like, 'Oh, my God. This is the best stuff ever.' It was all subconscious on my part. I wasn't necessarily going for that sound, but it was there."
Setting Lloyd Loose
In the studio, Sweet and co-producer Fred Maher stayed true to the song's demo. "As opposed to 'Girlfriend,' which had a lot of stops and starts, 'Evangeline' was pretty straightforward in terms of arrangement," Sweet recalls. He played the main rhythm on his goldtop through a 20-watt Marshall. For the snaky lead lines that punctuate much of the track, he handed Richard Lloyd his Jazzmaster.
"That's when things got a little funny," he says. "I wanted these repetitive melody lines exactly how they were on my demo, and Richard got frustrated. So I would play the parts myself on the Jazzmaster, and then I'd hand the guitar back to him and he would play the sections that sort of answered them. We went back and forth."
For the knockout solo, Sweet let Lloyd run free. "I remember for this solo, and the one Richard played on 'Divine Intervention,' I was just blown away," he says.
"Everything he played was so forceful and spirited. Sometimes you do multiple takes of a solo, and you either pick one or do a comp and use tiny pieces of all of them. I think everything Richard played was a one-take deal. There was no reason to second-guess it."
Like many of the songs on Girlfriend, "Evangeline" is notable for its lack of reverb and the manner in which guitar parts are panned either hard left or right.
"I was super into Revolver," Sweet recalls. "I remember listening to it on headphones as a kid and being knocked out by the way a guitar would burst out of one side of my head. Going hard right or left made the tracks really stand out."
"Evangeline" was so infectious, it probably didn't matter how it was mixed. The song remains a staple in Sweet's live set to this day. "Very infrequently we won't play it live," he notes, "and whenever that happens, people complain. It's a real fan favorite, and for a lot of people it sort of sums up the album and a particular time."
All the latest guitar news, interviews, lessons, reviews, deals and more, direct to your inbox!
Joe is a freelance journalist who has, over the past few decades, interviewed hundreds of guitarists for Guitar World, Guitar Player, MusicRadar and Classic Rock. He is also a former editor of Guitar World, contributing writer for Guitar Aficionado and VP of A&R for Island Records. He's an enthusiastic guitarist, but he's nowhere near the likes of the people he interviews. Surprisingly, his skills are more suited to the drums. If you need a drummer for your Beatles tribute band, look him up.