Les Paul: "I Invented Multitracking, So I Know You Can Record Parts Separately, but I Don't Do That... A Song Has to Have One Feeling – When You Punch in, You've Got One Feeling Over Here, Another in the Middle, and Something Different Near the End"
The late guitar pioneer discusses chasing the perfect sound (even at 90 years old), reading a story to audiences through his playing, and the unparalleled beauty of one magnificent note in this 2005 GP interview.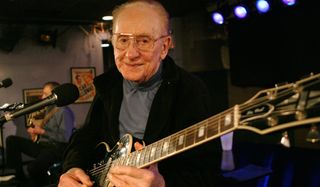 (Image credit: Andrew Harrer/Bloomberg/Getty Images)
The following interview originally appeared in the December 2005 issue of Guitar Player.
He's our Frank Sinatra, but with all the transcendent talent and none of the cheesy Rat Pack antics. He's our Leonardo Da Vinci, Babe Ruth, Laurence Olivier, and Inspector Gadget all rolled up into one mortal coil chock-full of mischief and wisdom, and the fact that he plays damn brilliant guitar, invented multitrack recording, developed the modern solidbody electric, and lends his name to one of the all-time great guitar models is almost too much to bear, because God put him here in our lifetime, and we probably don't deserve such good fortune.
Les Paul.
Even his name is magical.
Paul celebrated his 90th birthday this year, and he didn't just sit around like a legend and collect awards. He spent his 90th year doing what he has always done, which is work like a demon. First of all, there's his weekly residency at New York's Iridium Jazz Club, where he plays two sets (8 pm and 10 pm) every Monday night – as well as a smattering of tour dates.
He also finished a limited-edition, signed, and numbered autobiography, Les Paul in His Own Words, and released Les Paul & Friends – a duets album pairing the guitar giant with talents such as Eric Clapton (with a virtual Sam Cooke on vocals), Keith Richards, Steve Miller, Buddy Guy, Jeff Beck, Billy Gibbons, Peter Frampton, Sting, Kenny Wayne Shepherd, Neal Schon, Rick Derringer, Edgar Winter, and Joss Stone.
And if all this wasn't enough, the ever-youthful sprite proved that he can still burn. At a June 19 "All for Paul" birthday celebration/concert at New York's JVC Jazz Festival, an obviously jubilant Paul commanded the bandstand like an affable general, cracking jokes, cajoling guest stars, and charming the Carnegie Hall audience.
But just when you'd start to think that the master was buying time with all the jawing – that he was tired, and his arthritis was forcing him to abandon the fretboard – he'd uncork a beautiful waterfall of melody or a rapid-fire modal run that would cause your mouth to drop open in awe. And it wasn't that you didn't expect such fire from a 90-year-old man – although that was part of it. It was more that the dude just smoked you with a ferocious schooling of transcendent guitarcraft. Legends are like that. The good ones, at least.
Les Paul on Sound
"Some of it is built into your head. In your mind, you have the sound you would crave to hear, but there are a million variables: the pickup that's capturing the sound of the string, the amplifier and whether equalizers are involved, the sides of the speaker cabinet, the speaker itself, where you place the amp in the room, how large or small the room is, and whether you're hearing the sound coming at your head or whether it's going between your legs.
"Then, you might want an exaggeration of certain sounds within the spectrum that you're playing. You may want a boost on the fourth string or the third string. You can spend a lifetime on each individual sound that you wish to create, and there are so many variables that you'll be chasing a sound that you'll probably never find. I'm 90 years old, and I've never found it yet. What I did do is find the best sound for a particular moment."
On Picking Your Tone
"When you pluck that string, you have a choice of playing it at the neck, or near the middle of the guitar, or bringing it two-thirds of the way down toward the bridge, or picking it right at the bridge. You have a choice of picking it hard or very light. You can either fan it or you could beat it, okay?
"Now, if I'm playing a sweet song, I'm going to pick that string where I get the softest, sweetest, most caressing sound I can get. But if I want this thing to come down bang with a hard percussive sound, then I'm going to pick it back by the bridge. I would never, however, pick near the middle of the string. That's a clothesline – it's half the length of the string!
"So how do you figure out where to pick when you're playing a song? Well, let's say you want to express the deepest, roundest sound that you can get. Now, what is better than white? And what's the most extreme difference from white? Black. So what you do is pick the note where you got white, pick it where you've got black, and put it where you've got gray. This how you paint a picture with your ear."
On Entrancing an Audience
"When I play a song for an audience, I'm reading a story to them – a poem – and I'm trying to transmit to them what I feel. But a live audience isn't like someone at home listening to a CD. A live audience can hear you and they can see you. So now I have two things to transmit to them: my playing and my actions. If I look like I'm angry, or bored, or careless, it will affect the audience's reaction to what I'm doing.
"Now, I also have to notice how intensely the audience is listening to me. If you send it out, you should get it back. But maybe someone is out there saying 'Look, I'll pick up the check,' or 'Let's eat,' or 'Who was that chick you were with the other night?'
"If you lose your audience, it's because you're not giving them the information they wish to hear. You have to treat that audience as one person – not 100 or 1,000, or 500,000 people – and have a one-to-one conversation. Man, they learned that during vaudeville, and it hasn't changed now.
"Whatever you do – whether it's jazz, rock, or hip-hop – you've got to capture that audience and sell them on this product that happens to be a song. The audience is your jury, and if you shoot too high, you'll kill the bird. If you shoot too low, your feet will be with the fishes. So you've often got to shoot right down the middle. You have to take care of the guitar players in the audience, and you have to take care of their mothers!
"You know, it's easy to get on stage, but it's tough to get off. I mean, no one is going to boo you when you first appear, but when you're about to leave, you'd better have a good ending. The most important part of your performance is having a damn good exit."
On Ego
"When I was in my prime, I had the choice of playing the guitar as fast as anybody could play the guitar, or I could pick one beautiful note. I think too many players destroy a song by playing a lot of notes. You may have practiced a run for 25 years, and it's perfect, glass, and awesome, but that big blur of notes absolutely kills the warmth and beauty of everything you've played previously. It drives me crazy when a guy is playing a beautiful melody, and then he ends the song with a mess of garbage.
"What you learn in recording is: If it doesn't have to be there, don't put it there. But that's hard, because a player has an ego, and the ego wants to show off how great you are.
"What you need to develop is the wisdom to put the technique where the technique belongs. Where does it belong? It belongs with the number you play to show off your technique! The best idea is to think of a song as a picture – like the Mona Lisa. The frame has to enhance and complete the picture – it can't be too gaudy or too busy, or take anything away from the image itself."
On the Beauty of One Magnificent Note
"I once asked [guitarist] Jimmy Rosenberg what was the toughest thing in playing the guitar, and he said, 'Slow.' He said ballads killed him, because it's so difficult staying with one note. Now, that's true. All you need is one note, but the trick is finding the right note – a note that sparkles like the Hope Diamond, and with all this air around it.
"I've never forgotten hearing Count Basie one night out on the West Coast. He was in a wheelchair, and they pushed him up this ramp, and got him seated at the piano. All of a sudden, the band breaks, and Count Basie's hand comes down, and he hits one note. Now, that was the most precious note I've ever heard, and it laid me flat out. So, you know, you can have all the talent in the world, but it has to be controlled – like a racehorse."
On Making Records
"I never walk over to a recording machine until I know what I'm going to do. I don't expect the machine to create a hit, because it only records what I have to say. This means I know what I'm going to do in the song's intro, I know the tempo I'm going to play it in, I know what I have to say, and I know I have to say it in so many minutes and so many seconds.
"I know how the song is going to start out, and how it's going to end. I know where it has to build up. I know the microphones I'm going to use, and I know the arrangement, and the instrumentation. And, with me, it's from beginning to end. I invented multitracking, so I know that you can record parts separately and punch things in, but I don't do that. My thinking is that a song has to have one feeling, and when you punch in, you've got one feeling over here, another feeling in the middle, and something different near the end.
"When you piece it together, that's what comes out – pieces. The feeling doesn't flow. Now, I'm not saying that you shouldn't punch in if you missed a note – I'm just saying that, generally speaking, a song sounds better and more alive as a continuous performance of how you're feeling."
On Staying Young
"I'm learning all the time, and I anxiously learn new things to do, and new things not to do. There's no such thing as stopping learning unless you just cut off – you know? If your antenna just falls over, you're not going to pickup the station. But, as far as I'm concerned, my antenna is up, and I've got 50,000 watts."
All the latest guitar news, interviews, lessons, reviews, deals and more, direct to your inbox!