Lee Ritenour Details His New Album, 'Dreamcatcher,' on the 'No Guitar Is Safe' Podcast
"Captain Fingers" relives some of his most memorable sessions, and shares the inspiration behind his captivating new solo album.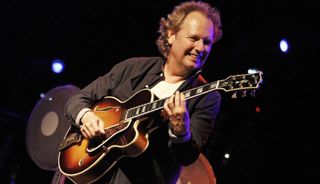 (Image credit: Frank Hoensch/Redferns/Getty Images)
With a Yamaha NCX5 acoustic/electric nylon-string in his hands throughout, Grammy-winning guitarist/composer Lee Ritenour plugs in on episode 130 of the No Guitar Is Safe podcast and treats listeners to a ton of tasty guitar playing.
"Captain Fingers," as fans have called him since the '70s, also relives memorable recording sessions with Pink Floyd, Barry Gibb, the Brothers Johnson, and Quincy Jones, and shares the inspiration behind his captivating new solo album, Dreamcatcher.
"The backstory on Dreamcatcher," says Ritenour, "comes from me realizing that while I had done many different albums throughout my career – group albums with Fourplay, collaborations with Dave Grusin, millions of sideman sessions and even Six String Theory, the album I did that also featured Slash, Steve Lukather, Robert Cray, B.B King, John Scofield, and other notable guests – I had never done a true solo guitar record. Since I was a teenager, I've always played in group settings and never thought of myself as a solo performer."
Over the years, however, Rit's bandmates pointed out to him how they liked the artful way he would lead into and out of, or transition between, songs on stage by playing interesting solo passages on the guitar.
Perhaps it was their encouragement, the pandemic-induced lockdown of 2020, or a mood of reflection on Ritenour's part after he lost his Malibu home, home studio, and approximately 100 guitars (nearly all the instruments he owned) in the Southern California fires of 2018 – or all those reasons combined – but that solo album, Dreamcatcher, is finally here.
Some tracks ("Starlight" and "Low & Slow") are performed on solo baritone steel-string acoustic, while others ("Couldn't Help Myself" and the album's title track) find Ritenour stacking two or more guitar parts. An improvisation-heavy three-movement solo-guitar epic simply called "2020" closes the record.
If there's one track that embodies the spirit of Dreamcatcher however, it might be the distorted, melodic musings of "Abbot Kinney." Performed on a Les Paul that former Gibson Custom division operations manager Mike McGuire built for him – one of just seven or so guitars Ritenour was able to shove into his car before the fire engulfed his home a few hours later – the song was inspired by a moment early in 2020's lockdown.
That moment came on a mid-March day when Ritenour – who, like most artists, had just had all of his touring canceled – got on his bike and went for a ride. He found himself in Venice, cruising down Abbot Kinney, the normally bustling stretch of hipster cafés, shops, and restaurants GQ magazine once called "the coolest block in America."
The sight that greeted Ritenour on this day, however, was surreal: Block after block, Abbot Kinney was a ghost town. "It's one of the most popular streets, usually super busy," says Ritenour, "but there were no cars, no people and everything was closed up. It was depressing, because you're sitting there thinking, From here to New York to Paris, this is the way the whole world is right now, and musicians everywhere are out of work.
"All of the sudden, from some apartment above me, there was somebody rocking out on guitar, and they had it turned it up to 10. Whoever was playing maybe didn't have the same impression I had, but, to me – hearing that guitar echoing up and down the empty storefronts of Abbot Kinney – it was like God was playing the guitar.
"It just brought this huge smile to my face, and I couldn't get that image and sound out of my mind. It had lifted my spirit. So when I got home, I grabbed my Les Paul, plugged it through my Strymon Iridium straight into Logic, added some basic effects and recorded 'Abbot Kinney.'"
Thanks to NAMM's Believe In Music Week for presenting this interview with Lee Ritenour. You can check it – and all 100+ other episodes of No Guitar Is Safe – out below, or on iTunes, Spotify, Google, or wherever else you get your podcasts.
All the latest guitar news, interviews, lessons, reviews, deals and more, direct to your inbox!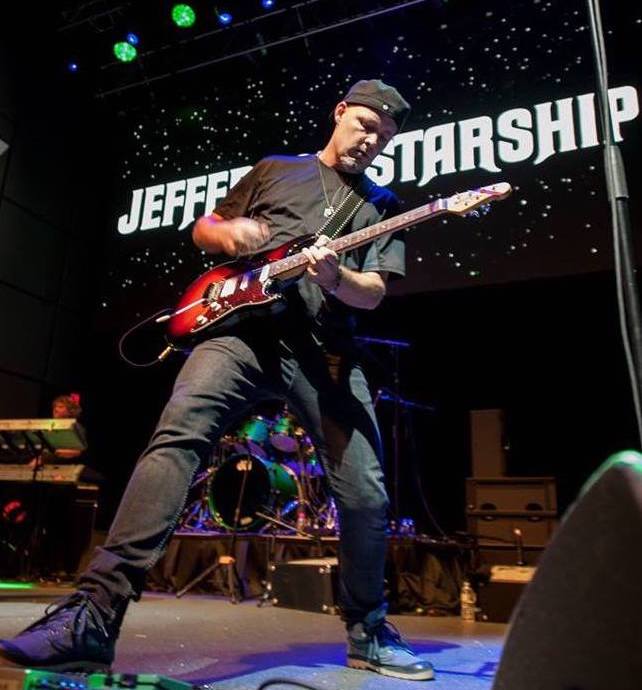 Los Angeles Editor, Guitar Player
Whether he's interviewing great guitarists for Guitar Player magazine or on his respected podcast, No Guitar Is Safe – "The guitar show where guitar heroes plug in" – Jude Gold has been a passionate guitar journalist since 2001, when he became a full-time Guitar Player staff editor. In 2012, Jude became lead guitarist for iconic rock band Jefferson Starship, yet still has, in his role as Los Angeles Editor, continued to contribute regularly to all things Guitar Player.
Watch Jude play guitar here.