Larry Carlton: My Career in Five Songs
"Oh, yeah, I played on that." Larry Carlton recalls his favorite sessions with the Crusaders, Joni Mitchell, and Steely Dan.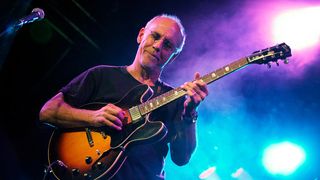 (Image credit: Engelke/ullstein bild via Getty Images)
Every so often – and, actually, more often than not – Larry Carlton will be out and about and he'll hear… Larry Carlton. "I'll be at the supermarket with my daughter, or maybe we'll be at a shopping mall, and I'll hear a song and go, 'Oh, yeah. I played on that.' It's always a funny kind of feeling, but it's nice, too, especially when the song sounds fresh."
During the 1970s and into the '80s, Carlton distinguished himself as one of the undisputed kings of the West Coast studio session scene. "I was the newcomer in town just as a lot of the Wrecking Crew players were moving on to other things," he recalls. "I worked with a lot of them at the start of my career, but I never became part of the fold."
In his time as a studio guitarist, Carlton logged 15 and sometimes 20 sessions a week, appearing on records by the likes of Steely Dan, Joni Mitchell, Michael Jackson, Herb Alpert, Andy Williams, the Fifth Dimension, Linda Ronstadt – even the Partridge Family. And there were TV and film scores, too, such as his Grammy-winning performance on Mike Post's "Theme from Hill Street Blues."
"I don't know the exact number of records I played on," he says. "We did an estimate of 3,000, and I'll stick with that. I was very fortunate." Carlton credits his ability to keep a cool head and stay focused as one of the secrets to his success in the studio. But there was one session that rattled him.
"Just as I was getting going, I was called in to play for Quincy Jones," he says. "This was when he was scoring Fat Albert and the Cosby Kids. I was young and felt a little intimidated to be working with Quincy.
"I played my guitar part, and Quincy said, 'Okay, take the flute part.' He started redistributing everybody's roles: 'You play this guy's part,' and so on. I played the flute part, and I left the session with my tail between my legs. I didn't think I did so well."
Years later, Carlton ran into Jones and brought up the session. "I said, 'Man, I don't know how good a job I did for you.' Quincy looked at me and said, 'What are you talking about? I remember you did a good job.' I was so focused on me at the time, but Quincy was focused on the whole session. That was a learning experience for me: Never know what you're walking into. Expect the unexpected."
Throughout his celebrated career (which includes a two-decade tenure with the jazz-fusion group the Crusaders, as well as 33 solo recordings), Carlton has relied almost exclusively on the same Gibson ES-335 that he purchased in 1969. His long association with the instrument even earned him the nickname Mr. 335.
"It's the crown jewel," he says of the guitar. "I bought it out of the blue, and it's been real good to me." In recent years, he's partnered with Sire Guitars and started his own line of signature models built to his exacting specifications.
"They're great guitars, but they're also very affordable," he says. "A lot of guitarists can't pay $5,000 for an instrument, so I thought it was important to offer them great guitars for under $700. It's been very exciting for me, the idea of giving something back."
Here, Carlton shares memories of five favorite sessions – a tiny portion of his massive catalog.
"So Far Away" – The Crusaders, Crusaders 1 (1972)
"I joined the Crusaders right before we did this. I got a call to do a Friday night session for Donovan, and when I showed up, Joe Sample, the Crusaders' keyboard player, was already there.
"I plugged in and joined Joe on a downbeat he played, and right away we had a moment of musical communication. Monday morning my phone rang, and it was the Crusaders' office saying, 'The guys are in the studio starting an album. Can you come in and join them for the next two weeks?'
"They already had David T. Walker and Arthur Adams playing guitar on their sessions. I got there, and we recorded our version of Carole King's 'So Far Away.' Just by chance, I started to play parts using my volume pedal – I was just looking to fill the holes in an interesting way. The band loved it, and that sort of started my sound back then.
"I was a young guy, 23 years old. I loved jazz, but I was also a pop player. So there I was trying to play my jazz licks over some minor turnarounds and major-seventh chords. When I hear it now, I think I sound so young musically. But it was great. I locked in with the band, and we were off and running."
"Help Me" – Joni Mitchell, Court and Spark (1974)
"I was playing at [L.A. music venue] the Baked Potato with [saxophonist] Tom Scott, [drummer] John Guerin, and [bassist] Max Bennett. Tom was friends with Joni Mitchell, and one night she came in to hang out. After she heard us, she told Tom, 'I'd like to go in the studio with you guys.' It was that simple – probably an experiment on her part, just to see what would happen.
"Joe Sample played on this cut and the album, too. Joni didn't have a complete demo – just a cassette with her playing guitar and singing. Tom and I did takedowns as we listened to the cassette, and then everybody just grabbed a chord chart. Joni didn't offer directions, really; she let us develop our own parts.
"We spent an hour or so getting the form of playing it, and pretty soon after we had a take. I used my 335 through a Princeton Reverb. It was by instinct that I threw in that G major seventh after she sang the first line. It just went brrrring! – very simple. Nobody commented on it at the time, but it really worked. I think I had matured and was already thinking like an arranger."
"Kid Charlemagne" – Steely Dan, The Royal Scam (1976)
"I'm honored that people talk about this middle guitar solo so much. I thought it was good when I played it, but I didn't think, Yeah, I played the shit out of that tonight. When the record came out, there was a wonderful review of the tune in Billboard and they raved about the solo. I put the record on and listened to it with my wife, and at the end of it I said, 'I don't know. It just sounds like me.'
"We had recorded the rhythm track a month before, so when I showed up to do overdubs, Walter [Becker] suggested I play a Strat instead of my 335. We tried it for a few takes, and then he said, 'No, go back to your guitar.' He never said why. Maybe he thought I sounded more comfortable on the 335, more free, or maybe he just expected a different kind of sound.
"That was it as far as direction went. I think they liked to see what the guys might come up with before they started commenting. All they would really say was, 'Yeah, that's the right one. It's working man,' or 'Do another one.' I was pretty familiar with the tune, so I just improvised. People think I'm kidding when I say that, like I had worked the solo out beforehand, but I didn't. It was straight improv, and it worked."
"Room 335" – Larry Carlton, Larry Carlton (1978)
"A year before I did this song, I had played the rhythm parts on Steely Dan's 'Peg' for Aja. I did three sessions for 'Peg' with different drummers, but when they cut the master they used somebody else on guitar.
"But I loved the chord changes on that tune – D major 7th to C sharp minor seven plus five – so they were in my head. I was like, 'Wow, what a cool sound,' and that's what inspired me to write 'Room 335.' Neither Walter or Donald [Fagen] said anything to me about it.
"It was recorded live in my studio with [bassist] Abraham Laboriel, [keyboardist] Greg Mathieson, and [drummer] Jeff Porcaro. We had been playing the tune at clubs in North Hollywood, so we were feeling like a really tight unit. I got a really good sound on this one. I used my 335 through a Mesa/Boogie amp that I had bought when I was with the Crusaders.
"A guy showed up backstage before soundcheck and said, 'I have this new amp that just came out. You want to try it?' I did, and I bought it on the spot. It was a very simple amp – three knobs – and I put my settings all at seven. It was easy to remember, and it sounded great. It became the sound I liked for my 335."
"Smiles and Smiles to Go" – Larry Carlton, Alone/But Never Alone (1986)
"Until this record, I had never recorded an acoustic track. After four albums with Warner Bros., I was cut from their roster. One day I got a call from a producer I had worked with, Jimmy Bowen.
"He was starting a new MCA label out of Nashville with Tony Brown, and he said, 'We want to sign you. It's a musicians' label. Low budgets, but you can do whatever you want.' I said, 'Okay, Jimmy, but I don't know what kind of record to make.' He said, 'Well, have you ever done an acoustic guitar album?' I said, 'Well, no, but that's a thought.' It was that simple.
"I had been listening to a radio format that was big on the West Coast at the time, Quiet Storm. They were integrating some instrumental music with vocal music. So I got a feel for the programming and wrote a bunch of tunes with that kind of vibe.
"This song is a really fun one. I wrote it at the keyboard, but I'd never played guitar on it until the session. Ninety percent of the bass line is mine. I had some great guys on the session – Abe Laboriel, Rick Marotta on drums, and Terry Trotter on keyboards. I gave them the charts and said, 'Guys, we need to take a few minutes. I haven't put a melody on top of it yet.'
"But Abe heard this single-note piano melody that I had, and he said, 'Larry, that's your melody.' I had never played it on guitar before, so we did a couple of takes and that was it. I used a custom-made Valley Arts acoustic that was designed after a Martin 00-28. I played that guitar for years and years. Martins could go out of tune, but that Valley Arts guitar never did."
All the latest guitar news, interviews, lessons, reviews, deals and more, direct to your inbox!
Joe is a freelance journalist who has, over the past few decades, interviewed hundreds of guitarists for Guitar World, Guitar Player, MusicRadar and Classic Rock. He is also a former editor of Guitar World, contributing writer for Guitar Aficionado and VP of A&R for Island Records. He's an enthusiastic guitarist, but he's nowhere near the likes of the people he interviews. Surprisingly, his skills are more suited to the drums. If you need a drummer for your Beatles tribute band, look him up.