Kirk Fletcher Talks Strats, Influences and Finding Different Grooves for the Blues
On 'My Blues Pathway,' the California blues specialist pays back a debt to the forces that shaped his ferocious style.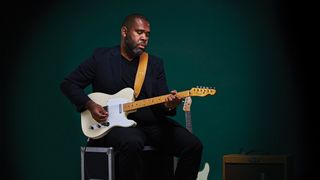 (Image credit: Future / Adam Gasson)
Armed with astonishing chops, great tone and an encyclopedic knowledge of blues styles (check out his YouTube demos to see him in action), Kirk Fletcher is a veritable force of nature who has played with the Fabulous Thunderbirds, toured with Joe Bonamassa and traveled the world, playing what he calls "the music closest to my heart."
On his sixth solo release, My Blues Pathway (Cleopatra Records), the Blues Music Award–nominated guitarist presents a selection of original songs that run the gamut from classic blues forms, such as "Struggle for Grace," "Heart So Heavy" and "D is for Denny," to the Memphis-style soul of "Love Is More Than a Word," the pop-savvy "Ain't No Cure for the Downhearted" (co-written with Robert Cray bassist and songwriter Richard Cousins) and the funky "No Place to Go."
"I wanted to try some different grooves on this record to make people realize there is other stuff besides 'Hoochie Coochie Man' and classic blues songs like that," Fletcher says. "That's why I included a few covers by some of my favorite blues artists, like A.C. Reed, Juke Boy Bonner, Chris Cain and Sonny Boy Williamson. This is the music that motivated me and gave me great inspiration.
"I owe everything to the blues," Fletcher continues. "Even before I was old enough to be in clubs, I would go out and see people like Denny Freeman, Robben Ford, Michael Landau, and all of these guys that really excited me. And now I feel it's my turn to, hopefully, excite some younger players into the things that swept me off my feet."
Tell us about your blues pathway and how it led you to join the Fabulous Thunderbirds and eventually go solo.
I started playing in my father's church when I was nine or 10 years old. My older brother played guitar, so I picked it up trying to be like him. Then I started playing with different bands, and that led me to this gentleman named Al Blake, who knew all the blues people, like Hollywood Fats, Jimmy Watson, Kid Ramos and all of the L.A. blues guys.
He introduced me to [Fabulous Thunderbirds frontman] Kim Wilson, and I played in his blues band for a couple of years. Then I joined Charlie Musselwhite and played with him for two years.
One day I got the call from Kim that the slot had opened up for me to play with the T Birds. I was with them from 2004 to 2007, and it was fantastic. Jimmie Vaughan is one of my favorite guitar players, and it was great to be in a band and playing the music that I love so much. But I wanted to spread my wings, and that's when I decided to start doing my own thing.
Where does your songwriting inspiration come from?
I think about the words first. I'm not one of those guys who comes up with a guitar riff or something. I get a line that intrigues me and try and build a song on it. I try to give a little bit of a message in there but still keep it simple.
I listen to everything from Merle Haggard to Shuggie Otis to Bobby Bland to country blues like Robert Johnson, Tommy Johnson or Peetie Wheatstraw. I try and always have this classic blues thing, where you say things in the classic blues language, married with something that's going on now. I just love that, for some reason.
So that's it with songwriting. It can be just one thing. Like, on this new record, the song "Ain't No Cure for the Downhearted" – that word downhearted made me want to talk about today's times and what I've seen over my time of playing.
You're adept at so many different styles. Who are your main influences?
I'm from the church, so I had blues, gospel and R&B influences, and then I also had rock and all of those things. B.B. King probably inspired me the most as far as blues guitar, and of course the old Chicago guys like Otis Rush, Buddy Guy, Magic Sam and people like that.
That being said, Larry Carlton and Robben Ford, with that lyrical and melodic style, really hit me hard, as did listening to Steely Dan records. So my style is like that '70s Laurel Canyon sound mixed with all the Chicago blues. That's kind of where I live.
How did you record this album?
I recorded it over Christmas last year, and we did everything live because of time constraints. I had to do a couple of tours: I went to Australia before the pandemic hit, and I had a little tour in the U.K., so I tried to do as much as I could live. Getting the whole performance from front to back is really cool, even if you have a little mistake or something.
Recommended listening: 'My Blues Pathway'
• "Love Is More Than a Word"
• "Ain't No Cure for the Downhearted"
• "Life Gave Me a Dirty Deal"
Tell us about the gear that you used.
I used a couple of different Strats, a blackface Deluxe Reverb and a Lovepedal Tchula overdrive, and that was it. My go-to live amps are an old Fender Super Reverb and a Deluxe Reverb. I also love tweed Bassmans.
Are your Strats old ones?
I own a couple of old Strats, but this time I used one with a custom-made body that I got right after high school. Basically, it's a rosewood-'board, alder-bodied Strat that's strung with .011s.
I also used a '63 Strat with a rosewood 'board, and I might have used a new Fender American Performer Strat. Also, I just started working with PRS, and I'm really excited about that. The PRS isn't necessary a blues guitar in the traditional sense, but that's fine.
People expect me to play a Strat or a Tele or a 335 or Les Paul, and I've played all of those. But this PRS McCarty 594 semihollow has a little of all of that. It's comfortable, and it's really in tune, and I can get split-pickup sounds, too. You can't fly with lots of guitars these days, so it's nice to have one guitar that can give me a lot of different sounds. It's a lot of bang for the buck.
The opening cut, "Ain't No Cure for the Downhearted," establishes right off the bat that this isn't a typical blues release. Tell us about that song.
"Ain't No Cure for the Downhearted" was marrying that type of old-school blues lyric with some more modern things. For the main part, I was inspired by this riff I heard Robben Ford play; it was a slow minor blues, and it's the one time I actually did have the music first. And then I had this other part that's the Temptations' "Papa Was a Rolling Stone."
I wanted to do something that wasn't rock but still had impact. Like, Otis Redding is not rock, but his music is as intense as anybody's. I purposely tried to do things that had a big impact without playing rock-blues or something like that.
You have Charlie Musselwhite playing harp on that tune. What did you learn from playing with him?
Yeah, my old boss. I started playing with Charlie in 2002, and he was the guy that really just let me play and find my own voice. He never really cared if I played it exactly like the record, or if it was traditional blues or whatever. He just wanted me to be free, because he'd played with all the legends and he wanted to hear what I could add. I really found my voice with Charlie.
One of the big contrasts here is "Love Is More Than a Word," which has that Memphis soul sound.
That song was conceived about two years ago and came from a conversation I had with a dear friend about his marriage, and it just moved me so much. I had been holding on to different parts of that song for two years.
I wanted to do something like an Eric Clapton Journeyman-era song, and I was listening to a lot of southern soul at the time, so it inspired me to take this song in a different direction and turn it into a soul tune, with the horns and everything.
Why did you choose to cover Juke Boy Bonner's country-blues tune "Life Gave Me a Dirty Deal"?
I just wanted to highlight some of those different influences in blues and let people know there's a different way. You don't have to play the same style every time. I feel very comfortable playing that country-blues style, which I think is fun and exciting.
As to why I picked that song, I've never really expressed these kinds of things, but on this record I thought it was time for me to really tell it like it is. I've always been one to be positive any time I get onstage or play or say something.
But you know, like Robin Williams, sometimes the people who are giving you the laughs all the time are the ones that are hurting the most. So this song is the blues equivalent to that for me. I thought it was a good idea to show another side, because the world is not always so happy-go-lucky.
Kirk Fletcher's new album, My Blues Pathway, is out now via Cleopatra.
All the latest guitar news, interviews, lessons, reviews, deals and more, direct to your inbox!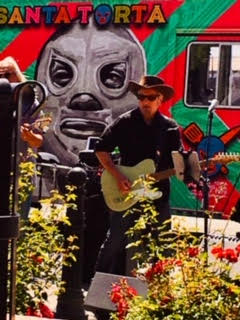 Art Thompson is Senior Editor of Guitar Player magazine. He has authored stories with numerous guitar greats including B.B. King, Prince and Scotty Moore and interviewed gear innovators such as Paul Reed Smith, Randall Smith and Gary Kramer. He also wrote the first book on vintage effects pedals, Stompbox. Art's busy performance schedule with three stylistically diverse groups provides ample opportunity to test-drive new guitars, amps and effects, many of which are featured in the pages of GP.