Kathy Valentine Talks Reconnecting with the Guitar After the Go-Go's
The rock 'n' roll icon recounts how blues became her savior.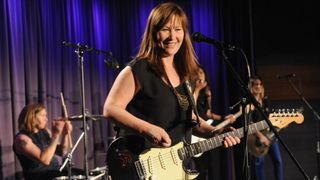 (Image credit: Mark Sullivan/WireImage)
Kathy Valentine is well known for her years as bass player for the Go-Go's, but in 1992 she stepped up to play lead guitar for the BlueBonnets, which eventually became the Delphines. And though the Go-Go's have a fascinating history, this dancing bass player is a cool guitarist with a vision all her own.
Were you a guitar player before the Go-Go's?
I was. At the time, I had just moved to L.A. and was trying to make it. The Go-Go's had gotten popular, and when they asked me to play with them, I said, "Sure, I'll play bass." So I learned all the songs, and my first show with them was at the Whisky A Go Go – three shows, sold out. I thought, Okay, this is what I came here for.
At that point I didn't care if I played guitar, bass, tambourine… I just wanted to be in a fun band. And I would play guitar on our records here and there because, even back then, I had some abilities that were different. But I was pretty much the bassist.
After we broke up in 1985, I didn't know what I was for a couple of years. I tried to put together a succession of bands. Sometimes I would play bass, sometimes rhythm guitar. It wasn't until 1992, seven years after the Go-Go's broke up, that I just got sick of being lost. I wanted to play lead. I wanted to be good.
The first thing I decided to do was start a blues band, because I just knew that, wherever I went, blues had to be the foundation. I found a couple of other girls – a bass player who was pretty new at it, a backup singer who'd always wanted to be a lead singer, and a pretty good drummer from Kentucky who could play shuffles. That's how we started the BlueBonnets. Later on, that morphed into the Delphines.
Who are your favorite players?
In the blues guitar world, Hendrix, Stevie Ray and Jimmie Vaughan, B.B. and Freddie King, and in rock, Steve Cropper, Mike Campbell and James Honeyman-Scott from the Pretenders. When I hear some of James' stuff, I think he was coming from a place similar to me.
Were there any female players who influenced you?
When I started playing guitar, I thought there were no women rock stars, and I said, "I'm gonna be the first one." What changed it for me was when I was in England in 1975 and saw Suzi Quatro on TV. I saw her on Top of the Pops, dressed head to toe in black leather, and it blew me away.
I knew that women sang, and I knew they'd strummed guitars, but I never saw any woman out front like that. So I went from wanting to play acoustic guitar to wanting to be a rock star. And it was all because of her.
What's your setup?
I pretty much always go back to my Strat and a tweed '59 Bassman. For pedals, I just use an old Tube Screamer and a wah-wah. At one point I went through this pretty intensive search for tone. I figured if you had style, good taste and a good sound, that's a good place to start. I got very into tone, and to this day it can dictate whether or not I'm enjoying my playing experience.
Check out Kathy Valentine's All I Ever Wanted: A Rock 'n' Roll Memoir (University of Texas Press, 2020) here.
All the latest guitar news, interviews, lessons, reviews, deals and more, direct to your inbox!