Joey Landreth Reveals His Slide Tone Secrets
Learn how the Canadian slide guitar phenomenon tailors his sound to suit the song.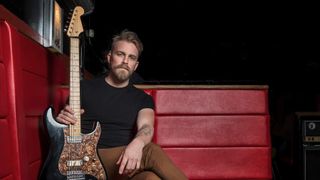 (Image credit: Future)
Canada's The Bros. Landreth play an amalgam of roots, folk country and blues while stopping audience's dead in their tracks with soulful vocals, impassioned songs and some absolutely fearsome slides, courtesy of Joey Landreth, who cofounded the band with his bassist brother David in 2013.
Here Joey shares the secrets behind his seductive slide guitar tone and its role in his songwriting.
Your slide tone is really fiery and compelling. What kinds of things inspired your approach?
We listened to a lot of Sonny Landreth at home, and I avoided slide for a long time because of him. He's a phenomenal player, and he has the same last name, so why would I ever try? [The Bros. Landreth are indirectly related to Sonny, who played on their father Wally's recordings in the early '90s.] Then I heard Derek Trucks, and I was like, "Wow! I want to try that so bad." The other slide players who are my go-to faves are Ry Cooder and Bonnie Raitt. At the best of times, I'm doing a crappy impression of the four of them massed together in some kind of soup.
Then I met Champagne James Robertson at a Canadian festival. He's a great slide player who plays in open C. We stayed up late one night jamming, and when he passed me his guitar, I noticed it had super-fat strings. He puts baritone strings on a standard-scale guitar.
I was so impressed that I had a friend build me a ramshackle, Coodercaster-style guitar with goldfoil pickups. I called James and asked, "Hey, would it piss you off if I put bari strings on my guitar and tried that open C tuning?" He said, "Go for it. I'm not the first guy to do it." It became something I really connected with. I love that stout, fat sound, and open C is also pretty nice to sing in.
So that's your sonic foundation at the moment?
Oh, yeah. Every guitar that walks into my life gets the treatment with baritone strings and open C tuning. Some guitars don't like it. I have a Suhr Classic Antique that actually likes to be in open D, but my main guitars live in that C tuning. I also have a Collings I-35.
How would you say that your guitar sound informs your songwriting?
I'll give you an example. I have a tune that explores the idea of forgiveness in an adult way – what it means to let go – and the sound has to match the content. It doesn't make sense to have bright chord changes on a dark song. But even acknowledging that I want to tailor the sound of a song to its mood, I'd still typically plug into my amp and pedal board and go for my usual tone.
But the guy I was collaborating with is not a guitar player. He's a songwriter who plays drums and piano, and he doesn't have any of those hangups that guitarists have. I'll say something like, "Oh, I always go through my 1960 Fender brownface Super that I just adore, or maybe my Two-Rock TS1 for this sound." He'll counter with, "Um, I really need a bad guitar sound for this song, so don't use one of your good amps."
It's fun and interesting to explore sounds like that and to work with someone who isn't wrapped up in all that guitar player shIt about what makes a good tone. It should be about the most appropriate tone that brings alive the things your song is communicating.
Buy Joey Landreth's album Whisky here.
All the latest guitar news, interviews, lessons, reviews, deals and more, direct to your inbox!