Joe Satriani Recommends Listening to these Five Lesser-Known Guitar Solos
Lesser known but no less great these deep cuts inspired one of the world's most famous guitarists.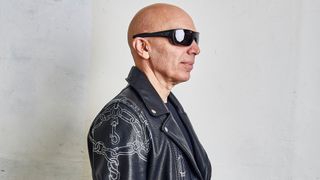 (Image credit: Jen Rosenstein/Future Publishing via Getty Images)
In our latest issue we explore the 'Greatest Solos of All Time' as voted for by you the readers in our recent pole. We also decided to get in touch with a crop of star guitarists to explore their opinions.
With one catch, however.
They had to refrain from the obvious. No Hendrix. No Clapton. No Gilmour, et cetera. It's always interesting to talk music with other musicians and find out about some of the players and songs they hold dear, including those which might not get as much love from the guitar community at large.
Here's what electric guitar wizard Joe Satriani had to say…
THE COVERED HEAD
Scott Henderson, Vibe Station
GUITARIST: SCOTT HENDERSON
"The whole album is stunning, but this one track always makes me smile and blows my mind. Scott plays bebop blues on electric guitar like no other. Not one wasted note. It's such a freaky, great performance. And the guitar tone!"
TOO ROLLING STONED
Robin Trower, Bridge of Sighs
GUITARIST: ROBIN TROWER
"I love how Robin invites us to share his joy of playing guitar with this song's extended outro solo section. It's an organic Stratocaster, Uni-Vibe, Marshall stack performance with an authentic mid-'70s vibe. He achieves a killer tone at a cool, laid-back pace. We're so lucky he committed this to tape for us to enjoy."
RED ALERT
The New Tony Williams New Lifetime, Believe It
GUITARIST: ALLAN HOLDSWORTH
"I love this solo not only for its technical brilliance but also for its melodic architecture and dramatic nature. It begins lyrically, then explodes into breathtaking sheets of sound, and it finishes with a few beautiful, elegant phrases. And all of it is played on an SG through a Small Stone phase shifter into a Marshall stack! It still takes my breath away."
BRING ME BACK HOME
Jonny Lang, Signs
GUITARIST: JONNY LANG
"This song is so beautiful, so real, and it's all heart. Only Jonny would be brave enough to tackle this song with a straight-up guitar-amp vérité approach like this. Every note is heartbreaking. Jonny's vocal performance has so much emotion, it's almost impossible to follow it with a solo, but he pulls it off as only he can."
CARUSO
Neal Schon, Universe
GUITARIST: NEAL SCHON
"This whole song is one incredibly beautiful and powerful solo performance. It's all heart and raw emotion, yet still polished, with the sweetest intonation and vibrato. Neal's timing and phrasing are always impeccable, natural and musical. He just keeps getting better all the time!"
All the latest guitar news, interviews, lessons, reviews, deals and more, direct to your inbox!
Rod Brakes is a music journalist with an expertise in guitars. Having spent many years at the coalface as a guitar dealer and tech, Rod's more recent work as a writer covering artists, industry pros and gear includes contributions for leading publications and websites such as Guitarist, Total Guitar, Guitar World, Guitar Player and MusicRadar in addition to specialist music books, blogs and social media. He is also a lifelong musician.