Joe Satriani: How I Wrote "Satch Boogie"
Joe Satriani turned a vision of Gene Krupa into a rock radio hit - and a shred guitar milestone.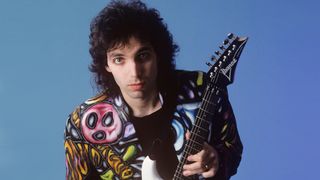 (Image credit: Ebet Roberts/Redferns via Getty)
"I don't think any artist knows something will become their signature song when they write it," Joe Satriani says of "Satch Boogie," the rousing rock-swing guitar instrumental that put him on the map in 1987 and helped propel his second album, Surfing with the Alien, to Platinum status.
He even points out that his most famous composition wasn't the first to bear his nickname: "When I was in high school, I played with another guitarist, John Riccio, and he would call everything I wrote 'Satch Boogie.' It became a joke. No matter what I showed him, it was 'Satch Boogie' to him. The name just stuck."
Stairway to Boogie
"It was back in 1986, and my wife, Rubina, and I were in a car accident. We weren't seriously hurt, but I wound up at home with a neck brace and a bottle of painkillers. Playing the guitar was difficult, but while I was in this dreamy, painkiller-induced state, I had this idea of Gene Krupa playing a crazy swing thing on his drum kit at the top of the stairs.
"Only once he does it, he tumbles down the stairs, along with his kit. So it was kind of silly. But then I started to think, Wouldn't it be cool if I wrote a guitar line that sounded like a big-band horn section to go along with that?
"I built the piece up, but there was no middle section. All I had was the head of the song and the ending. When I was well enough to travel, I did a tour through Sweden, and I kept working on the piece a little at a time.
"It wasn't till I got back home that I knew what to do for the middle part. I did a demo on my Tascam four-track cassette recorder, and I came up with a drum pattern on my Oberheim DX drum machine. Then Jeff Campitelli came over to put real drums on, and Bongo Bob Smith added percussion. I bounced ideas off of them, and the tune was more or less ready when we went to record it."
A Force Made for Radio
"We recorded at Hyde Street Studios in San Francisco on a shoestring budget. I had a couple of Kramer guitars and a Strat-style Boogie Bodies guitar. I was concerned about the miking, but [co-producer/engineer] John Cuniberti treated the guitar parts as if they were different singers, using different mics.
"I had no idea what to play for the solos. I just figured that I would respond to the sounds that John whipped up. I did a number of passes, and I remember saying, 'That part there: I hate that. Can you punch me in?' Or John would say, 'That sounds different from the last time. You have to play that again.'
"We went to great lengths to get the mix and mastering right. We totally maxed out our budget on the recording, but Bernie Grundman did a great job mastering it. Our approach was, What would this sound like on the radio? And it did the trick; people loved it.
"Cliff Cultreri [Satriani's A&R agent] was always in my corner, but the president of Relativity Records, Barry Kobrin, wasn't so sure about the song. It wasn't till he heard me play 'Satch Boogie' at a showcase that he told me, 'I finally get it!'"
What it Means Today
"The response was more than I could have imagined. People who were uncomfortable with rock-blues songs about women and whisky were able to get into it. I remember hearing it on the radio and going, 'I can't believe it. They're playing my song!'
"Guitar instrumentals just didn't get radio play, so for me this really was a dream come true on every level. Even now, playing it live is always exciting. No matter where I do a show, people just light up whenever we start the song."
All the latest guitar news, interviews, lessons, reviews, deals and more, direct to your inbox!
Joe is a freelance journalist who has, over the past few decades, interviewed hundreds of guitarists for Guitar World, Guitar Player, MusicRadar and Classic Rock. He is also a former editor of Guitar World, contributing writer for Guitar Aficionado and VP of A&R for Island Records. He's an enthusiastic guitarist, but he's nowhere near the likes of the people he interviews. Surprisingly, his skills are more suited to the drums. If you need a drummer for your Beatles tribute band, look him up.