"I Made It My Mission to Get Rid of The Slop": John 5 Talks Tone, Technique, and Telecasters
The shred master's new album 'Sinner' is available to pre-order now.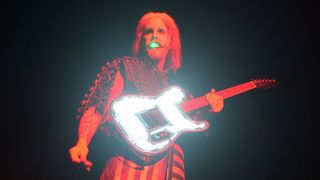 (Image credit: Johnny Louis/Getty Images)
While a sizable contingent of metal fans know John 5 from his long-time gig as Rob Zombie's ghoulishly flamboyant shred master, guitar enthusiasts have a broader picture of him – that of a deeply eclectic and prodigiously proficient player schooled in country, bluegrass, western swing, jazz and flamenco. Whether he's peeling off hyperspeed chicken-pickin' lines, replicating cascading banjo rolls, or dispatching immaculate, sweep-picked solos, there seems to be no end to his knowledge or skill set.
"I appreciate anything that's done well," John states. "You could be throwing knives or juggling bowling pins, and I'll be amazed.
"But with music, it goes a lot further. If I hear a bluegrass player killin' it, I'm like, 'I have to play that!' And if I hear a metal player rippin' it, my brain just fries. So I have to learn what they're doing and execute it perfectly. I obsess over it, and I love it dearly."
Being a musical omnivore comes naturally to John 5. Born John Lowery, he started playing the guitar as a kid from watching country pickers Roy Clark and Buck Owens on TV's Hee Haw variety show. He eventually took a shine to rock after hearing bands like Kiss and Van Halen.
John admits that some of his fans might have more parochial tastes, but he takes delight in spinning their heads around. "They might come to my instrumental shows because they like what I do with Zombie," he says. "But they'll see me play some bluegrass licks, and they just go crazy. That makes me feel so good, because they're seeing me for who I really am. I'm the guy who sits on my couch, watches TV and plays whatever I want."
You started playing country music as a kid. How proficient were you before you discovered rock and metal?
Very. I was totally into it. I was way into Roy Clark and Buck Owens. And, of course, I loved Chet Atkins and other guys. That's what was played in my house. My dad played it, and we loved it. That's what I practiced as a kid. I would skip school, stay up late. It was practice, practice, practice. And I would keep at it until I had something down. Only after I had a piece perfect would I feel good about going to school.
Was it all by ear?
No. I would get tab and read music. I was really obsessive. I played so much as a kid that my left hand is bigger than my right. And I mean a lot bigger. It's so strange. I think it was from stretching to get those chords and scales.
We know you for playing Telecasters, but what kinds of guitars were you playing as a teenager?
My first guitar was a black Magnum. That's what I played to get going, but my first real guitar was a '75 Strat. It was a good guitar, and I learned a lot on it. I actually met Stevie Ray Vaughan and had him sign it, but I sold the guitar to buy a Kramer. That was a bad decision, but you know, I was just a kid. I really wanted a Tele, though. I was seeing Buck Owens and all these guys playing beautiful Teles. I finally got one when I was about 15. I was so thrilled!
At what age did you start to figure out how to pair an electric guitar with the right amp?
Not till much later. I wasn't really into amps. I just played. I knew Marshalls and Fenders were great, but I didn't know why. If I could plug in and get some volume, that was good enough. I was just into practicing and learning.
The cleanliness and precision of your playing is redolent of Danny Gatton.
Oh, thank you! I love him.
There's none of the reckless abandon – some would call it "sloppiness" – that even some of the finest rock players embrace.
Yeah, I'm not into that. You can still play with fire and be accurate. I made it my mission to get rid of the slop. I've always been an OCD clean freak, and that extends into all areas of my life. I want to keep my guitars clean, and I want my playing to be clean, too. If I play a line, I wanted it to sound like it's all on one string. I want it that clean. I'll play something a million times until I know it's perfect. But I don't want it to sound sterile. A guitar line should flow like water. Think of a classical violinist. That's what I'm talking about.
Do you make allowances for how you play at different volumes?
You have to. I'll practice something low when my wife and I are watching TV, but I notice that when I play the same solo for Zombie in a rehearsal room and I've got everything cranked, things sound different. Open-string runs don't translate when they're all distorted. And any time you play an arena, you know things are going to change because the acoustics are so echoey. A lot of times I have to change my solos around because the sound is going to bounce all over the place. I'm obsessed with things sounding perfect.
It's a given that you play Telecasters. But what about amps?
I know Marshall doesn't want to hear this, but I'll play through anything and it will just sound like me. We were doing a show at a huge amphitheater, and all of my amps went down on the ride over. People were freaking out, saying, "We go on in two hours!" I just said, "Give me anybody's amp. It doesn't matter. I'll play through anything." I was the only calm one.
How about effects?
My pedalboard is so simple, even a child could use it. Everything is Boss: a Super Chorus, Noise Suppressor, the DD-3 Delay... That's about it. Oh, and I used a Dunlop wah pedal and an MXR Talk Box. I guess they count as effects, right?
You seem to have one of those perfect front-man/guitarist relationships with Rob Zombie. What's your secret to achieving that?
I don't know if it is a secret. I have such respect for Rob, and he has the same respect for me. I love his music and what he does. I've always been a fan of his. Writing songs with him and performing with him onstage has been such a joy. Whatever I can do to help make him sound as great as possible is my pleasure. I've been doing it for 15 years now, and each year has been so rewarding. But I don't think it would work if we didn't have that mutual respect for each other. He's a great guy.
John 5's new album – Sinner – will be out on October 29 (just in time for Halloween.) As well as the digital version, you can purchase the physical album – signed – and in a variety of bundles from the official John 5 store.
Watch the video for the first track from the album – "Que Pasa" feat. Dave Mustaine – below...
All the latest guitar news, interviews, lessons, reviews, deals and more, direct to your inbox!
Joe is a freelance journalist who has, over the past few decades, interviewed hundreds of guitarists for Guitar World, Guitar Player, MusicRadar and Classic Rock. He is also a former editor of Guitar World, contributing writer for Guitar Aficionado and VP of A&R for Island Records. He's an enthusiastic guitarist, but he's nowhere near the likes of the people he interviews. Surprisingly, his skills are more suited to the drums. If you need a drummer for your Beatles tribute band, look him up.