"I Have a Whole Career That's Based Around Crazy Ideas": Sammy Hagar Reveals How Inspiration Struck Him and Eddie Van Halen
The Red Rocker tells the inspiring tale behind Van Halen's enduring hit "Right Now."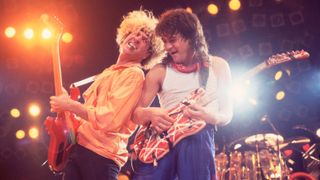 (Image credit: Paul Natkin/Getty Images)
"It's a song that's had some real resonance," Sammy Hager says of "Right Now," the sing-along rock anthem from Van Halen's 1991 album, For Unlawful Carnal Knowledge.
"Sometimes you're able to write a song that expresses how you feel, and it strikes a nerve with other people and they say, 'Yes. That's exactly how I feel, too.' For a songwriter, that's an incredible response to your work."
Best of Both Worlds
Hagar cites "Right Now" as being "a really great example of how Eddie Van Halen and I could collaborate. He had it musically, and I had it lyrically."
But the process wasn't always smooth sailing.
As the singer-guitarist recalls, during early album writing sessions, Van Halen played him a piano part – one the guitarist had been toying with since 1983 – to see if he would spark to it.
"I liked it, but I didn't know what I could do with it," he says. "Eddie was hearing it like the song 'Feelin' Alright?'"
Legend has it he wanted Joe Cocker, who famously covered that Dave Mason-composed Traffic song, to sing an early version of the tune.
"But I didn't hear it that way," Hagar continues. "We tried to get it going, but nothing felt right. We just sort of left it and he played me something else, and that became 'Poundcake,'" the album's opening track.
Several weeks later, Hagar was laying on the beach and trying to avoid going to the studio.
"It was such a beautiful day," he says, "and I thought to myself, I don't want to go anywhere else. I just want to be right here, right now.'"
Immediately, he knew he had something that could fit Ed's piano idea – only it would take six months for the two songwriters to put their ideas together.
"Eddie kept playing me the piano part, trying to inspire me," he recalls. "I heard him play it probably 100 times. Then one day I started singing to it, and I had it. Everything fit and made sense. The lyrics came to me, and I told Eddie, 'This thing's written. Let's record.'"
Unchained… In Pajamas
As the two were already at Van Halen's 5150 home studio, they didn't bother making a demo.
"I don't think we even had a cassette of it," Hagar says. "We just went straight into recording."
First, Ed played piano to a click, and then Alex Van Halen overdubbed drums. Hagar doesn't recall bassist Michael Anthony taking part in the initial sessions ("I'm pretty sure Eddie played bass on this one"), but he remembers everybody gathered around a mic to scream "right now" backings to his lead vocal.
"The whole thing came together like magic," he says. "The tune was happening."
Ed's stellar electric guitar solo was something of a last-minute final touch.
"Usually, Eddie had solos pretty locked down before we started recording," Hagar says, "but on this song he winged it. He came out of the house in pajamas and slippers, went into the studio and played whatever came out. And as you might expect, it was pretty damn great."
Hagar recalls that Van Halen played a couple of passes, both of which "sounded awesome, because as everybody knows, Eddie never played a bad solo."
In the end, it was decided to comp the two solos together.
Right Now… Your Video is a Hit
The second he heard a playback of the finished recording, Hagar knew "Right Now" was a hit.
"The chorus, that iconic piano part. It was in the bag," he says. "The song would have been great if I sang about cat food."
However, he was less than convinced about the song's high-concept music video, in which director Mark Fenske depicted societal images behind big block topical statements such as, "Right now, our government is doing things we think other countries do."
Says Hagar, "I thought, I've finally written some lyrics that aren't about sex and partying. I wrote some really meaningful messages about how to live your life. I wanted my lyrics to be what you saw on the screen."
In the end, he acquiesced to Fenske, and the video became a phenomenon, receiving constant play on MTV and ultimately winning Video of the Year at 1992's MTV Awards.
"It took me a while to come around to what Mark wanted to do, and now I can say that the video is brilliant," Hagar says.
"I was totally wrong. I thought it was a crazy idea, but sometimes those are the ideas that are the best."
He laughs. "Hell, I have a whole career that's based around crazy ideas."
Browse the Van Halen catalog here.
All the latest guitar news, interviews, lessons, reviews, deals and more, direct to your inbox!
Joe is a freelance journalist who has, over the past few decades, interviewed hundreds of guitarists for Guitar World, Guitar Player, MusicRadar and Classic Rock. He is also a former editor of Guitar World, contributing writer for Guitar Aficionado and VP of A&R for Island Records. He's an enthusiastic guitarist, but he's nowhere near the likes of the people he interviews. Surprisingly, his skills are more suited to the drums. If you need a drummer for your Beatles tribute band, look him up.