"I Didn't Have Any Idea It Would Be a Hit": Rick Springfield Tells the Story of His Unexpected 1981 Smash, "Jessie's Girl"
The pop-rock ear-candy surprise hit that bucked convention and topped the charts.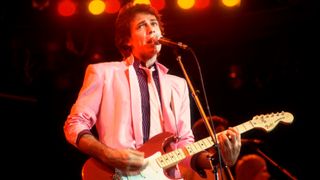 (Image credit: Paul Natkin/Getty Images)
"Honestly, I didn't have any idea it would be a hit, let alone a song that has endured for decades," singer and guitarist Rick Springfield says about "Jessie's Girl," the pop-rock ear-candy smash from his 1981 album, Working Class Dog, that propelled him to international stardom.
"When I wrote it, I thought it was a good album song, that was about it. When radio stations started playing it and it became this giant hit, I was as amazed as anybody."
MOOT SUIT
By the late '70s, the Australian-born Springfield had issued a couple of albums that failed to chart. After a move to L.A., he concentrated on acting while taking classes in stained glass with his friend Gary and Gary's girlfriend, who inspired this song's lyrics.
Springfield can't recall the woman's name but says he dubbed his pal "Jessie" because the man had a T-shirt with football player Ron Jessie's name on it.
While pop ballads and disco ruled radio at the time, he'd begun to hear more guitar music on the airwaves.
"AC/DC and punk stuff like Elvis Costello was getting played," he says, "so I thought, Screw it. I'm going to write guitar-based songs that I like. We'll see what happens."
Inspired by his love of the Kinks' "You Really Got Me," Springfield started playing with an opening riff idea that sounded anthemic.
"It had these big fat chords," he says, "but I knew I couldn't sing over it, because it's really hard to do that over crossing chords. That's when I wrote what became the first section."
Next, Springfield turned to another section he had originally written on the piano.
"I noticed it was in the same key as the other song," he explains, "so I decided I could marry them and they would work."
Once he had the basic structure down, he recorded a demo on his four-track machine.
"I couldn't play drums, so I beat out a rhythm on a cushion and EQ'd it to make sound like a kick and a snare. I played a cheap bass that I got at a pawn shop. For distorted electric guitar guitar, I used one of the original Pignose amps, and it sounded great."
Famously, "Jessie's Girl" is one of the rare instances in which the word moot is used as a rhyme: "You know I feel so dirty when they start talking cute/I wanna tell her that I love her, but the point is probably moot."
Says Springfield, "I probably sent kids to the dictionary with that. I originally had a rhyme using bathing suit, but that was cliché."
THANK YOUR LOCAL DJ
Springfield played his demos for producer Keith Olsen, who was riding high on the charts with records for Foreigner, Fleetwood Mac and Pat Benatar, and he agreed to work with him.
Sessions for the track went smoothly ("We did a couple of passes and had it down," Springfield said), with the arrangement staying close to the demo, except for the guitar solo.
"I tried doing my own AC/DC-type solo, but it was a lot of noodling," he says. "Keith brought in Neil Giraldo, from Pat Benatar's band. Neil came up with a solo that was really musical and fit the vibe of the song perfectly. He was absolutely brilliant."
Olsen had always championed "Jessie's Girl" as a single, but neither Springfield nor his label, RCA, agreed. "I thought it might be too complicated for radio," Springfield says.
"But then DJs started playing it and the phones rang. The DJs called the label and said, 'Might not be a bad idea to release this as a single.' That's when RCA jumped on it."
RESPECT
After waiting years for success, Springfield saw the stars align in the summer of 1981. Along with strong radio play, the video for "Jessie's Girl" became a mainstay on the newly launched MTV, and he quickly shot to household-name status thanks to his role as Dr. Noah Drake on the ABC daytime soap General Hospital, all of which helped drive the single to number one.
"It was crazy," Springfield says. "I went from nobody knowing me to being recognized everywhere. No matter what anyone says, you're not prepared for that."
Over the years, "Jessie's Girl" has been featured in Paul Thomas Anderson's Boogie Nights, and Springfield took part in the video for Coheed and Cambria's tribute, "Jessie's Girl 2."
"It's been great to see the song's evolution to respectability," he says. "It went from teen pop to people thinking that it had real substance. I can't complain."
Order Working Class Dog here.
All the latest guitar news, interviews, lessons, reviews, deals and more, direct to your inbox!
Joe is a freelance journalist who has, over the past few decades, interviewed hundreds of guitarists for Guitar World, Guitar Player, MusicRadar and Classic Rock. He is also a former editor of Guitar World, contributing writer for Guitar Aficionado and VP of A&R for Island Records. He's an enthusiastic guitarist, but he's nowhere near the likes of the people he interviews. Surprisingly, his skills are more suited to the drums. If you need a drummer for your Beatles tribute band, look him up.