How "25 Bucks and a Six-Pack of Bud" Got Jeff "Skunk" Baxter the Guitar He Used on Donna Summer's "Hot Stuff"
The session guitar king also revealed the cheaper-than-you'd-expect "star guitar" of his new solo album, 'Speed of Heat.'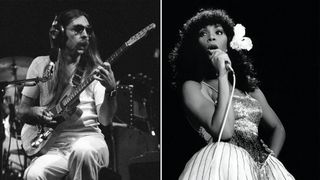 (Image credit: Ian Dickson/Redferns, Robin Platzer/Images/Getty Images)
Jeff Baxter has been known to play a range of different guitars over his career. Among the more unlikely models he's wielded is a Burns Bison that he purchased "for 25 bucks and a six-pack of Bud," he tells Guitar Player.
As it turns out, that very guitar made an appearance when Baxter performed on disco queen Donna Summer's Giorgio Moroder–produced 1979 album, Bad Girls, including his solo on the hit single "Hot Stuff."
"I didn't really want to do the same old stuff," Baxter explains, "so when Giorgio said that I could play whatever I wanted, I said that was fine with me. I showed up with my Burns Bison.
"I heard the track, went in and played the solo. I came out and said, 'What do you think?' Giorgio said, 'It's exactly what we want. We want to move Donna away from just pure disco and give it a rock feel.' From what I've read, that's the impression the majority of people got from mating that kind of guitar playing to her tracks."
As you might expect, Baxter had plenty of guitars to choose from when tracking his new album, Speed of Heat. "There's a few," he offers.
"Probably the star guitar was a Roland-Ready Strat – it's a Mexican Strat that I had ripped apart and refretted. I put some Skunk-o-Sonic pickups in it and have used that guitar pretty much throughout the project."
Both lap and pedal-steel guitars make appearances, notably on the tracks "Bad Move" and "The Rose," respectively. "On 'Bad Move,' there's a Peavey Electronics lap steel that Hartley [Peavey] gave me," Baxter reveals. "The pedal steel is a Sho-Bud Super Pro that was custom made for me. I've had it since the late '70s, and it's sensational."
Other guitars used include classical, acoustic, and a 12-string baritone.
"Henry at Manny's gave me an Ovation years ago – he literally took it off the wall and gave it to me," Baxter says. "That's on the record. The other acoustics are Bedell, and they're the finest acoustic guitars in the world, bar none. I also used a baritone guitar on it – a Veillette-Citron 12-string. There's some different instruments, but the core instrument was definitely that Roland-Ready Strat. It's a guitar that offers me endless possibilities."
All the latest guitar news, interviews, lessons, reviews, deals and more, direct to your inbox!
Joe is a freelance journalist who has, over the past few decades, interviewed hundreds of guitarists for Guitar World, Guitar Player, MusicRadar and Classic Rock. He is also a former editor of Guitar World, contributing writer for Guitar Aficionado and VP of A&R for Island Records. He's an enthusiastic guitarist, but he's nowhere near the likes of the people he interviews. Surprisingly, his skills are more suited to the drums. If you need a drummer for your Beatles tribute band, look him up.