Here's Why Talk's Talk's 'Spirit of Eden' Remains One of the Most Extraordinary Albums in Rock History
Oozing with atmosphere, craftsmanship and focus, this 1988 classic plays like a great psychedelic opera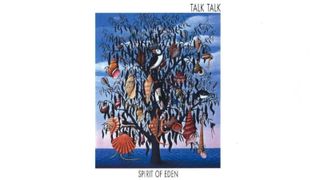 (Image credit: Parlophone/EMI)
A while back, while doing a radio interview, I was asked about my cover of the Rolling Stones' Beggars Banquet track "No Expectations," from my album Orange.
I resigned to be totally honest with the interviewer and admitted the producer, Anton Fier, chosen the song after politely vetoing my original selection, the traditional pop tune "Hawaiian Wedding Song."
As it turned out, my version of "No Expectations" has become a Campilongo fan favorite and another entry in the column titled "If It Hadn't Been for the Producer…"
After the interview, I put on Spirit of Eden by Talk Talk, and while I listened, I pondered: Might our purposely free and vibey performance of "No Expectations" or Talk's Talk's Spirit of Eden have ever existed without the Stones' Exile on Main St., one of the vibiest records of its time?
That record was the Stones being unapologetically their loose and stylistically unfettered selves. And while Exile and Spirit of Eden couldn't be more different, both albums took completely different journeys to arrive at some place similar.
Released on the Parlophone label in 1988, Spirit of Eden is the collaboration between singer/multi-instrumentalist Mark Hollis and producer Tim Friese-Greene, who added guitar, harmonium and organ to the proceedings.
The album features a big cast of instruments, including trumpet, Dobro, 12-string guitar, violin, bassoon, clarinet, Mexican bass, double bass, harmonica (played by Mark Feltham) and drums (by Lee Harris).
All these instruments color the music and are used sparingly and with great care. Nothing upstages the sonically barren landscape of Spirit of Eden.
I have to admit, this LP is hard to describe track by track. Spirit of Eden is filled with peaks and valleys that transcend traditional song form and present more of an emotional approach. Tracks segue seamlessly into one another.
Somehow, Hollis and Friese-Greene pull this off by employing fantastic guitar sounds, a harmonica as big as a house (at times I thought it might be a B-3 organ) and impassioned vocals that are mostly and fittingly unintelligible.
One can feel the prioritization of creating music dripping with vibe.
Spirit of Eden is almost painfully patient. Its production values remind me of a '60s Italian art film that takes its time to develop. When something big finally happens, it's momentous.
Despite this reading like a recipe for something too ambitious to be successful, there are numerous moments of significant beauty on Spirit of Eden. It plays like a great psychedelic opera.
While I can't say I love all of Exile on Main St., in its finer moments its songs ooze a primal vibe that sounds like "the magic take."
Spirit of Eden, on the other hand, oozes with atmosphere, craftsmanship and focus.
Many of its tracks were based on long improvisations played in an intentionally darkened studio. And despite the improvisational composing, the non-traditional song form, and the weaving in and out of sound collages, Hollis and Friese-Greene created an album that could have easily sounded narcissistic and druggie.
Instead they made something lovely and extraordinarily connected.
Spirit of Eden follows the Exile aesthetic but instead is successful thanks to its sober vision.
Could it have existed without Exile? It's hard to say, but I enjoy connecting the dots between significant stylings in rock history.
And perhaps those of you unfamiliar with Spirit of Eden will feel your curiosity piqued enough to listen to this brave and unique record.
Incidentally, when we reissued Orange on vinyl, I had to cut some tracks to make it fit the format's time restrictions.
The first song I removed?
"No Expectations."
Oh well. Sometimes it's hard to learn how to play the game.
Browse the Talk Talk catalog here.
All the latest guitar news, interviews, lessons, reviews, deals and more, direct to your inbox!
Jim Campilongo has 14 critically acclaimed instrumental records available on vinyl, CD and digital download here.