Here's Why Jimi Hendrix's 'Electric Ladyland' Cannot Be Overlooked
This groundbreaking album was a tour de force for electric guitar in the 20th century.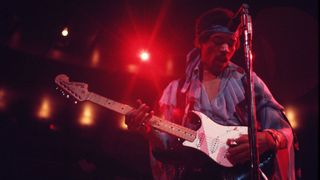 (Image credit: Walter Iooss Jr./Getty Images)
Is anyone who reads Guitar Player unaware of Jimi Hendrix? That said, Electric Ladyland cannot be overlooked. Hendrix's third album, it was released in 1968, a year in which Martin Luther King Jr. and Robert Kennedy were assassinated, Apollo 8 became the first manned spacecraft to reach the Moon, and American opinion began to turn firmly against the Vietnam War.
On the music front, 1968 saw the release of Jeff Beck's Truth, the Mothers of Invention's We're Only in It for the Money and Cream's Wheels of Fire. Meanwhile, the Beatles studied Transcendental Meditation in India, where they wrote much of the music that appeared on the 'White Album'.
The historical context gives weight to what was a fertile year of creativity and conflict, and Electric Ladyland is certainly a contender for one of its most significant releases. Some artists would find one major style and voice enough to sustain a career, but Hendrix had numerous tonal innovations, many of which he unveiled here.
The blues is abundantly present on Electric Ladyland – notably the song "Voodoo Chile," which remains a favorite Hendrix track for many to this day. Jack Casady and Steve Winwood join forces with Mitch Mitchell to create a John Lee Hooker vibe that travels from a low-down blues to a sort of psychedelic bagpipe section. It sounds almost like Jimi's guitar is emitting musical electrons.
On Earl King's "Come On (Let the Good Times Roll)," Jimi displays his blues guitar virtuosity where his technique and vocabulary are head and shoulders above those of his peers. There is the remarkable blues-based "talking wah-wah" work on "Still Raining, Still Dreaming" and "Voodoo Child (Slight Return)" that adds another color in the rich Hendrix palette. Meanwhile, the underrated "Have You Ever Been (To Electric Ladyland)" sounds absolutely contemporary and could have been released 18 years later as a standout track on Prince's Parade.
Some say Electric Ladyland is an uneven body of work, but that's only if you compare Hendrix to Hendrix. "Gypsy Eyes," "Burning of the Midnight Lamp" and "House Burning Down" might not be as groundbreaking as "If 6 Was 9," "The Wind Cries Mary" or "Fire," but they are excellent tracks with which Hendrix wrote ambitious music from a new vantage point.
The kazoo-laden "Crosstown Traffic" and the crown jewel, "All Along the Watchtower," offset the album's weaker moments. On the latter, Hendrix plays guitar breaks so profound that, more than 50 years later, it remains a mystery how that young man got all those sounds.
Who knows what Jimi Hendrix's future would have been? Maybe he would have collaborated with the likes of Miles Davis or grown into more of an R&B singer? In any event, Hendrix is on the short list of artists who were an innovative force for electric guitar in the 20th century.
Electric Ladyland is proof of that.
Click here to buy Electric Ladyland.
All the latest guitar news, interviews, lessons, reviews, deals and more, direct to your inbox!
Jim Campilongo has 14 critically acclaimed instrumental records available on vinyl, CD and digital download here.