Peter Buck and Krist Novoselic Pick Their Gigs Carefully, but Hector Tellez Jr. Got Both Rock and Roll Hall of Famers
The Cuban blues hound reveals how the R.E.M. and Nirvana legends helped record his dynamite debut album, 'The Great Unknown'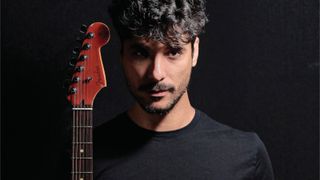 (Image credit: Mono Mundo Recordings/Thirty Tigers)
Hector Tellez Jr. is pinching himself. Just a few years ago, the guitarist and singer was in an uphill battle to find a receptive audience for his hard-driving brand of blues rock in his native Cuba. Fast-forward to today: He's relocated to Nashville, signed with an American manager and recorded a dynamite debut album, The Great Unknown (Mono Mundo Recordings/Thirty Tigers), on which he's joined by two Rock and Roll Hall of Famers: R.E.M.'s Peter Buck and Nirvana's Krist Novoselic. "This is the kind of thing that only happens in dreams," Tellez says. "You never actually think that it's possible."
While laying down tracks for the album, Tellez told his producer, Barrett Martin (known for his work with the Screaming Trees and Mad Season), that he wanted to play bass. "I gave it a shot, but I quickly realized that I'm not a bass player," he says. "Barrett said he wanted to send the tracks to Krist Novoselic, and then he mentioned Peter Buck playing some guitar, as well. I thought, There's no way they'll play on my album; they're legendary dudes. But they both immediately said, 'We love these songs and want to play on them.' I was floored."
Together and separately, Buck and Novoselic perform on the lion's share of tracks on The Great Unknown, but the star of the show is Tellez himself, who emerges as a major talent. A powerhouse vocalist (he sings mostly in English), he's also a dynamic guitarist: His fiery wah solos on the stoner-rock bruiser "Shiny Blue Jellyfish" and the walloping grunge gem "Leave Me Lowdown" are just two examples.
But he has other stylistic arrows in his quiver. "Lonely Road" (featuring Buck on mandolin) is a poignant rootsy vehicle for his aching blues leads, and the '70s-flavored soul groover "Ten Million Ways" finds him deftly channeling Nile Rodgers' ace rhythm hand.
"The album is everything I could have hoped for," Tellez says. "Barrett is such a brilliant producer and a wonderful collaborator, and I can't say enough about Peter and Krist. This is the kind of music I always wanted to make. It wasn't going to happen for me in Cuba, so I had to come to America. It's been an incredible experience."
What are the differences between the music scenes in Cuba and the U.S.?
The most popular music in Cuba is salsa and, I guess, what you would call the Cuban versions of bossa nova and jazz. Plus, Cuba is a Spanish-speaking country, and I always wanted to write and sing rock and roll songs in English. All the music I listened to as a kid was classic rock that came from America and England. Of course, America has all kinds of music, but it's still steeped in rock and blues.
How did you learn to play guitar?
My dad gave me a nylon-string Takamine. Funnily enough, I'm left-handed, but my dad told me to play righty, which I did. As I got into blues and rock, I knew I needed a steel-string guitar so I could do bends. I got a Squier, and I played and played. I like Stratocaster-shaped guitars, so that's what I've stuck with.
When I started out, there was no YouTube or internet; it was all cassettes. I have an older brother, and he gave me a tape that said "Muddy Waters Greatest Hits" on it. It had all the good stuff on it. To me, there was a straight line from Muddy Waters to all the classic rock and alternative music I liked. So that's what I played: blues, rock, classic rock, metal. I loved it all.
How did you go about leaving Cuba for Nashville?
I played in clubs all over Cuba from the age of 19 until I was 28. But there was no reaction to my original songs; the people wanted to hear covers. I really didn't think about coming to the States – it seemed undoable. That's when Betty Malo heard me in one of the clubs in Cuba. She's a manager, and her husband is Raul Malo, from the Mavericks. Betty got what I was doing. She gave me her card, but I was like, "Whatever." I didn't follow up.
Two months later, she contacted me, and she was really serious. She and her husband helped me with all my papers, and they got me to the States. They really believed in what I was doing. Because of Betty, my demos got to Barrett Martin, and things went from there. Before you knew it, I was making a record in real studios.
Peter Buck does a fair number of guest spots on other records, but Krist Novoselic not so much.
Not really. Barrett warned me about both guys: "Be prepared for it not to happen. These guys don't do it for money. They only do stuff if they like the music." Both guys are such amazing musicians, and they're very spontaneous. They caught what I was doing very quickly. When you meet them and you see how they work, you realize why they're legends. They bring so much musicality with them.
Did you give them any musical directions, and was that weird?
It was so weird. Krist sat down in front of me with his huge Gibson bass, and he said, "I was listening to the songs. Is this what you want me to play? If not, tell me what you want." So we started jamming. I had a hard time telling them what to do because I didn't want to bruise their egos, but they didn't care. They wanted me to direct them.
They both play on "Silver Blue Jellyfish." Were they together live in the studio with you?
That was done with multi-tracking. I did guitars, drums and vocals in Nashville, and we did bass and harmony guitars in Seattle. They were together with me in the studio. Peter came up with harmony guitar lines to the main riff. One take was all he needed.
You play a number of wild wah solos on the record.
I like using a wah. I used to listen to Steve Vai, Joe Satriani and Yngwie Malmsteen. I didn't have a pedal with me. Barrett wanted wah on some solos, so he bought me one as a gift. I went through a Leslie, too. That sounded awesome.
"Todo Lo Entendi" is one of the songs sung in Spanish. It's got a nice, economical guitar solo. Is that Peter?
That's him. He came in with a vintage ES-335 12-string, and he just went for it. He played the riff and solo on the 12-string. He instinctively knew what to do. He played mandolin on a few cuts. It was really something. I'd sit there and go, "Yep. That's Peter Buck." [laughs]
What kinds of guitars did you use?
I played my Strat with two humbuckers. I got it in Cuba and I love it. All my guitar heroes – Clapton, Hendrix, Stevie Ray, Jeff Beck – they're all Strat guys. I also used an Epiphone 335, and Barrett brought in a Gretsch for me to use. Most of the solos were on my Strat.
I'm curious. How did you not ask Peter and Krist a million questions about R.E.M. and Nirvana?
[laughs] The first thing I did was play "Teen Spirit" in front of Krist. He said, "I think I know that song," and he started to play it with me. Same thing with Peter. I played "Losing My Religion," and he said, "I know that one." So we played it together. How many people can say they got to do that? [laughs]
All the latest guitar news, interviews, lessons, reviews, deals and more, direct to your inbox!
Joe is a freelance journalist who has, over the past few decades, interviewed hundreds of guitarists for Guitar World, Guitar Player, MusicRadar and Classic Rock. He is also a former editor of Guitar World, contributing writer for Guitar Aficionado and VP of A&R for Island Records. He's an enthusiastic guitarist, but he's nowhere near the likes of the people he interviews. Surprisingly, his skills are more suited to the drums. If you need a drummer for your Beatles tribute band, look him up.