Nancy Wilson on How Her Long-Lost Nighthawk Design Evolved Into Her Signature Epiphone Fanatic
Based on the Gibson Nighthawk, the Heart guitarist's signature six-string is a smart-looking singlecut with a compact frame.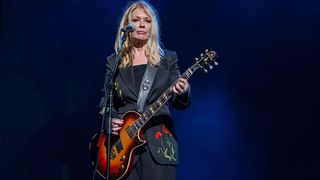 (Image credit: Daniel Knighton/Getty Images)
In addition to making her debut solo record this year, Nancy Wilson has become the recipient of her debut Epiphone signature electric guitar, the Fanatic.
Based on the Nighthawk body shape introduced in 1993, the Fanatic features a mahogany body with a figured maple veneer top, ProBucker humbuckers, a five-way pickup selector, and master volume and tone controls. We asked the designer herself to take us through the model's background.
The Fanatic is based on the Gibson Nighthawk. How did it come to be your signature model?
I designed the shape for Gibson when they asked me to come up with a new body style. This was back in the '80s, but then they changed management shortly after that. I guess they found the old drawings and decided to make the Nighthawk into the Fanatic. I think it sounds really great. It's got a lot of muscle.
It's almost like the pickup selection options are an attempt to get some Strat-type sounds as well as the expected Les Paul humbucker punch.
Yes, there are five really useable and distinctive options available. I like fat rock-guitar sounds, so that was the idea with the switching options, I also wanted it to be affordable. Epiphone have done a fantastic job and the finish is absolutely stunning. It's just a great rock and roll guitar.
Are you going to be using the new model, or is the Gibson version that you've been playing essentially the same?
Yes, I'll still be using the original model that Gibson built for me in the '80s, as well as having a couple of Fanatics on standby. They are indeed essentially the same guitar. I'm not sure if the hardware is identical, but it certainly sounds the same as my Gibson.
All the latest guitar news, interviews, lessons, reviews, deals and more, direct to your inbox!
Mark is a freelance writer with particular expertise in the fields of '70s glam, punk, rockabilly and classic '50s rock and roll. He sings and plays guitar in his own musical project, Star Studded Sham, which has been described as sounding like the hits of T. Rex and Slade as played by Johnny Thunders. He had several indie hits with his band, Private Sector and has worked with a host of UK punk luminaries. Mark also presents themed radio shows for Generating Steam Heat. He has just completed his first novel, The Bulletproof Truth, and is currently working on the sequel.