Gary Moore: "When I'd See Peter Green, I Was Hanging on Every Note He Played. When He Would Hit the Note, it Would Just Go Right Through Me"
The late blues guitar great discusses channeling Roy Buchanan with a Tele, the best piece of playing advice he ever got, and the hard-rock guitar icon who borrowed liberally from his "Parisienne Walkways" melody in this 2007 GP interview.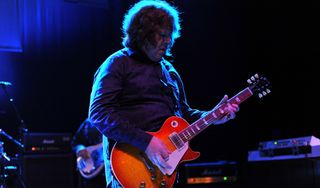 (Image credit: C Brandon/Redferns/Getty Images)
This interview originally appeared in the October 2007 issue of Guitar Player.
"There's an Internet radio station based out of London called Planet Rock, and they asked me to host six two-hour blues programs," says legendary guitarist and pioneering blues/rock stylist, Gary Moore. "As I was digging around looking for songs to play on the show, I came across some great tunes that I wanted to record myself."
So when Moore fired up the jets to track his new record, Close As You Get, he composed five originals, and then tore into some Sonny Boy Williamson, Chuck Berry, Jimmy Witherspoon, and Son House – whose "Sundown" closes the record, and features the 55-year-old Moore's first recorded bottleneck/resonator outing in his 30-plus year career.
"I used a cheap skinny-bodied thing called an Ozark that's easy to play because it sits so close to your body," he says.
Close As You Get is one of Moore's most focused – yet varied – blues outings to date. His tones range from the savage to the sublime, and his tunes sport an understated elegance that highlights his vocals, as well as his transcendent guitarcraft.
Did you do anything different during the tracking of Close As You Get as compared to some of your other recent releases?
"I made a couple of rules for myself on this record, and one of them was that I had to track live as much as possible, and not overdub any of my solos. It's always tempting to say, 'I'll go back and fix that bit.' So, to make sure I couldn't do that, I created a situation where there wasn't much separation between the instruments in the studio. I left the door to my amp booth wide open so my guitar was all over the drum mics!
"My other rule was that I didn't want to use any pedals. I wanted the tones to be as immediate and in-your-face as possible, and the best way to do that is to eliminate anything extra in the signal path between the guitar and amp. I did, however, use more amps than I typically use on a session.
"I used a mid-'60s Vox AC30 on the opening track, Chuck Berry's 'Thirty Days.' That amp, coupled with a Fender Telecaster, gave me a wonderful, rough-edged tone. I also used an Orange Tiny Terror head – a great little amp. I coupled it with a Marshall 2061CX 2x12 on Sonny Boy Williamson's 'Eyesight to the Blind.'
"I used a Fender Vibroverb reissue for the spooky reverb sound on 'I Had a Dream,' and for 'Nowhere Fast' and 'Evenin'.' I also used a Marshall DSL head on 'Have You Heard' and 'Checkin' Up on My Baby.'"
Have you used Fender amps much in the past?
"A little bit. I used a Fender Dual Showman for 'Don't Believe a Word' on my solo debut, Back on the Streets, from the late '70s. The Dual Showman was the amp Peter Green was using when I first met him in Dublin. He had two of them – each atop a 2x15 JBL D130-loaded cabinet. But when I tracked 'Don't Believe a Word,' I ran the Dual Showman through a Marshall 4x12. It softened up the sound beautifully, and took some of the twang out of the stock Fender setup."
You played Les Pauls early in your career, then you became a Strat guy. The Telecaster is a different guitar for you, isn't it?
"Oh yeah. I used it on about three tracks on the record. I'm also using it on four songs live, and I'm really enjoying it.
"The Tele was my first proper guitar when I was 14, and the one I'm playing now – a '68 – is the same year as the one I had as a kid. It's quite hard to play, but it sounds so good. I mean, it's fairly easy to coax tones out of a Les Paul, whereas a Telecaster won't give it up unless you put a lot of physical muscle into it. Strats are the same way, but the tone and dynamics are worth the extra effort. Plus, the Tele tends to lead me into Roy Buchanan territory – which isn't a bad place to be."
What types of strings are you currently using?
"I string my guitars with Dean Markleys – sometimes .010-.052, and sometimes a .009-.048 set. Honestly, I only hear the difference in gauge on the bottom strings, not the top. For picks, I use either Gibson or Fender heavy gauges."
Do you track with onboard amp reverb?
"A little bit – but since I recorded Still Got the Blues in 1990, I've been using an old Alesis Midiverb II on my guitars during mixdown. You can't even program the thing, but there are a few patches on it that I love. I much prefer the slightly grainier sound of it to expensive studio reverbs – they sound a bit too slick to my ears."
How do you feel your playing has evolved from Still Got the Blues to now?
"It has changed quite a lot. I feel that if you listen to the new record, and then go back and listen to Still Got the Blues, you'll almost hear two different guitarists. I think my blues playing has really grown up, in that I've learned how to leave more space. And my phrasing – without a doubt the most personal aspect of any guitarist's playing, regardless of genre – has grown a lot. I'm more conscious about phrasing now than ever, and it has taken me quite a long time to get it where I want it."
How would you recommend a player work on their phrasing?
"Well, I can tell you what worked for me. The best piece of advice I ever got was from Albert King. He was leaving the studio after we tracked 'Oh, Pretty Woman' for Still Got the Blues, and right as he was walking out the door, he turned to me and said, 'Gary, play every other lick.' That's all you need to know, isn't it?
"It's quite simple, yet it's the best thing anyone could ever tell you, because, let's face it, guitarists are like those guests at a dinner party who think they've got the most important thing to say, so they never shut up!'
"So try and leave some big moments of silence in your solos – at least twice as long as what comes to you instinctively. After a while, you get in the habit of hearing those spaces, and the waiting comes naturally. And if you've got a good tone, you'll create this anticipation where the audience can't wait for the next note. I remember feeling that way when I'd see Peter Green. I was hanging on every note he played. And then, when he would hit the note, it would just go right through me."
You covered the classic Bluesbreakers/Clapton track "Have You Heard" on your new record, and you were a Peter Green protégé growing up. How deep does the British blues influence run for you?
"Pretty deep. Anyone or anything that influences you that heavily when you're 14 is going to stick with you throughout your life. I'm not conscious about it, and I think I have my own voice. But if I play, say, a slow minor-key blues, you'll hear Peter's influence in both my vocals and my guitar playing. And the Bluesbreaker 'Beano' album with Eric Clapton completely changed my life.
"I couldn't afford the album, so I would go over to a friend's house to listen to it on his little mono record player. Thankfully, he let me borrow it, and I would go home every day after school and drive my mom crazy learning those solos. I didn't give the guy his record back for six months!"
"When I tracked 'Have You Heard' for the new album, like Clapton, I was using a Les Paul – my '59. But I would always end up playing the Clapton version because it's so ingrained in my head. My fingers immediately went to the Clapton licks from that Bluesbreaker record. So, after a few takes, I switched to an ES-335, and that helped me get my own version down."
Were you a fan of Mick Taylor's stint in the Bluesbreakers?
"Oh yeah. I saw him when he first joined the Bluesbreakers. He was just 17 years old. He played in Belfast at the same venue where I saw Peter Green for the first time. Belfast had a good blues scene in the late '60s.
"I remember watching Taylor standing on the side of the stage right before he was about to go on, and he had a little nail file that he was using to adjust the polepieces on that Les Paul with a Bigsby he used to play. He plugged straight into a 50-watt Marshall and a single 4x12 cab, and he had an absolutely beautiful sound. He did something quite original for the time, as he was always pulling way up on that Bigsby for really wide bends."
Do you hear your influence on rock players like John Sykes, Vivian Campbell, and Randy Rhoads?
"I do, but they were influenced by one side of my playing – the rock side. I met Randy when he first came to London with Ozzy Osbourne. I really liked that kid. He was so humble.
"He came to a gig of mine at the Marquee with Ozzy's wife, Sharon. He loved my tune 'Parisienne Walkways,' and he kept telling Sharon I should release it as a single, even though I already had – and it was a hit! In fact, he liked that track so much he used the melody for the outro solo on Osbourne's 'Mr. Crowley.' Randy definitely got that from me."
How objective are you about your playing?
"I live in my own world when it comes to my playing. I think most guitarists do. I'll walk around thinking, 'I can do this better, or I can do that better' all day long.
"Developing your style and improving is an ongoing process. It's a lifetime's work, really. I know the sounds I want, and I know the feeling I want to convey, but it's a slow process getting that across to the listener. You may not get exactly what you're hearing in your head, but if you get 75 percent of the way there, then you're doing pretty good."
All the latest guitar news, interviews, lessons, reviews, deals and more, direct to your inbox!