Five Reasons Alan Wilson Remains a Guitar Legend
The Canned Heat founder helped bring Son House out of retirement and was dubbed "the greatest harmonica player ever" by John Lee Hooker.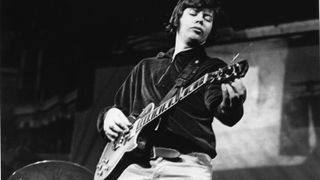 (Image credit: Susie Macdonald/Redferns)
The co-founder of Canned Heat, Alan Wilson was a guitarist, harmonica player and occasional vocalist who fronted the pioneering blues-rock jam band on its two biggest hits, "On the Road Again" and "Going Up the Country." Here are five reasons he remains a guitar legend…
1. Son House
Born in Arlington, Massachusetts on July 4, 1943, Wilson was a shy child who preferred records and books to playing. By his teens he'd picked up guitar and developed an interest in jazz, but his preference turned to blues after a friend spun a Muddy Waters record for him. Wilson developed an encyclopedic knowledge of the genre and performed as a solo artist on Boston's coffeehouse circuit.
In 1964, the 20-year-old helped bring 62-year-old blues pioneer Son House out of retirement after tracking down the forgotten bluesman at the request of producer John Hammond Sr. After years of neglecting his music, House had forgotten how to play his old songs. Hammond recalled that Wilson taught the bluesman "how to play like Son House again" and assisted him on the recording of his 1965 album, Father of the Delta Blues, playing blues guitar and blowing harmonica.
2. Encyclopedic Musical Knowledge
Wilson relocated to California in the mid 1960s to help his friend John Fahey, then a student in UCLA's folklore master's program, write a thesis on Delta blues pioneer Charley Patton. Fahey nicknamed the nearsighted and bookish guitarist Blind Owl, a name that stuck with Wilson for the rest of his short life.
In Los Angeles, Wilson was introduced to fellow blues enthusiast "Big Bear" Bob Hite, who played him selections from his extensive collection of rare 78s. When Hite began singing along to the music, Wilson, who had brought along his guitar, began to accompany him. With a few friends, they formed a nascent version of Canned Heat, a jug band group they named after Sterno, the ethanol- and methanol-based cooking fuel that provided a cheap and often fatal high for destitute alcoholics and addicts.
3. Canned Heat
By 1966, Canned Heat had transformed into a capable boogie blues-rock act that was among the first to extend its tunes into long jams during live performances. The group signed to Liberty Records in 1967 and had its first hit with "On the Road Again," a song that has its origins in Tommy Johnson's "Big Road Blues," recorded in 1927.
Though Hite was the group's main singer, it was Wilson who took lead on the song, singing it in an unearthly falsetto he copied from his Delta blues hero Skip James. Canned Heat had their first major performance that year at the Monterey Pop Festival, where Jimi Hendrix and the Who made their U.S. debuts.
Wilson played a white Fender Mustang, wearing a metal slide on his pinkie. He'd switched to a 1954 Les Paul gold-top by the time Canned Heat played at Woodstock, in 1969. The concert saw them perform the song that would define both the group and the festival, "Going Up the Country," a remake of "Bull Doze Blues" written by country blues singer Henry Thomas. Sung once again by Wilson, "Going Up the Country" was subsequently released as a single and became an international hit, thanks in part to its prominent use in Michael Wadleigh's 1970 Woodstock documentary.
4. Close to Nature
Wilson developed a deep interest in botany and conservation and frequently slept outdoors, usually at Hite's house, to be closer to nature. His 1969 song "Poor Moon" was written out of concern that humans would pollute the moon, and he wrote an essay called "Grim Harvest" that expressed concern for the fate of California's redwoods.
5. John Lee Hooker
In May 1970, Canned Heat supported their idol John Lee Hooker in the studio for the making of the double album Hooker 'n Heat. Hooker, whose disregard for song format made him notoriously difficult to follow, was impressed by Wilson's ability to keep up with him, noting "you musta been listenin' to my records all your life."The bluesman was also struck by Wilson's prowess on the harp, calling him "the greatest harmonica player ever."
Tragically, on September 3, 1970, before the album's release, Wilson was found dead from an overdose of barbiturates in his sleeping bag outside Hite's house. Wilson, who suffered from depression, had attempted suicide before. It's unknown if his death was accidental or intentional.
Browse Canned Heat music here.
All the latest guitar news, interviews, lessons, reviews, deals and more, direct to your inbox!
Guitar Player is the world's most comprehensive, trusted and insightful guitar publication for passionate guitarists and active musicians of all ages. Guitar Player magazine is published 13 times a year in print and digital formats. The magazine was established in 1967 and is the world's oldest guitar magazine.
When "Guitar Player Staff" is credited as the author, it's usually because more than one author on the team has created the story.