Five of Eric Johnson's Favorite Guitar Solos
From Wes Montgomery to Louis Shelton the Grammy Award winner reveals his favorite under-the-radar gems.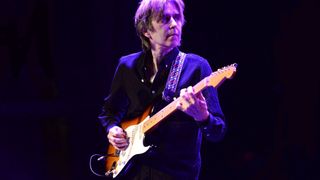 (Image credit: Scott Dudelson/WireImage)
We recently asked some of the world's top guitar players to choose their favorite solos. There was, however, one catch: They had to refrain from the obvious choices. In other words, no Hendrix, Clapton, Gilmour, et cetera.
Here's what Eric Johnson had to say…
1) Wes Montgomery | "Caravan" from 'Movin' Wes'
GUITARIST: Wes Montgomery
"It's classic Wes Montgomery – totally swinging and improvising over the changes. It's part chords and a lot of single-note sections, and it's all great. It's hard to pick just one Wes solo, but this one is particularly smokin'."
2) Albert King | "Crosscut Saw" from 'Born Under a Bad Sign'
GUITARIST: Albert King
"Albert King always knocks me out. He gets such a great tone in this solo, and his phrasing is extraordinary. I know Eric Clapton is a fan. He's covered this song and plays the solo almost note for note."
3) John Lee Hooker | "Boogie Chillen'" (single)
GUITARIST: John Lee Hooker
"Check out the original 1948 version of this song. It's incredible that this was recorded before rock and roll, because John pretty much set the foundation for everything that was to follow. The playing is flat-out extraordinary."
4) The Electric Flag | "Texas" from 'A Long Time Comin''
GUITARIST: Mike Bloomfield
"Mike Bloomfield is so fiery on this cut. He's hitting on all cylinders. I was very influenced by Mike Bloomfield. I used to listen to him a lot."
5) The Monkees | "Valleri" from 'The Birds, The Bees & The Monkees'
GUITARIST: Louis Shelton
"He worked a lot during the Wrecking Crew days, and this is one of his best solos. Here in the middle of a pop song that got on the radio, he slipped in this blazing, fleet-fingered solo that just shines."
All the latest guitar news, interviews, lessons, reviews, deals and more, direct to your inbox!
Guitar Player is the world's most comprehensive, trusted and insightful guitar publication for passionate guitarists and active musicians of all ages. Guitar Player magazine is published 13 times a year in print and digital formats. The magazine was established in 1967 and is the world's oldest guitar magazine.
When "Guitar Player Staff" is credited as the author, it's usually because more than one author on the team has created the story.