Eric Johanson on New School Recording, Old School Guitar Playing, and Putting His Own Spin on Classic Tracks
On 'Covered Tracks,' the bayou bluesman reinterprets rockers with acoustic guitars and looping technology.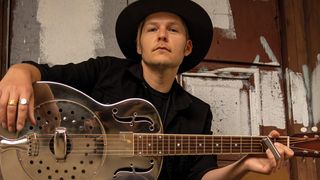 (Image credit: Kaylie McCarthy)
New Orleans culture is built on real live musicians whooping it up together, so the pandemic shut down has been particularly challenging for cats in the 504 area code. Eric Johanson, known mostly as an electric whiz with a sweet slide game, got his big break being discovered by Louisiana blues guru Tab Benoit.
He produced Johanson's 2017 debut, Burn It Down, for his label, Whiskey Bayou, and Johanson was an integral part of Benoit's Whiskey Bayou Revue rave-ups. Luther Dickinson produced Johanson's raucous Below Sea Level album, released in September 2020 on Nola Blue.
With the Crescent City shuttered and little touring action, Johanson wasn't able to fully maximize his upward momentum, but he didn't lose it all either because, unlike a lot of roots players unwilling to tamper with technology beyond a tube amp, he assembled an above-average live-streaming rig and kept his roll going online with weekly acoustic performances. He played cover versions of anything he ever loved, regardless of genre.
Fans started sending him requests, and he ultimately conjured a considerable catalog of stripped-down, loop-based arrangements. He built on that approach in his home recording studio, developing a fascinating method to avoid vibe-killing click tracks in favor of organic scratch-guitar loops triggering drum tones.
That in turn led Johanson to record two albums, cleverly titled Covered Tracks: Vol. 1 and Vol. 2. The style is singer-songwriter, rather than a shred show, but he does drop a gang of fantastic acoustic and electric leads, and his slide work on resonator is particularly noteworthy.
Johanson doesn't over-sing like a lot of blues dudes, and his delivery is even more laid back in this setting. Covered Tracks is easy on the ears and a great way to enjoy new versions of old southern-rock favorites like "Midnight Rider" or "Can't You See," as well as classic Delta-style cuts by Mississippi Fred McDowell and John Hurt.
That said, it's most interesting to hear the up-and-coming bluesman's takes on the popular artists of his adolescence, such as Soundgarden and Fiona Apple. Johanson's resonator rendition of Nine Inch Nails' "Head Like a Hole," which is the single from the first volume of Covered Tracks, is bound to inspire plenty of acoustic players to take a shot at it.
How'd you wind up reworking rockers such as "Head Like a Hole"?
I wanted to tie together all the different things that I've been into over the years, including re-interpreting music. I was a big Nine Inch Nails fan, and I felt the core of "Head Like a Hole" could be presented in a different way and still work well as a song.
My version reflects my general approach to doing covers in that I didn't try to mimic every little sound or moment. I went off of my recollection and just started playing what came out. For example, the main riff in the original is a synthesizer bass line, and it's an exotic scale.
I skipped the most dissonant stuff and made my own interpretation with a blues scale. So it's got some of the original vibe, but simplified. The blues is about feeling, not re-creating a certain sequence of notes. Working from memory was a natural way of bringing things I was into in the past to where I'm at now.
Tab Benoit works the same way when he covers a song. He'll bring in a lyric sheet and make up his own version of the music. The difference is the natural embellishment that happens when he plays a song his way with the original lyrics. That's the way blues music was handed down from generation to generation before recording technology.
On that note, can you detail how you conjured your cuts from the ground up?
I recorded into Pro Tools, but I didn't want to use a click track, because something in the feel gets lost when I try tempo mapping to a digital grid. It's like being held back. When I livestream, I'll start by scratching out a rhythm on the strings using either a pick or my fingernails, depending on the plucking attack for the tune.
I loop that using an Electro-Harmonix 22500. It has two channels, and I run a Radial Twin City ABY pedal in front of it. That way I'm able to record the scratch rhythm bed and then switch to the other channel, so my direct guitar is on a separate track from the loop. For recording, I use the loop instead of a click track.
I use XLN Audio's Addictive Trigger, which allows me to pick a point in the loop that I feel is best for triggering an organic kick drum sound. To fill out the percussion, I did some handclaps and even used a can of cookie sprinkles as a shaker. That's all low in the mix, but you can definitely feel the thump of the kick drum, which gives the recording a sense of gravitas without getting in the way of the guitars.
What acoustic guitars did you use, and how did you track them?
I only used two acoustics for all the tunes on both volumes of Covered Tracks. One is a relatively recent National Collegian resonator heard on "Head Like a Hole." The other is a Taylor 314 Grand Auditorium, which is the rhythm and lead instrument on the first track, "25 or 6 to 4." My recording method was similar for both.
I set up a large-diaphragm condenser to capture vocals and guitar simultaneously. I get a better vibe if I sing and play together. I place a Shure Beta 57 close on the guitar and run a direct signal from the pickup. Sometimes I'll use a clean amp plug-in to help color that signal. Then I'll place it off to one side where it helps spread the stereo field and highlight different parts than the mic.
The Taylor is a typical steel-string that I tune standard, so it's a totally different sound from the resonator, which I generally tune to open D. From strings six to one it's D, A, D, F#, A, D. The 314 has Taylor's onboard Expression System, which is also very different from the National Slimline magnetic pickup I use for the resonator.
Between the two of them, I'm able to cover a lot of sonic ground. For live streaming, I'll use one or the other and stick to it for a whole song, but in the studio I was able to mix and match them to create more sonic variation.
"Lovin' in My Baby's Eyes" is a good example and a heartfelt track from Taj Mahal's 1996 album Phantom Blues. What inspired you to cover that one?
He's such a unique artist, and that song in particular just hits me. I've heard him sing it live with my lady by my side, and I really felt it. I didn't trigger the bass drum on that one. I just left the scratch guitar as the rhythm bed.
My version is in the same key as his. I played the rhythm on the Taylor in standard. The tune is in the key of B, played with a capo at the fourth fret out of a G chord position. I played the solo on the National.
Do you have a different approach for playing electric slide versus acoustic?
I find that a metal guitar slide sings better on acoustic strings. Lately I've been using a MagSlide, which is very lightweight because it's made of magnesium. I tend to pluck more aggressively when playing acoustic slide to compensate for the fact that notes don't sustain as long. I use heavy strings starting at gauge .013 to get as much string energy going as possible.
The main differences in my electric slide approach are that I use standard tuning and play a Dunlop 212 Pyrex, which is basically glass. It's short, which is important for playing slide in standard tuning where you can only focus on a maximum of three strings at one time. My main electrics are two Duesenberg Starplayer TVs, one Phonic and one Deluxe. I used them to play some solos on Covered Tracks.
I mostly used a Les Paul Standard to play slide solos. "Midnight Rider" is a good example. Having a bit of electric here and there made the recording more multidimensional. When I play live, I run the National's Slimline pickup into my electric amp, which is a Category 5 Voice of the Wetlands head with a 4x10 cabinet. It's like a 45-watt version of a Fender Super Reverb.
The output from the Slimline is relatively low, so the sound naturally cleans up. Having a volume pedal is key for backing off certain notes that feedback due to the inherent nature of a resonator guitar.
What are you using for your live-streaming setup?
Most people use an iPhone, but I've got a home studio setup with some decent gear, so I figured I'd up the quality a notch. I use one mic to capture my vocal and guitar, and another mic that I place in front of the speaker on a Quilter Labs MicroPro 200. It's not technically designed as an acoustic amp, but its solid-state circuitry provides a nice clean sound.
I don't use headphones or monitors, so having just those two mics eliminates a lot of variables. From there the signal goes through an Audient iD44 interface and into my computer running Ableton Live, which doesn't take much processing power. I mainly use it just to add some compression.
From there the signal flows into an internal routing app, Soundflower's BlackHole, and then into a livestreaming application, Streamlabs OBS [Open Broadcaster Software] that allows me to select various inputs, including video from a separate camera. OBS finally sends it all to Facebook. I don't have outboard compressors, so I have to do it in the box.
A little compression makes a big difference in the dynamic range for somebody listening on laptop speakers or even just an iPhone or iPad. Honestly, the iPhone does a pretty good job live streaming on its own, but the next step up from that is everything I mentioned. Unfortunately, there's not much in between. It's a lot to go through, but there's also a lot of competition for attention online and every advantage helps.
What's the live gig situation in New Orleans right now?
For almost a full year we had pretty much no live music, in part due to the nature of New Orleans. People come down here to party, so we couldn't even have outdoor music for a while, just to discourage gathering together in crowds. That's sort of coming back, and now they've even opened the bars.
I'm doing some outdoor shows around here, and am hopeful for full-scale touring in the fall. I wasn't able to support Below Sea Level on the road last fall, so I'm looking forward to playing that live, and I'm starting to get calls to play acoustic shows as well. I'm in the process of dialing in my live acoustic signal chain right now. It feels like we're at a turning point.
All the latest guitar news, interviews, lessons, reviews, deals and more, direct to your inbox!
Jimmy Leslie has been Frets editor since 2016. See many Guitar Player- and Frets-related videos on his YouTube channel, and learn about his acoustic/electric rock group at spirithustler.com.