Eivind Aarset Explores the Guitar's Full Sonic Potential With His Group of Telepathic Jazzers
The experimental and highly prolific Norwegian guitarist discusses his latest musical endeavors.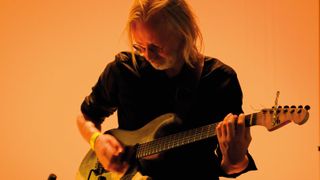 (Image credit: Alf Solbakken)
There is nothing like music made by a great band that's been together for years. With a wealth of recording and gigging under their belts, the individual members can interact in a way that borders on thought transference.
The phenomenon reaches its epitome when paired with the high level of technical facility and harmonic knowledge typical of a jazz ensemble. Sadly, jazz groups that stay together for decades are even rarer than the rock variety. One was Paul Motian's collaboration with Bill Frisell and Joe Lovano. After two decades, they often sounded like a single organism.
Fortunately, another aggregation led by Eivind Aarset is still active. For going on a dozen years, the guitarist – along with bassist Audun Erlien and drummers Wetle Holt and Erland Dahlen – has forged a sound that traverses jazz, rock, ambient, electronic and prog, combining extreme dynamics with haunting melodies and fresh textures.
Although he's been in numerous projects, including collaborations with Jon Hassell, Arve Henriksen and the band Dark Star Safari, Aarset continues to find new life in this long-running four-piece.
"It's becomes something that is not only my invention but also includes what we have experienced touring together," he says. "We've found a way to play where we don't have put what we're doing in words but rather have a common aesthetic understanding."
In live performance, that aesthetic often finds the musicians emerging from an ambient stew, taking off to the stratosphere and then, on a subtle signal, grounding themselves in the composition's head or theme.
"That's pretty much how it works," Aarset attests. "One of the drummers is really good at making those decisions. There are certain constant elements, but how long things continue to go on before we move on to the next section is very open."
Their hive mind is featured on Aarset's new record, Phantasmagoria, or A Different Kind of Journey (Jazzland Records), where you can find his instrument cranking out scorching solos when not generating a wealth of un-guitar-like noises and pads.
The basic tracks were recorded in a room together before COVID started. Once the pandemic began, Aarset had lots of time to do post-production, overdubs, arranging and editing. On earlier records, the process was to record the band jamming and then, as the guitarist once put it, "pick out the good bits to overdub over."
This time was different. "I had more compositions ready when we went into the studio, so it was more tune based," he explains. "Wetle wrote two of the tunes. The original forms were pretty much what we worked with after the initial recording, but still with a very open attitude."
In some respects, Aarset's approach calls to mind Jimi Hendrix, who was an early inspiration of his. Like Hendrix, he wholeheartedly embraces the latest electronic technology. Similarly, Aarset is a pioneer, having been among the first to integrate a laptop employing Ableton Live software for looping and effects, with diverse analog and digital pedals.
For Phantasmagoria, or A Different Kind of Journey, Aarset's signal started with three different electric guitars, mostly his usual grey Jan Braathen custom S-style, but also a Novo and an old Hofner archtop with flatwound strings.
For amps, he favored a Fender Princeton, a vintage Vox AC30 and a new hand-wired AC15. He also used Audio Kitchen's the Big Trees, an interesting amp recommended to him by Vladislav Delay (a.k.a. Finnish electronic musician Sasu Ripatti), who played with Aarset in a band that included trumpeter Nils Petter Molvær and the legendary reggae rhythm section of Sly Dunbar and Robbie Shakespeare.
"It's a small, 2.5-watt tube amp with direct and line outs," Aarset explains. "I used it for a lot of the distorted sounds. On some tracks I went direct, with no speaker or speaker emulation."
Phantasmagoria, or A Different Kind of Journey is rife with reams of variously distorted guitars. On "Intoxication" there's a fuzzy sound initially recorded through a Boss overdrive pedal with a delay in front of it. "I bought a cheap, small Mooer delay, which I have at the very beginning of my pedal chain," Aarset reveals. "I use that a lot now to get the delay-before-distortion sound. I later re-amped it with the Big Trees, and it really came alive."
"Inbound" features an almost bit-crushed tone derived from the Novo guitar's gold-foil pickups through the Empress Effects Heavy distortion, and Jam Pedals' Delay Llama, with the guitarist randomly employing the delay's pitch-shifting button. "Outbound" is a combination of Chase Bliss Mood delay and the Empress pedal, with some Big Trees.
The lengthy, aggressive guitar solo on "Didn't See This One Coming" recalls the guitarist's early, brief metal phase, and almost didn't make the record. "That tune was originally something else," he says. "We just continued playing. I kicked in a little delay and distortion, with the Mood pedal and this octave thing happened.
"It felt okay, but when I listened back, it was embarrassing. I said, 'I can't release this because it's so out of the realm of what I'm doing.' But both the band and the guy who mixes us said, 'No, we have to use this.' I said, 'Maybe turn the guitar down a bit lower.' They said, 'No, it has to be really present.' So I have to live with it."
Fans are fortunate the section stood, as it offers a vivid picture of the energy this band conjures when performing live. Ultimately, Aarset is happy too. "There is an improvisatory free flow to the section, which is nice because the rest of the album is a bit calculated," he admits.
Seeing release simultaneously with Phantasmagoria, or A Different Kind of Journey is a second Dark Star Safari record, Walk Through Lightly (Arjunamusic Records). The band once again features Aarset alongside drummer Samuel Rohrer, with electronic musicians Jan Bang and Erik Honoré, and this time John Derek Bishop.
Much like their first record, the music should appeal to fans of two David's: Bowie and Sylvain. The band initially recorded a live improv session in Berlin at end of 2019. As with Aarset's own project, they did overdubs during the COVID lockdown, while Bang and lyricist Honoré worked on turning the files into songs.
On Walk Through Lightly, Aarset's guitar largely disappears into the mélange of ambient sounds created by synths and samples – no guitar solos here.
"The aesthetics of my playing change working with Jan," Aarset says. "It's about vocabulary. He has some things he likes and they become part of my palette of sound possibilities. The choices and suggestions that he makes open new paths in my musical understanding.
"I will play something I think is not really happening and he will like it, which makes me see it differently. It encourages me to follow something that feels strange in the beginning in order to see where it leads. Sometimes that can open new doors."
Buy Phantasmagoria, or A Different Kind of Journey by Eivind Aarset here.
Buy Walk Through Lightly by Dark Star Safari here.
All the latest guitar news, interviews, lessons, reviews, deals and more, direct to your inbox!