Eddie Van Halen's 10 Greatest Guest Performances
Michael Jackson, Brian May, LL Cool J, and more, here are the times Ed shone on another artist's song.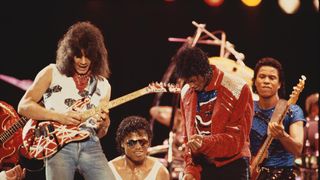 (Image credit: Lynn Goldsmith/Corbis/VCG via Getty Images)
Guitar Player has published a series of tributes to Eddie Van Halen, with a number of guitar heroes talking about Eddie's influence, his style, his invention. We have had Steve Vai and Joe Satriani joining some of the world's greatest guitar players to put into words the impact he made on the craft of guitar playing, and of rock itself.
Here we are looking at the moments in which Eddie was playing a supporting role, as a guest spot on other artists' work, and yet somehow managing to walk the line between the spectacular and servicing the song.
When you book some studio time with Eddie Van Halen, you want some fireworks, sure, but this list showcases his range as a player, and his ability to play what is right for the song, no matter the context.
10. "We're the Greatest" – LL Cool J, Authentic (2013)
Eddie's guitar work made its first appearance in a rap track when Tone Loc sampled the two-note hook from "Jamie's Cryin'" for his 1989 hit "Wild Thing." That wholly unsolicited appropriation pissed off Ed, who sued for royalties and settled with the rapper out of court. Ed's 2013 rap experience with LL Cool J was much happier.
He stated that he felt blessed not only to work with J but also to call him a friend. The rapper returned the compliment by calling Ed "one of the greatest guitarists that ever lived." No argument there. The solo on "We're the Greatest" is classic Eddie and features his trademark style of shredding.
9. "The Little Things" – Rich Wyman, Fatherless Child (1996)
Ed stepped out of his comfort zone with this contribution to singer-songwriter Rich Wyman's 1996 release. EVH suggested the two work together after he saw Wyman perform, and he ended up producing the album and playing on four of its tracks. This is the most rocking one of the bunch.
Ed starts off his solo in a conventional rock vein and builds quickly to some patented Van Halen–isms. He reportedly spent quite some time working on his solos in the studio alone, but he was so loud that everyone could hear him through the walls.
8. "Eagles Fly" – Sammy Hagar, I Never Said Goodbye (1987)
Eddie played bass and sang backing vocals on Hagar's final solo album for Geffen, but as the Red Rocker revealed a few years back, Ed also added his finger-tapping "chimes" to this cut's solo. Although he's an excellent guitarist himself, Hagar wasn't going to miss the opportunity to add a touch of Ed's magic to a track.
For that matter, the whole album sounds similar to the Van Halen albums that would follow with Sammy on vocals. I Never Said Goodbye went on to become Hagar's most successful solo album, undoubtedly boosted by his involvement in Van Halen.
7. "Eastern Bloc" – Thomas Dolby, Astronauts & Heretics (1991)
This unlikely pairing apparently came about through Dolby's and Van Halen's wives, who were friends and introduced the two musical artists.
Dolby's electro-pop sound was a major side-step for Eddie, who nonetheless made a niche for himself on this track. Ed also appears on "Close But No Cigar," where he turns in some understated riffing and a chugging EVH rhythm track, but it's on "Eastern Bloc" that he shines, delivering a quirky take on the traditional Bo Diddley beat, with fills that are unlike anything Bo ever laid down.
Utilizing a massively overdriven and sonically manipulated guitar sound, Ed is still instantly recognizable. Dolby's music has never been about guitar histrionics, and Ed tailors his approach to fit. The parts that he does play when he finally cuts loose toward the end of the song, at 3:30 into the track, take us back to classic EVH, with squealing harmonics and a majestic-sounding delay that layers cascades of notes.
6. "Joy to the World" – Steve Lukather, Santamental (2003)
For this Christmas album, Luke called on a who's who of guitar greats, including Slash, Steve Vai, and – no surprise, given their long friendship – Eddie. Naturally, the results are as far as you can get from a typical saccharine Christmas album, particularly on Luke and Ed's version of "Joy to the World," which is taken at a "Hot for Teacher" pace.
The track is an extended romp through the boundaries of shred, with Eddie blazing through it with a fusion-like vibe that nicely matches Lukather's own approach. There are some great moments in here, particularly around 2:10, where he plays a classic EVH tapped-harmonic line.
5. "Can't Get Away From You" – Nicolette Larson, Nicolette (1978)
This midpaced, country-inflected pop-rocker is a million miles away from Ed's familiar musical territory, but he makes a place for himself without disturbing the song's mood or style. As always, Ed is the master of tone and taste, and the result is a huge adrenaline kick halfway through the song that complements, rather than outshines, what came before it.
The album was produced by longtime VH producer Ted Templeman, who apparently arranged the hook-up between Larson and Van Halen. Reportedly, Ed didn't want to be credited for his work on the track for fear of taking attention away from Van Halen, which was just beginning to break through at the time.
4. "Respect the Wind" – Alex Van Halen, Twister Soundtrack (1996)
Created for the film Twister, which also featured the Van Halen track "Humans Being," this keyboard-heavy piece features Eddie playing atmospheric runs, with a huge delay. His long-sustaining, vibrato-drenched notes do in fact sound like they're being carried on the wind.
When discussing Eddie's work, it's notable time and again how often and how well he plays to a song's strengths. On "Respect the Wind," the opportunity to rip out never-ending runs of blurred notes is clearly present, but Ed, as always, plays just what the song needs. The mark of a great player is an ability to leave something in the tank, and his restraint allows him to take his playing to the next level when needed.
3. "Lost Boys Calling" – Roger Waters, The Legend of 1900 Soundtrack (1999)
On an otherwise mainly orchestral album, this song provides a great entry into the Van Halen solo collection, starting with a slowly rising note from the dipped whammy bar and exploding into long sustained notes mixed with pinched and tapped harmonics.
In a contribution that's heavy on atmosphere, Eddie resists the temptation to blow through the song and brings precisely the degree of gravitas required to take it to another level. The fills that come early in the song foreshadow the greatness that follows. Subconsciously, perhaps, Ed seems to reference some of the David Gilmour approach to help create a track that could fit easily within the Pink Floyd catalog.
2. "Blues Breaker" – Brian May, Star Fleet Project (1983)
This mini album has just three songs and lasts about 20 minutes, but roughly 12 of those minutes are taken up by "Blues Breaker," a jam that's clearly named in tribute to Eddie's primary influence, Eric Clapton, a former member of John Mayall's Bluesbreakers.
Ed and May trade solos over a 12-bar blues, giving them a chance to show their stuff in a format that neither guitarist ever delved into on his own records. Eddie displays some great blues chops and sticks to the traditional, Clapton-worthy blues idiom rather than break out his trademark tapping and dive-bombing techniques.
It's a blast to hear him noodling away quite possibly as he did in his early years, when he first discovered Clapton. May is in great form here as well, and the contrast in guitar tones – Eddie's bright, raw edge and May's rounded, resonant sound – is both remarkable and satisfying.
1. "Beat It" – Michael Jackson, Thriller (1982)
Sure, it's the guest solo appearance that everybody knows, but this track has to be number one simply because it distills the essence of Eddie Van Halen's genius in 16 bars of sonic nirvana. As has often been noted, this was the song that made Michael Jackson MTV's breakout star and catapaulted him to a stratospheric level of success as the King of Pop.
Eddie reportedly spent about an hour working on the track, during which time he managed to throw down the greatest solo ever to be featured on a mainstream pop hit. Every instantly recognizable EVH technique is here: the whammy-bar moves, the two-handed tapping, and the flurries of shred riffing.
Being able to play this solo was, for many guitarists, as much a rite of passage as learning "Eruption" was when Van Halen dropped their debut album in 1978. Eddie was so unassuming about his contribution to Jackson's song that he didn't even ask for payment or so much as an album credit.
All the latest guitar news, interviews, lessons, reviews, deals and more, direct to your inbox!
Guitar Player is the world's most comprehensive, trusted and insightful guitar publication for passionate guitarists and active musicians of all ages. Guitar Player magazine is published 13 times a year in print and digital formats. The magazine was established in 1967 and is the world's oldest guitar magazine.
When "Guitar Player Staff" is credited as the author, it's usually because more than one author on the team has created the story.