Duane Eddy: How I Wrote "Rebel-'Rouser"
The rock and roll legend on the inspiration and session behind his 1958 string-twanging instrumental hit.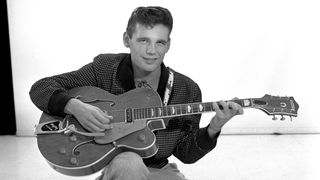 (Image credit: PoPsie Randolph/Michael Ochs Archives/Getty Images)
Duane Eddy had scored his first hit with the guitar instrumental "Moovin' n' Groovin'" when the master of twang got the inspiration for his second. "I was playing a rock and roll show in L.A. and thought I needed something that I could play as I was walking out to the stage, with the lights coming on," he recalls. "Then, when I got to the center, the band could kick in."
From this small notion came the big reverb-laden track "Rebel-'Rouser," Eddy's enduring 1958 hit single. One of rock and roll's pioneering guitarists, Duane Eddy influenced countless famous players over the years, including George Harrison, Bruce Springsteen and John Fogerty. And "Rebel-'Rouser" is the song of his that many of them heard first.
No Saint
Though it sounds loosely based on "When the Saints Go Marching In," the melody to "Rebel-'Rouser" was inspired by the folk song "Who's Gonna Shoe Your Pretty Little Feet," which Eddy had heard performed by Tennessee Ernie Ford.
"I'd had the melody going around in the back of my mind, and I just had the drummer playing an offbeat," he says, explaining the song's genesis. "But when I finished the verse, I couldn't think of any way to get into a bridge, so I modulated it – I moved each subsequent pass through it up by a half step."
Grain Reverb
As Eddy explains, the writing took place at the recording session, held at Audio Recorders in Phoenix.
"We spent about two hours, starting at 9 a.m., working on the melody and how it would move through the keys before we recorded it," he reveals. "In those days, the equipment was very primitive, and we only had three tracks.
"I used my Gretsch 6120 on that, and I was plugged into a souped-up Magnatone amplifier. It ran at 100 watts and had a JBL speaker and a tweeter. It stayed clean and wouldn't break up no matter how hard you hit the note."
As for the song's thick reverb, it came courtesy of an empty grain silo that served as the studio's echo chamber.
Though the track features a distinctive saxophone part and background vocals, neither was added at Eddy's request. "I did think about using a sax player, but we didn't have one in Phoenix," he says.
It was famed producer Lee Hazelwood who embellished Eddy's basic take when he brought the track to Gold Star Studios in L.A. He had Gil Bernal overdub his howling sax lines and added singing and handclaps performed by the Sharps, a vocal group that would change its name to the Rivingtons and have hits of its own, like "Papa-Oom-Mow-Mow."
"With the vocals and sax lines, I didn't hardly recognize it," Eddy says, laughing. "Lee would often come up with ideas for titles and suggestions for arranging the songs." Indeed, Hazelwood even renamed the tune, though it was inadvertent.
Eddy originally called it "Rabble Rouser," but "Lee somehow got the title mixed up," he explains. "He was from Texas and probably thought 'Rebel-'Rouser' made more sense. It was a great title anyway."
Rebel Without a Pause
"Rebel-'Rouser" has lost none of its string-bending appeal for Eddy since it reached Number Six on the charts. "I love to play it, even now," he says, "and I always play it like it's the first time. It was my career record for a couple of years and really set the foundation for everything that has followed since.
"'Rebel-'Rouser' had been a hit all over the world and established me as an artist. I had a few more signature hits after that with 'Peter Gunn' and 'Forty Miles of Bad Road,' but 'Rebel-'Rouser' opened up doors."
All the latest guitar news, interviews, lessons, reviews, deals and more, direct to your inbox!
Mark is a freelance writer with particular expertise in the fields of '70s glam, punk, rockabilly and classic '50s rock and roll. He sings and plays guitar in his own musical project, Star Studded Sham, which has been described as sounding like the hits of T. Rex and Slade as played by Johnny Thunders. He had several indie hits with his band, Private Sector and has worked with a host of UK punk luminaries. Mark also presents themed radio shows for Generating Steam Heat. He has just completed his first novel, The Bulletproof Truth, and is currently working on the sequel.