Charlie Daniels Discusses His Bluegrass Roots, the Joy of Arranging in 2005 GP Interview
The late country legend tells GP about how he maintained his chops, and his love of jazz, in this archival interview.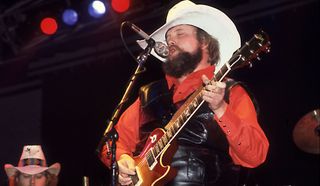 (Image credit: Paul Natkin/WireImage)
The following is a 2005 interview Guitar Player conducted with Charlie Daniels, who passed away yesterday, July 6, at the age of 83.
"As a kid I would sit and listen to bluegrass on the radio for hours, trying to learn all I could. Bluegrass was my first love." That's how Charlie Daniels recalls his introduction to the music that makes up his latest record, Songs from the Longleaf Pines, a gospel bluegrass collection.
The album pairs Daniels with banjo legend Earl Scruggs, singer Mac Wiseman, Ricky Skaggs and a host of other bluegrass heavyweights.
Daniels throws down with Scruggs and Wiseman on the gospel standard "Keep on the Sunny Side," with great interplay between Daniels' Taylor acoustic and Scruggs' vintage Gibson banjo. "The three of us just sat in a circle," he says. "It came together real quick - we just wanted to pick something and Mac called that tune." Producer Scott Rouse tracked the guitar and banjo with two pairs of AKG 4033 mics in X-Y patterns.
Despite his formidable instrumental skills, Daniels is credited only as a vocalist on several of the tunes on Songs from the Longleaf Pines. He was joined in the studio by the GrooveGrass Boyz - Ronnie McCoury (mandolin), Rob McCoury (banjo), Jason Carter (fiddle), Andy Hall (Dobro) and Tim May (acoustic guitar), all of whom give spotless, burning performances.
When he wasn't jamming along on fiddle, guitar or mandolin, Daniels was happy to direct the show and sing. "I stood in the control room and told the guys what I wanted. I'm pretty proficient on my instruments but I think my real expertise is in writing and arranging. I love to arrange - I've always got these ideas about who should play what."
Fans of Daniels' fiddle work can hear him blaze on the instrumental "I'll Fly Away," with his signature tone a product of a miked sound with a little bit of direct signal mixed in. He also lays down rich acoustic parts on "What Would You Give."
To develop the chops necessary to play bluegrass, Daniels spent hours in the woodshed as a youngster and further honed his craft by doing live radio gigs as a teenager.
"My friend Russell Palmer taught me my first guitar chords, and he and I would play Saturday mornings on the local radio shows. He was on banjo and I played guitar, fiddle and mandolin. But I was never a natural musician. I had to work a little bit harder. Even now, for me to sound the way I want to sound, it takes a good bit of effort. Rarely does a day go by where I don't play."
Although music fans know him for his boogie-fied Southern rock, Daniels remains a die-hard bluegrass fan as well as an avid student of the genre. He also finds common ground with styles that might seem miles apart from bluegrass.
"I've always drawn an analogy between bluegrass and jazz, especially from an arrangement standpoint," he says.
"If you listen to a Charlie Parker record with piano, bass, drums and his sax, there's a real purity to the sound - it's transparent. In a bluegrass arrangement, where you've got guitar, fiddle, mandolin, bass and banjo, there's a similar transparency. Every instrument has its own niche, even though they all play at the same time. Everybody's wailing but nobody steps on anybody else's toes.
"People think it's a simple music, and in many ways it is. But if people try to play bluegrass without really understanding it, they'll step all over each other. It don't take but one player in a bluegrass band who doesn't get it to ruin the whole thing."
All the latest guitar news, interviews, lessons, reviews, deals and more, direct to your inbox!
Guitar Player is the world's most comprehensive, trusted and insightful guitar publication for passionate guitarists and active musicians of all ages. Guitar Player magazine is published 13 times a year in print and digital formats. The magazine was established in 1967 and is the world's oldest guitar magazine.
When "Guitar Player Staff" is credited as the author, it's usually because more than one author on the team has created the story.