"I Think the Sound of the Guitar Straight Into the Amp Is the Purest Form of Expression": Arielle Takes a Sonic Tour of the Classic Rock Era on Her New Album, ''73'
With songs and guitar tones inspired by the spirit of '73, the Brian May Guitars signature artist favors an "old-school approach"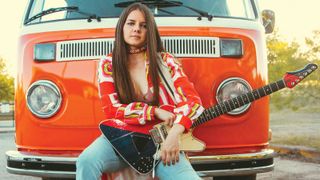 (Image credit: Kyle the Kid)
Arielle has never made a secret of her love for all things retro. Since being discovered in 2010 by Nuno Bettencourt, she's found herself opening for – and fitting in well with – some of rock's most classic acts, including Heart, Joan Jett, Graham Nash, Country Joe McDonald and members of Deep Purple.
Her talents didn't go unnoticed – Brian May handpicked her for a key role in his London-based musical, We Will Rock You. He then went on to help her develop the retro-futuristic Arielle model for his Brian May Guitars, making it the first original guitar design May has contributed to since creating his own iconic Red Special.
With the title of her 2021 album, Analog Girl in a Digital World, Arielle acknowledged her decidedly anachronistic bent. Her new release, '73, firmly nails its colors to the retro mast once again, but never resorts to slavishly aping the obvious influences of the era. Instead, Arielle takes her inspiration from the warm, organic guitar tones of the great early '70s albums and actively seeks to embrace the breadth and diversity that was standard for the classic records of the time.
The new album sees Arielle explore a wide range of styles, from the country-tinged "Weakness for You" to the full-blown fusion excesses of "Kalypso." In between, there are driving, hard-rocking good-time anthems, introspective singer-songwriter elements and even a cover of the old Bread hit "If."
In addition to her music career, Arielle has actively worked to conserve trees used in guitar making through her not-for-profit charity, Tonewood Forest. The group plants one new tree for every BMG Arielle that is sold and has purchased plots worldwide to help remedy the imbalance caused by over harvesting.
"We've just bought 20 acres to plant trees at our Nashville headquarters," she says. "We're dedicated to growing, planting and maintaining tree species such as mahogany, ebony and koa that are specifically harvested for musical instruments."
Your new album is very diverse in terms of styles and tones. Is that deliberate or just a natural part of your evolution?
It's natural, in part, but I'm also aware that I don't want to feel like I'm repeating myself. All of the really great artists that I love – like the Who, for example – always made albums that were different from their previous work. At the same time, each of their albums covered a broad range of styles and feels. It was like the album took you on a journey.
It's no secret that I've always loved the late '60s and early '70s – not only the music but so much of the period's visual style. I know, when we look back now, there are a lot of things that probably weren't that great about the era, particularly in terms of racism and sexism, but if it's about focusing on the music, that was a very special time.
The sounds of the records were so organic, and there was so much creativity and inspiration in the music that was made. It was timeless and sounds as good and relevant today as it did when it was recorded.
Did you have the songs on '73 stockpiled or were they written to order?
A lot of the songs were written for the album, but they changed as we worked on them in the studio. Some were actually created in the studio, which is an interesting way of doing things. I've previewed new songs at shows in the past, and that does give you an insight to how well something will work, so I guess both approaches are equally valid.
The album's initial inspiration came from my old orange 1973 VW bus, Magick. It got me thinking about how much great music was released that year, like the first Queen album and The Dark Side of the Moon.
You play some fantastic slide on the title track. What guitar are you using?
That was actually played on a lap steel, in standard tuning. I've been really getting into lap steel since I recorded that.
For guitar fans, I think "Kalypso" will be the standout track from '73. It's really different from the rest of the album – almost like something from the classic fusion records of the early '70s, with a hint of Eric Johnson about it as well. Where does that vibe come from? Are you a big fusion fan?
I do enjoy playing in that style, and I really love Eric's playing [Johnson played on the title track from Arielle's 2017 EP My Gypsy Heart]. For this track, I wanted something where I could really stretch out when we play it live, without having to be constrained by what would be appropriate.
We completely opened things up and came up with so many sections and different grooves that it was almost a way of working out all the frustrations that you can feel as a guitarist – like where you really want to blow over something, but you know that it just wouldn't be appropriate. We didn't set any limits for "Kalypso." [laughs]
"Weakness for You" takes an entirely different approach, with a strong acoustic feel and a country-style solo.
Yeah. I love country music, going back to the '40s and '50s. I tried a few approaches to this song before I settled on this version. I also spent quite a bit of time trying to work out what the solo should do, so I'm really pleased with the way that it came out.
"The Way You Look at Me" starts out with a strong bluesy groove, then totally changes feel when the vocal enters, which really wrong-foots the listener.
I like to keep things loose. I never pigeonhole myself, either stylistically or within a song. I just want to try to express whatever it is I'm trying to say in the most natural way. That's why I often adopt a "less is more" approach to my solos and fills: I want the song to drive the music, and not always look for ways to try to fit more guitar parts in.
What were your main gear choices for '73?
Besides my original handmade two-tone guitar, there's a Rickenbacker 12-string and a Martin D-28. I also play a Gibson ES-175 on "Weakness for You." For amps, it was an Alessandro 1/2 Azz into Marshall 1968 cabinets. I didn't use any effects except for an EP-3 Echoplex and a vintage TC Electronic chorus/flange.
I think the sound of the guitar straight into the amp is the purest form of expression; it's all about the player and the sound that they can get with their own hands. There are some really cool pedals out there, but I've found that I like to try to make the guitar and amplifier work for me, which I guess is very much an old-school approach. Which is perfect for this album, of course!
Visit Arielle's website here.
All the latest guitar news, interviews, lessons, reviews, deals and more, direct to your inbox!
Mark is a freelance writer with particular expertise in the fields of '70s glam, punk, rockabilly and classic '50s rock and roll. He sings and plays guitar in his own musical project, Star Studded Sham, which has been described as sounding like the hits of T. Rex and Slade as played by Johnny Thunders. He had several indie hits with his band, Private Sector and has worked with a host of UK punk luminaries. Mark also presents themed radio shows for Generating Steam Heat. He has just completed his first novel, The Bulletproof Truth, and is currently working on the sequel.