Looking to Expand Your Musical Diet? Alexandre Lagoya's Captivating 'The Spanish Guitar' Is Just What the Doctor Ordered
Devastated by his partner Ida Presti's death, Alexandre Lagoya reclaimed his life and artistry on his own with this stunning display of beauty, technical prowess and humanity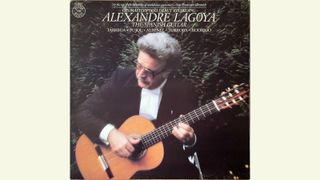 (Image credit: Columbia Masterworks)
I always feel compelled to oversell a classical guitar record. Why? It's my hunch some folks won't read this article because it's about some dude they've never heard of playing Spanish classical guitar, and not about Neil Young, Hendrix, the Allman Brothers and so on.
After all, it's hard to maintain an ongoing curiosity these days. We're inundated by YouTube clips, Netflix recommendations, access to 500,000 songs and to every movie ever made, all while we're busy trying to be responsible adults.
That said, if you're looking to expand your musical diet with something good, Alexandre Lagoya's The Spanish Guitar is just what the doctor ordered.
Although Lagoya is identified as Spanish because of his name, he was actually a French citizen, born to a Greek father and an Italian mother. His parents were not musical, but he could not recall a time when he wasn't completely moved by music.
While still a child, Lagoya began playing a guitar owned by his brother (who strummed and sang a few songs), and at the age of 13 began a lifelong commitment to guitar, successfully giving solo concerts.
The Spanish Guitar was recorded in 1979 and released on the Columbia Masterworks label in 1980, when Lagoya was 57 years old. A long journey preceded this great LP, and his association with guitarist Ida Presti is essential and noteworthy.
In 1950, Lagoya met the well-established Presti, his musical heroine, in Paris. Their mutual passion for music and their undeniable chemistry as musicians led them to form a guitar duo and subsequently marry in 1952. They went on to play thousands of concerts together.
In 1967, Presti became ill before a concert in Rochester, New York, and soon died of a massive internal hemorrhage due to a tumor. Lagoya was devastated. Nearly two years passed before he could begin to work at playing solo, but he couldn't imagine performing without Presti, his musical and life partner. It took another five years until he had the confidence to go out on his own.
I have Lagoya/Presti recordings that are sublimely beautiful and essential listening, but while Lagoya plays alone on The Spanish Guitar, it lacks nothing. It's a stunning display of beauty, technical prowess and humanity.
The opening track, "Guajira," was composed by Emilio Pujol and is worth the price of admission. It's basically a I-to-V exploration with eventful and charming key changes. The playful performance, along with a mysterious bridge, keeps us at the edge of our seats.
All the performances on The Spanish Guitar are exciting, and the freedom one feels from Lagoya's playing is captivating. The compositions by Torroba, Albéniz, Tárrega and Rodrigo are also played with an understanding and a mature looseness, sounding at times off the cuff and improvised. Lagoya takes perfect liberties with tempo, technique and dynamics, making each performance personal and intimate, yet he never shows off the four aces he holds via his technical prowess. That would just be a distraction. Lagoya serves the music, and we benefit from his maturity and generosity.
The Spanish Guitar is an album that I can turn over and over and listen to for days. I never tire of its music and always feel rejuvenated by the grandeur and soul of the performances.
Alexandre Lagoya shows us the boundless potential of guitar. I urge you to check out this performance of "Guajira." You'll be glad you did.
All the latest guitar news, interviews, lessons, reviews, deals and more, direct to your inbox!
Jim Campilongo has 14 critically acclaimed instrumental records available on vinyl, CD and digital download here.