"Sweet Child o' Mine" Spotify Plays Total Over 11,000 Years
The Guns N' Roses smash clocks up mind boggling spin time as it sails past the billion mark.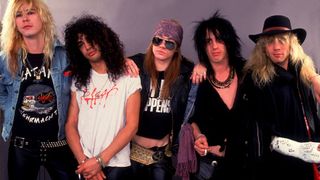 (Image credit: Paul Natkin/Getty Images)
One million is an awesome number of plays by any standard, but one billion plays? That can be hard to get your head around. To put it into perspective: one million seconds equates to about eleven and a half days, whereas one billion seconds adds up to more than 31 years. Big difference. By the same logic, the amount of time people have spent listening to Guns N' Roses' "Sweet Child o' Mine" on Spotify so far totals well over 11,000 years!
Appearing on Guns N' Roses' record-breaking 1987 debut album Appetite for Destruction, the "Sweet Child o' Mine" single was originally released in June 1988. Bolstered by heavy rotation on MTV, it became a number one hit and helped introduce the band to a far wider audience than the underground hard rock scene of the late '80s.
Although the genesis of "Sweet Child o' Mine" is attributed to Slash's unforgettable opening riff, it was far from his favorite track and its inclusion on Appetite was chiefly at Axl Rose's suggestion.
Speaking on the origins of "Sweet Child o' Mine," Slash told attendees at a private masterclass hosted by Guitar Center in 2010: "Where the riff came from, I don't really remember, but I started playing this pattern. I mean it was one of those things I was in the process of discovering as I came up with each note and sort of turned it into something that kept rotating.
"Along the way, Izzy [Stradlin] started playing the chords that went along with it – behind it. And I guess Axl had overheard us playing it (he was upstairs) and unbeknownst to us he had started writing lyrics. A couple of days later we were at rehearsal doing sort of preproduction or whatever and Axl goes, "Play that song you guys were playing the other day."
"I always complain about ["Sweet Child o' Mine"] because it was so up-tempo, ballad-y kind of thing – really rubbed me the wrong way. Even though I made up the riff, I didn't know it was going to turn into… And so, I came in with the chord changes for the actual solo part which, for me, was the only redeeming part of the song."
While the original full-length 5:55 version of "Sweet Child o' Mine" is being streamed on Spotify, the track was significantly edited down for MTV, much to the chagrin of Axl Rose who told Rolling Stone in a 1989 interview, "I hate the edit of "Sweet Child O' Mine" … My favorite part of the song is Slash's slow solo; it's the heaviest part for me."
On the subject of GN'R singles... Last Friday, the band put out their first release since 2008's Chinese Democracy album in the form of the "ABSUЯD" single. Making its live debut last week, "ABSUЯD" sees Guns N' Roses returning to form as they hit the road once again on a worldwide tour.
Get Appetite for Destruction here.
All the latest guitar news, interviews, lessons, reviews, deals and more, direct to your inbox!
Rod Brakes is a music journalist with an expertise in guitars. Having spent many years at the coalface as a guitar dealer and tech, Rod's more recent work as a writer covering artists, industry pros and gear includes contributions for leading publications and websites such as Guitarist, Total Guitar, Guitar World, Guitar Player and MusicRadar in addition to specialist music books, blogs and social media. He is also a lifelong musician.