A Look Back at Slash's Les Paul Standard Copy
For a time, one of the most recognizable Les Paul users in the world wasn't actually playing a Gibson.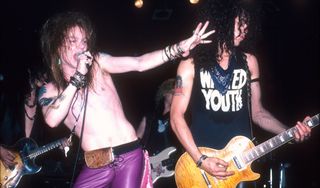 (Image credit: Jeffrey Mayer/WireImage/Getty Images)
With the release of Guns N' Roses' Appetite for Destruction in 1987, the band's guitarist, Slash, emerged as one of the most influential guitarists of the 1980s and '90s, with a style – and a guitar – that harkened back to the classic blues-based rockers of the 1960s.
Ironically, this vintage-looking Les Paul – the one Slash used on Appetite for Destruction – is not a Gibson.
It is a replica made by Kris Derrig of MusicWorks, a guitar store located in Redondo Beach, California. The top, like those of the most sought-after original Les Pauls, features highly figured book-matched maple, but with no cherry tint around the edges of the top.
The serial number is ink-stamped in the style of a 1959 Gibson, but the neck profile is actually that of a '58. The special sound of this guitar comes from a pair of Seymour Duncan Alnico II humbuckers with black-and-white "zebra" coils and some vintage electronics that the maker had in his shop.
Despite the fact that Slash's favorite Les Paul was a replica, his influence on sales of real Gibson Les Pauls was so great that Gibson welcomed him as an endorser and in 2010 intro­duced a replica of this replica as the Slash Appetite for Destruction Les Paul.
All the latest guitar news, interviews, lessons, reviews, deals and more, direct to your inbox!
Rich is the co-author of the best-selling Nöthin' But a Good Time: The Uncensored History of the '80s Hard Rock Explosion. He is also a recording and performing musician, and a former editor of Guitar World magazine and executive editor of Guitar Aficionado magazine. He has authored several additional books, among them Kurt Cobain: Montage of Heck, the companion to the documentary of the same name.