Slash: This is What Guitarists Miss When Trying to Emulate Eddie Van Halen
By Jackson Maxwell published
As the Guns N' Roses axeman points out, there's much more to EVH's playing than "finger tapping and the harmonics and the tremolo bar stuff."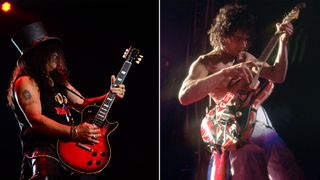 (Image credit: Eduardo Valentine/AFP/Getty Images, Ross Marino/Getty Images)
When GP rounded up more than a dozen electric guitar heroes and asked them to share their thoughts on Eddie Van Halen in the days following his death in October 2020, one thing stood out.
There was far more, almost all of the guitarists pointed out, to Eddie's playing than just his technical brilliance. It's a sentiment that top-hatted Guns N' Roses guitarist Slash echoed as well, in a recent interview with producer Dave Cobb on Apple Music's Southern Accents Radio.
"When I first heard… the Van Halen debut record, it really fucked me. That was a heavy fucking record," Slash said, when asked about Van Halen's influence.
"That was the moment that the '70s just changed… And as a guitar player, I was just a kid, I was just picking up the guitar at that time. I hadn't even started at that moment. I started like the following year, but when I started getting into guitar playing, everybody was trying to emulate Eddie."
While doing so, Slash argues, many guitarists missed – in their pursuit of technical perfection – much of what made Eddie's playing so special.
"They were all sort of focusing on the obvious techniques and the fucking finger tapping and the harmonics and the tremolo bar stuff and all these really fucking great techniques that Eddie had," says Slash.
"But the way that he did it was such a part of his personality and it was such a part of his melodic sensibility that it had this really sort of musical fluidity that nobody after that really ever came close to, playing that style of guitar playing, and so I always loved Eddie."
For his part, Slash is currently prepping the release of 4, his upcoming album with Myles Kennedy & the Conspirators. Set for a February 11 release, it was prefaced by the hard-rockin' single, "The River Is Rising," and recorded live with Cobb in Nashville's legendary RCA Studio A.
The follow up to 2018's Living the Dream, 4 will be released on Gibson's newly-founded record label, and can be preordered here.
Get the latest news, reviews and product advice straight to your inbox.
Thank you for signing up to The Pick. You will receive a verification email shortly.
There was a problem. Please refresh the page and try again.