Santa Cruz, California Police Seize $225,000 Worth of Stolen Guitars
The Gretsch, Rickenbacker, Gibson, Fender, and Hofner models were stolen last year as part of a $2 million heist in Southern California.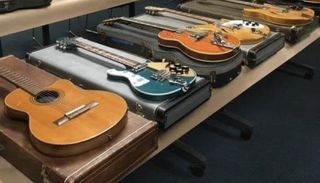 (Image credit: Santa Cruz Police Department/Associated Press)
Police in Santa Cruz, California have recovered $225,000 worth of stolen guitars, the San Francisco Chronicle reports.
Nine guitars – '57 and '58 Gretsch Country Club models, a '60 Gretsch Chet Atkins model, a pair of 12-string Rickenbackers, a '59 Rickenbacker Capri, a Gibson Chet Atkins Classical Electric, a limited-edition vintage Strat, and a Hofner 500 bass – were seized by the Santa Cruz Police Department in three different locations in the city, after a tip from the Los Angeles Police Department.
The guitars were stolen in Los Angeles as part of the $2 million heist of a Marina Del Rey storage unit in July 2020. Though several arrests were made for that robbery in August 2020, no arrests were made during the seizures in Santa Cruz, as police have yet to establish a firm link between the Santa Cruz residents in possession of the instruments and the earlier heist.
Some of the instruments were set to be sold from Santa Cruz through reverb.com.
Image 1 of 2
Image 2 of 2
Santa Cruz police are asking anyone with further information about the case to contact detective Trevor Kendall at 831-420-5963 or leave information on a Crime Tip Line at 831-420-5995.
Get the latest news, reviews and product advice straight to your inbox.
Thank you for signing up to The Pick. You will receive a verification email shortly.
There was a problem. Please refresh the page and try again.