Sammy Hagar Says He Has Written a Song Using a Lick Eddie Van Halen Showed Him in a Dream
In the dream, Eddie played Hagar a lick that he turned into a song as soon as he woke up, and he now plans on releasing it, giving his late bandmate a songwriting credit.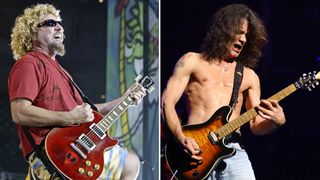 (Image credit: George Frey/Getty Images; SGranitz/WireImage)
Throughout history, artists have taken inspiration from dreams. Temporarily unmoored to reality, their subconscious minds arrive at creative epiphanies that hitherto lay out of reach, like when Paul McCartney sprung out of bed in 1965 and had the melody to "Yesterday."
Or when Keith Richards woke up on a Florida hotel with the one of the greatest riffs of all time in his head, "(I Can't Get No) Satisfaction." Clearly, 1965 was a big year for subconscious authorship.
Maybe the music history of 2022 will read similarly. If so, Sammy Hagar might have something to do with it, having recently revealed that he had the most vivid dream about Eddie Van Halen, during which he and his late bandmate wrote a song together.
Speaking to Ultimate Classic Rock, the Red Rocker said Eddie when appeared to him in the dream it was like a reunion of old friends.
"It was not like he was passed, but he had just been out of my life and we hadn't seen each other for a while," Hagar explained. "He's going, 'Man, let's write some music!' I said, 'Yeah, fuck it, man. Here, let's go!'"
According to Hagar, it was just like being back on the Summer Tour 2004, when Hagar had returned to the band for a blockbuster run of dates and the double-disc greatest hits, The Best of Both Worlds, with the Eddie of the dream playing a lick that was much like one he played for Hagar back in the day.
"He had a guitar and he played me this thing," said Hagar. "he did this harmonic thing and he slid it up to a chord, like a slide guitar. We wrote a song with that lick."
When Hagar woke up, he finished the song, called it "Thank You." Admitting that the only people who had told about the dream were his bandmates in the Circle, Jason Bonham, former Van Halen bassist Michael Anthony, and guitarist Vic Johnson, Hagar says we will all get to hear what this music sounded like, because he has every intention of releasing the track.
Indeed, Eddie Van Halen is going to get a cowriting credit, and the track could be released for charity.
Sammy Hagar and the Circle release their sophomore album, Crazy Times, on September 30, sharing the title track at the beginning of the month, and the up-tempo rocker "Pump It Up" last week. Crazy Times is available to pre-order via UMe.
All the latest guitar news, interviews, lessons, reviews, deals and more, direct to your inbox!