Robby Krieger: "To Me, a Strat is a Lot Better and More Playable Than a Tele"
Though he's known as an SG man, the Doors guitarist has some thoughts to offer on Fender's two most famous models.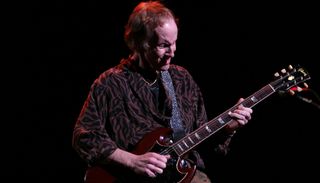 (Image credit: Chris Polk/FilmMagic/Getty Images)
Robby Krieger, the guitarist responsible for so much of The Doors' distinctly eclectic musical identity, is almost synonymous with Gibson, particularly the SG.
Though he used a Melody Maker during the earliest days of the Doors, Krieger would come to favor the SG, and to this day remains one of the instrument's most loyal, and prominent, ambassadors.
That doesn't mean, however, that Krieger is neutral when it comes to the guitar universe's other giant, and its two most famous offerings.
When asked by Guitarist if there were any design features that he saw as instant turn-offs when auditioning a new guitar, Krieger said "All I know is how it sounds and how it plays. And I can tell right away if a guitar plays good or not, and if it sounds good. It sometimes takes me a while to get used to a guitar. Sometimes, after a month of playing, it's not as good as I thought it was."
He then added, "I just don't see why people like Telecasters so much. It's not my style. To me, a Strat is a lot better and more playable than a Tele."
Kreiger did go on to say, however, that Fender's amplifiers were much more to his taste. "I like the [Fender] Blues DeVille with the 4x10s. I really like those," Krieger said. "I seem to get what I need out of them. I really like the old '59 Twin, but they're hard to find. I've been looking for one and Joe Bonamassa said he's got a bunch of them.
"He said he'd sell me one, but every time I call him, he's on tour [laughs]."
Get the latest news, reviews and product advice straight to your inbox.
Thank you for signing up to The Pick. You will receive a verification email shortly.
There was a problem. Please refresh the page and try again.