"Wow… Bob Ezrin Just Told Me I Don't Know How to Play Rock Guitar": Nita Strauss Recalls How the Straight-Talking Producer Inspired the Hard Work Needed to Earn a Gig With Alice Cooper
"I need to figure out what he means – a 'rock guitar player,'" said the reigning queen of shred metal (before taking her first guitar lesson!)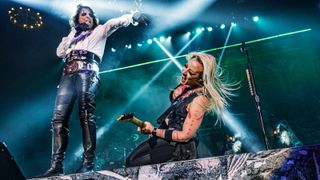 (Image credit: Getty Images)
Nita Strauss's second solo album, The Call of the Void (Sumerian Records), is a relentless – and relentlessly thrilling – collection of scorching metal that showcases her lethal virtuosic abilities as both a guitarist and songwriter.
Whereas her first record, 2018's Controlled Chaos, was an all-instrumental affair that proved she could whip up an old-school neo-classical storm, the new album is a more future-forward set aimed at mainstream rock and metal audiences.
More than half of the record features vocals from a variety of aggro guests – among them, Disturbed's David Draiman, Halestorm's Lzzy Hale, Dorothy Martin (from the band Dorothy) and In Flames' Anders Fridén.
Even Strauss's longtime employer, shock-rocker Alice Cooper, turns up and delivers the goods on the righteous arena-rock anthem "Winner Takes All."
And in this revealing interview extract from Guitar Player's October 2023 issue the cover star explains how she managed to transition from shredder to rock guitarist just in time to join Alice Cooper's live band.
How does a shredder come at something like that?
It was kind of an education process. When I got the confirmation that I was going to be on the Alice Cooper tour, I wound up taking my first actual guitar lesson.
Why exactly?
To learn, basically. I talked to [longtime Alice Cooper producer] Bob Ezrin, who was a big part of my audition process, and he said, "Alice Cooper doesn't need a shred guitar player. He needs a rock guitar player. Can you become a rock guitar player in time?" I said, "Absolutely. I know I can do it."
This was two weeks before the start of the Alice Cooper-Mötley Crüe tour. When I hung up the phone, I was in a daze. I remember looking at my phone and thinking, Wow… Bob Ezrin just told me I don't know how to play rock guitar.
That'll wreck your confidence.
Yeah. I was like, "I need to figure out what he means – a 'rock guitar player.'" I called around and found a great teacher. I came in and showed him my audition videos. I said, "What the fuck does he mean?"
My teacher was the first person to really teach me how to incorporate blues licks into my playing, like adding the blues note into the minor pentatonic scale – these little licks and things. AC/DC riffs, Kiss riffs and licks. Ace Frehley's stuff worked seamlessly with my style of playing, but they added that extra nuance that made it feel a bit more like a classic-rock vibe.
Read the rest of this compelling interview in the October 2023 issue of Guitar Player where Nita Strauss riffs on stress, solos and the importance of heeding Yngwie.
All the latest guitar news, interviews, lessons, reviews, deals and more, direct to your inbox!
Joe is a freelance journalist who has, over the past few decades, interviewed hundreds of guitarists for Guitar World, Guitar Player, MusicRadar and Classic Rock. He is also a former editor of Guitar World, contributing writer for Guitar Aficionado and VP of A&R for Island Records. He's an enthusiastic guitarist, but he's nowhere near the likes of the people he interviews. Surprisingly, his skills are more suited to the drums. If you need a drummer for your Beatles tribute band, look him up.