Mooer Audio Announces New GE300 LITE Multi-Effects Pedal
A "lite" version of the company's GE300, this pedal features 108 digital amp models, 43 cab sims and IR loading.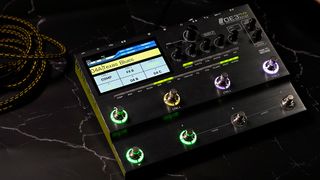 (Image credit: Mooer Audio)
Mooer Audio has debuted its new GE300 LITE multi-effects pedal.
A pared-down version of the company's flagship multi-effects unit, the GE300, this pedal features 108 digital amp models based on the company's non-linear amp modeling technology, 43 factory cab sims and a fully-featured IR loader.
These features are controlled by a triple-mode eight footswitch setup with assignable LED colors and functions, 13 effects blocks and 255 preset banks.
The pedal's Tone Capture feature has three modes: Amp Mode - which allows users to sample and capture their amplifier - Guitar Mode - which enables users to capture the EQ characteristics of their instrument - and Cab Mode - which provides users with an all-in-one tool to sample speaker cabinets and create their own IR files.
Elsewhere, the pedal features a programmable stereo effects loop, a 30-second looper station, external device switching and direct USB audio.
The Mooer Audio GE300 LITE multi-effects pedal is available now for $549.
For more info on the pedal, stop by mooeraudio.com.
Get the latest news, reviews and product advice straight to your inbox.
Thank you for signing up to GuitarPlayer. You will receive a verification email shortly.
There was a problem. Please refresh the page and try again.