Kiesel Unveils New Leia Guitar
This headless single-cut is fully customizable, and is available in six- and seven-string iterations.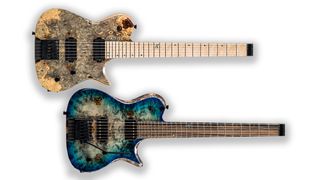 (Image credit: Kiesel Guitars)
Kiesel has unveiled its new Leia guitar.
What's unique about this new headless single-cut is that every element - from the body wood to the fingerboard material to the pickups - is completely customizable. The guitar can also be fitted with a trem or fixed bridge.
The Leia - which combines elements of the company's Vader, SCB and Zeus models - is available in a seven-string iteration, with a 25.5-inch scale, and a six-string iteration, with a 24.75-inch scale length. 
The price and release date of the Kiesel Leia guitar have yet to be revealed as of press time.
For more information on the guitar, stop by kieselguitars.com.
Get the latest news, reviews and product advice straight to your inbox.
Thank you for signing up to GuitarPlayer. You will receive a verification email shortly.
There was a problem. Please refresh the page and try again.