Jimmy Page Explains Why He Switched to a Les Paul for 'Led Zeppelin II'
Though Page loved the Tele he used on Zep's groundbreaking debut, his needs – both onstage and in the studio – began to rapidly change after that album's tremendous success.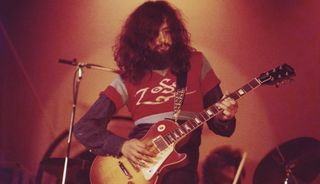 (Image credit: Michael Putland/Getty Images)
Led Zeppelin electric guitar legend Jimmy Page recently took to Instagram to tell the story of why the legendary 1959 Gibson Les Paul he bought from Joe Walsh became his number one guitar during his time with the groundbreaking band.
Page is synonymous with the Les Paul nowadays, but for almost all of Led Zeppelin's debut album, Led Zeppelin I, he used a Telecaster. Though he loved the Tele, Page explained, Led Zeppelin's needs – onstage and in the studio – began to rapidly change after the tremendous success of their debut album.
"Joe's an old friend and our connection goes back to some of the American dates from my Yardbirds days," Page wrote. "He was in the James Gang, based in Cleveland, and he'd come and see us whenever we were in town. He is a really nice man and I enjoyed his company.
"Back then, Joe brought a Les Paul Standard along to a Fillmore East gig on the first leg of the American tour and said, 'You've got to have this guitar.' I said, 'Well, I don't need it, Joe, I've got a Les Paul Custom.'"
Page, however, also knew that, as Led Zeppelin's popularity grew, the band would be headlining increasingly large venues, and foresaw how that might present problems for his Telecaster.
"I knew that Les Paul guitars were very user-friendly, insomuch as they put out a lot of level when you plugged them into the amplifier because they had a double-coil pickup, whereas the Telecaster had a single-coil pickup," he explained. "With the sort of volume that I now needed to put out in live situations, although I was using controlled feedback, I found that the Telecaster was starting to squeal a bit.
"I had to be very careful about where I was standing because of the unsympathetic feedback."
"With the Les Paul you'd get feedback through the amp and speakers, but you could control it more easily and work with it. You could actually change the literal note and frequency that was coming back on the feedback. I just really enjoyed playing Joe's guitar, and so I agreed with him that maybe I should buy his Les Paul Standard after all."
Aside from the easiness with which Page could control feedback with the Les Paul, it also didn't hurt that the guitar sounded particularly good on some of the band's then-new material...
"I played the Les Paul on 'Whole Lotta Love' and 'What Is and What Should Never Be' and that decided it for me," Page said, "it was definitely going to be the Les Paul from then on. I always wanted to make a change for each album sonically and that was my first decision for Led Zeppelin II."
"Like I had built Led Zeppelin I around the Fender Telecaster, I built the second album around the sonic texture of the Les Paul Standard," Page concluded. "Neither Joe Walsh nor I realized at the time just what an important thing he had done by coming along with that Les Paul."
Walsh, for his part, has also told the story of how Page came to own his '59 Les Paul a number of times, though the James Gang and Eagles guitar hero maintains that Page approached him, rather than the other way around.
"Jimmy and I became friends," Walsh recently told Cory Wong on the latter's Wong Notes podcast. "Jimmy said to me, 'Look, The Yardbirds are great, and I played on so many records…' He played on so many sessions. If you look up what he played on, you'll be amazed. But he said, 'This Telecaster ain't cutting it for Led Zeppelin. And I don't know what to do.'
"Now, Les Pauls virtually didn't exist in England at the time," Walsh went on. "They didn't hit popularity yet, and they were pretty easy to find because they hadn't been discovered – and they didn't cost very much.
"After the fact, when that became the guitar for rock 'n' roll, the rest is history. But he said, 'I got to get a double-coil situation and I've looked for Les Paul, there aren't any in England. Do you know any way you could help me get one? Because Led Zeppelin ain't making it with a Telecaster.'"
Though their accounts differ in a couple of areas, the gist of the story – that Page felt he needed the Les Paul for bigger stages – is the same in both.
Jimmy Page also adorns the cover of Guitar Player's brand-new March issue, which features a comprehensive interview with the guitar titan about Led Zeppelin's 1973 masterpiece, Houses of the Holy.
You can pick up a copy of the issue on newsstands now, or (starting February 7) at magazinesdirect.com.
All the latest guitar news, interviews, lessons, reviews, deals and more, direct to your inbox!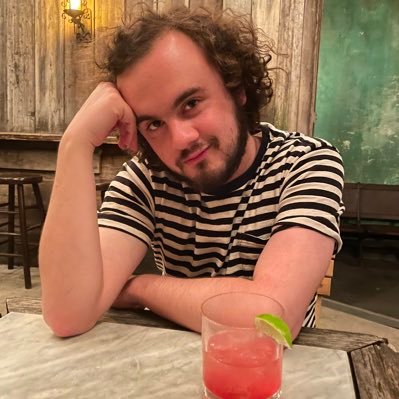 Associate Editor, GuitarWorld.com and GuitarPlayer.com
Jackson is an Associate Editor at GuitarWorld.com and GuitarPlayer.com. He's been writing and editing stories about new gear, technique and guitar-driven music both old and new since 2014, and has also written extensively on the same topics for Guitar Player. Elsewhere, his album reviews and essays have appeared in Louder and Unrecorded. Though open to music of all kinds, his greatest love has always been indie, and everything that falls under its massive umbrella. To that end, you can find him on Twitter crowing about whatever great new guitar band you need to drop everything to hear right now.