Jason Becker is Home from the Hospital After Treatment for a Bacterial Infection
The maestro had been hospitalized last week after experiencing persistent shortness of breath and a rapid heart rate.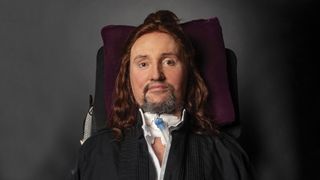 (Image credit: Paul Haggard)
Jason Becker is home from the hospital after receiving treatment for a bacterial infection, his family has confirmed.
On Sunday, April 11, Becker's father, Gary, wrote "Hi everyone! Here's an update from Gary Becker: Jason is at home, sitting on his back deck with his cats! Thanks to everyone for their continued love and support!" on Becker's Facebook page.
Becker had been hospitalized late last week after suffering from persistent shortness of breath and a rapid heart rate.
News of his return home follows a Saturday, April 10 update from his family stating that the guitar great was starting to recover from the infection, and that "he should be going home tomorrow."
"Our family is so thankful for your thoughts and prayers," the post continued. "Thank you to everyone who is ordering from our family eBay store. It's a great way to support Jason."
Becker has battled ALS (also known as Lou Gehrig's Disease) for 30 years, after being diagnosed with the disease in his early twenties. Over time, he lost the ability to play guitar, walk, talk, and breathe on his own.
In recent weeks, a Twitch fundraiser, a one-off auction of some of Becker's most prized guitars, and a special store on internet gear retailer Reverb.com have all been launched to help Becker pay for his significant medical costs. Marty Friedman, Steve Vai, Joe Satriani, John Petrucci, Kiko Loureiro, Nita Strauss, Orianthi, Guthrie Govan, and Tosin Abasi are just a few of the big names who have participated in the fundraising efforts.
Get the latest news, reviews and product advice straight to your inbox.
Thank you for signing up to GuitarPlayer. You will receive a verification email shortly.
There was a problem. Please refresh the page and try again.