Ibanez Unveils New Booster and Phaser Mini Pedals
Ibanez's mini pedal collection has expanded with two affordable new offerings.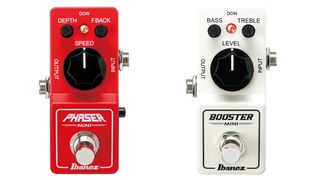 (Image credit: Ibanez Guitars)
Ibanez has expanded its mini pedal collection with the announcement of its new Booster Mini and Phaser Mini pedals.
Built in Japan, and outfitted with your usual Bass, Treble, and Level controls, the Booster Mini features up to 24dB of boost. The pedal also contains a JRC MUSES 8820 op amp, which Ibanez says will help users retain clarity in their tone, even when they're pushing amps way into overdrive.
The pedal's range spans from solid mid boosts to a wide range boost – which Ibanez says will "broaden" your tone, with more volume and presence – that can be dialed in with Bass and Treble turned all the way up.
The Japanese-built Phaser Mini, meanwhile, sports Depth, Feedback, and Speed knobs, while its switchable stages – accessible by a small side-mounted button – offer four-stage and more intense six-stage sounds.
The Ibanez Booster Mini and Phaser Mini pedals will be available later this year for $99 and $119, respectively. Each pedal runs on 9V power supplies, and features true bypass switching.
For more info on the pedals, stop by ibanez.com.
Get the latest news, reviews and product advice straight to your inbox.
Thank you for signing up to GuitarPlayer. You will receive a verification email shortly.
There was a problem. Please refresh the page and try again.