"I Always Think of 'Bitch' as the Resurrection Song": Meredith Brooks Prepares to be Honored at Today's She Rocks Awards
We catch up with the GP cover star as she celebrates the 25th anniversary of her iconic smash at this year's event.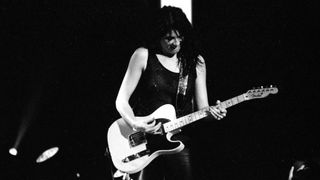 (Image credit: Bill Tompkins/Getty Images)
Meredith Brooks and the She Rocks Awards both have cause to celebrate this year.
While the Grammy-nominated artist's timeless anthem "Bitch" reaches its 25-year milestone, 2022 also marks the event's 10th anniversary.
The She Rocks Awards serves to honor those trailblazing women of the music industry – from artists, engineers and educators to media, manufacturers and label execs – who have made a real impact.
Previous honorees include the likes of guitar players Nancy Wilson, Lzzy Hale, Lita Ford, Orianthi, Nita Strauss, Jennifer Batten and Malina Moye.
This time around, the She Rocks Awards will be honoring three outstanding guitarists, namely Carmen Vandenberg, Yvette Young and Meredith Brooks.
Guitar Player caught up with Brooks ahead of today's event in Anaheim, California…
It's been 25 years since the release of "Bitch." The She Rocks Awards calls it an "empowering anthem for women around the world." Do you agree?
I keep reminding people there was more than just that one song. [laughs] It's funny, I always think of "Bitch" as the resurrection song.
People think of it as an anthemic song, but this was back in the day when albums were stories. The whole album – Blurring the Edges – is full of stories and snippets.
Are those stories based on your own life?
I never told people that it was my life because I wanted them to relate to it in their own way.
Did you have an inkling that Blurring the Edges might go multi-Platinum?
Back in the '90s, I thought if it sold even 100,000 copies I'd be happy. So I was pretty shocked when the "Bitch" single took off the way it did.
"Wash My Hands" was going to be the first single and video. (In fact, I just found that unreleased video!) Next it was "I Need," but then "Bitch" happened. It was like nothing else had a chance.
How did you perceive the reaction among fans?
"Bitch" took on a life of its own. It felt more powerful every day. And I grew more and more into it.
There were moments on stage where I would see the reaction from people and just feel the power of the lyrics and what I was saying.
I was hoping people would feel the same thing that Shelly [Peiken] and I were feeling when we wrote it. My manager said, "Why don't you write about that stuff you're always talking about?" But I wondered who would want to hear about my subpersonalities?
Writing with the right person in that particular moment was what made it all come together.
How do you feel when you hear other musicians covering "Bitch?"
There's a charge when other people are singing it. When I heard Ruby Amanfu doing her version that appears on the Little Fires Everywhere soundtrack I literally cried.
I was entranced. It wasn't like I was listening to a song I wrote – I was just listening to her singing a song that moved me.
The fact that so many people have been able to make "Bitch" their own attests to its strength as a song…
I have encouraged it. I've told people, "Take this and make it your own." I would love for more people to take it and make it their own. There was even talk of Missy Elliott doing a version, which would be amazing!
Right now, my favorite new artist singing it is eight years old. She plays guitar and sings. I'm blown away by this little girl because she's really meaning it when she sings.
It sounds like people are reacting the same way 25 years later…
Recently, I was watching a reviewer who was in her teens and her conclusion was that the song was "empowering."
25 years on and it was like nothing had changed! I got goosebumps! At that point I decided it was time to celebrate its 25th anniversary.
I feel more like a guiding mother to this song than the owner. At some point it crosses over, and you have to do it justice.
You have to show up for the things you've created. Particularly when people feel that strongly about something. I'm very humbled.
Do you think the music industry has changed in recent years?
I've thought about this a lot. My mom was a first wave feminist (I owe everything to her) and I'm a second wave feminist. I think third wave guitar players have no idea what it used to be like. I mean, I just didn't see a 'me' anywhere!
Because we didn't have MTV, we didn't really have anything visible. Sure, we had magazines, but rarely did you see a band like the Runaways or the Go-Go's.
I was up in the northwest, so we had Heart. You could read the song credits, but you couldn't literally look at Nancy Wilson as a guitar player until you actually saw her.
To what extent was gender a significant factor for you as a guitarist early on?
I didn't think of it as male or female; I just played guitar. And that was that. Eric Clapton was my idol. My sister told me to play lead guitar. She started turning me on to stuff like "Layla" and I was hooked. After that, I was off and running.
But as time went by, I started to notice there weren't any 'me' guitarists around. It was hard. Eventually there was enough of us to reach a tipping point and then: boom!
I think there was finally enough of us that it just shifted everything, and suddenly labels started taking on more female artists.
Do you think the music industry has changed with respect to female guitarists?
There are struggles, but not like there used to be. We're in a much better place than we ever were. The struggle could be in someone's mind where they doubt themselves.
I remember when I was younger, my mom said to me, "Don't worry, honey. One day you'll get to an age where you'll mellow out." I was like, "No! That's not going to happen, mom! Don't say that!" But I know what she meant: you'll just do what you do.
I think that was so instilled in me. She saw me as an artist. She never stopped me from graduating early, going on the road, and doing my thing.
But there was no guidance for me back then. I remember one of the labels I was talking to writing to me and saying, "Sorry, we already have a Patti Smith."
That's where I came from.
Would you say the live music scene is a good indicator of change?
I can remember when I went out with Melissa [Etheridge, in the early 00s] it was still one of the first female tours. It was right after Lilith Fair.
I know some people think it's still not that common these days, but I can name four or five festivals right now that are all women. It's awesome!
For more information on the She Rocks Awards click here.
All the latest guitar news, interviews, lessons, reviews, deals and more, direct to your inbox!
Rod Brakes is a music journalist with an expertise in guitars. Having spent many years at the coalface as a guitar dealer and tech, Rod's more recent work as a writer covering artists, industry pros and gear includes contributions for leading publications and websites such as Guitarist, Total Guitar, Guitar World, Guitar Player and MusicRadar in addition to specialist music books, blogs and social media. He is also a lifelong musician.