GP Presents John Scofield This Thursday, April 14, in San Francisco – Win Tickets!
'Guitar Player' welcomes the jazz guru to the City by the Bay for an Easter Weekend run of shows at SFJAZZ starting with a solo guitar performance on Thursday.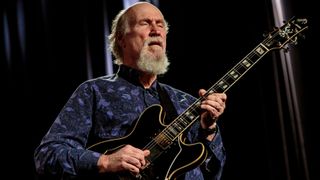 (Image credit: Sergione Infuso/Corbis via Getty Images))
John Scofield has seemingly done it all, but the jazz guitar master who has worked with everyone from Miles Davis to John Medeski has never released a studio album of strictly solo guitar songs until now.
Guitar Player is proud to help Scofield unveil material from his six-string soliloquy, both online and in person.
Scofield will perform songs from his new self-titled album scheduled to drop May 6 via ECM records when he takes the SFJAZZ stage alone for the first night of a residency happening Easter Weekend.
Guitar Player Presents will be on site Thursday, April 14th, to welcome players and player lovers with free magazines and strings graciously provided by Martin.
Scofield will then play another four shows over the course of the holiday weekend in duo and quartet configurations culminating with a pair of performances on Easter Sunday.
Read GP's story heralding the new album including informative quotes from Scofield and accompanied by the lead single "Honest I Do" here.
Guitar Player Presents and SFJAZZ have teamed up to promote some unforgettable Scofield performances in the past including double bill of deep fusion grooves with Lettuce just before the pandemic hit, and another put on by SFJAZZ on location at the magnificent Grace Cathedral back in 2011.
That Sacred Space concert was one of the most unforgettable solo guitar performances this editor has ever witnessed.
With a brand-new solo guitar album about to drop, Scofield is surely poised to take us to another heavenly place when he graces Miner Auditorium at the state-of-the-art SFJAZZ Center, right in the heart of San Francisco on Thursday.
Get tickets now here.
WIN TICKETS!
For a chance to win a pair of tickets to see GP Presents John Scofield, send an email to gp@jimmyleslie.com with "Sco" in the subject and simply include a sentence about yourself and why you want to go.
Phone contact greatly appreciated for confirmation.
Winner must provide his or her own transportation to the SFJAZZ Center in San Francisco, California on Thursday, April 14, and have his or her own accommodations in the Bay Area.
COVID info here.
Best of luck!
EVENT DETAILS
GP Presents John Scofield
Thursday, April 14 @7:30pm
SFJAZZ Center Miner Auditorium
201 Franklin Street at Fell Street
SF, CA 94102
San Francisco, CA
Free GP magazines, Martin strings
Buy Tickets for all the Scofield shows happening over Easter Weekend at SFJAZZ here.
All the latest guitar news, interviews, lessons, reviews, deals and more, direct to your inbox!
Jimmy Leslie has been Frets editor since 2016. See many Guitar Player- and Frets-related videos on his YouTube channel, and learn about his acoustic/electric rock group at spirithustler.com.