Gibson's Cesar Gueikian Teases Signature Noel Gallagher Epiphone Riviera
With a signature Gibson ES-335 Custom due by the end of the month, is there another signature model in the works for the High Flying Birds and former Oasis guitarist?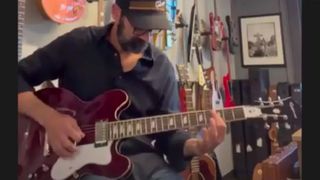 (Image credit: Cesar Gueikian / Instagram)
Gibson has confirmed an August 30 launch date for its much-anticipated Noel Gallagher ES-355 Custom, the latest signature guitar collaboration between the brand and the High Flying Birds frontman and former Oasis guitarist.
The announcement, via Instagram, arrived just over a year after the launch of Gallagher's limited edition Gibson J-150 acoustic.
But the speculative among you might also have reason to believe that there is another Gallagher signature model in the works – an Epiphone Riviera, the likes of which Gallagher most famously played when Oasis appeared on David Letterman in 1995.
The principal source – as ever with breaking Gibson brand news stories – is Gibson brand president Cesar Gueikian's Instagram account, where he likes to throw in a cheeky reveal every now and again to get folks excited about a new guitar.
In recent weeks, we have seen him tease a double-cutaway electric guitar model, the first evidence that there might be Murphy Lab acoustic guitars in the works, and opine out loud that Gibson might relaunch the Moderne after Metallica's Kirk Hammett was photographed playing an "experimental prototype" onstage at BottleRock Napa Valley this summer.
Sure, Gueikian jamming on an Epiphone Riviera could just be a coincidence, but when Gibson post a picture of Noel Gallagher in the studio with his new ES-355, in the background you can see his signature J-150 on the left, an Epiphone Riviera on the right, with Gibson director of brand experience Mark Agnesi giving the game away, commenting, "That 355 is rad, but tell me more about that Epiphone on the far right."
All will be revealed soon enough, and we certainly would not bet against Gibson making it a twofer on August 30 – officially launching the ES-355 Custom with a Gallagher signature Riviera as a chaser.
Need more convincing? Take a closer look at the picture at the top of the page. That Riviera is equipped with standard-size humbuckers, just like – that's right – Mr Gallagher's.
All the latest guitar news, interviews, lessons, reviews, deals and more, direct to your inbox!