EVH Updates Its Fashionably '80s 5150 Series with the Limited Edition Deluxe Ash Model
The EVH 5150 Series gets an all-natural, ash-bodied makeover that pairs Eddie Van Halen-style mods with a clean, playful look that calls to mind Jason Becker's "Numbers" guitar.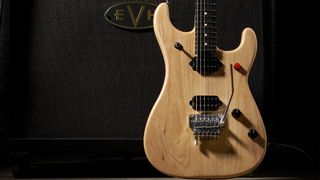 (Image credit: EVH Gear)
EVH Gear has launched the limited edition 5150 Deluxe Ash, a built-for-speed electric guitar that takes its design cues from Eddie Van Halen and the hard rock culture of the '80s, and – perhaps intentionally, perhaps not – calls to mind the "Numbers" guitar prototype that Peavey built for shred icon Jason Becker.
Maybe it's the natural wood finish and the red of the kill switch that gives gives the Becker-esque kids toy look, but it's certainly a vibe that is sure to find favor among the shred community. That, after all, is whom EVH Gear is catering for when it designs an instrument such as this.
Like the others in the series, the 5150 Deluxe Ash is very much built in the spirit of Eddie Van Halen's DIY mod ethos – his aftermarket unorthodoxy is all over this guitar, from the cosmetic touches, such as the amp control knobs for volume and tone and the hockey stick headstock, to the modified Strat body and a maple neck whose Modified C profile measures a super-svelte 20mm at the third fret, tapering ever so gently to just under 21" at the 12".
Image 1 of 2
If the standard Fender 25.5" scale length offers a measure of traditionalism when it comes to dimensions, the ebony fingerboard's shred-friendly 12" to 16" compound radius once more turns the dial towards the radical.
Speaking of which, besides having a kill switch mounted on the lower treble cutaway, which when depressed stops your signal flat, offering potential for staccato noise fun, there is also a D-Tuna fitted to the double-locking Floyd Rose vibrato. Thus the Deluxe Ash's EVH-branded hardware accommodates wild harmonic divebomber and a set-list that requires you to throw your guitar into drop D tuning on the fly. Very handy.
That handsome swamp ash body houses a pair of direct-mount EVH Wolfgang Alnico 2 humbuckers at the neck and bridge positions, explicitly voiced for replicating Eddie Van Halen's tone. Expect the harmonics to just pop out there once you send your guitar amp into the aerobic zone.
Under the hood, EVH has wired this up with a 500K EVH Bourns low-friction pot for the volume, so "Cathedral"-esque swells are go, while the tone control has a 250K high-friction pot so it stays where it should.
That might satisfy the urge some players might have for removing the tone control completely. Of course, removing it would be the sort of thing Eddie Van Halen would approve – he proved anyone can do pretty much anything to the guitar just so long as it works better for them.
Image 1 of 2
Other practical features include a heel-mounted truss rod adjustment wheel and over-sized strap buttons, and a neck that is quartersawn and reinforced with graphite.
Finally, the fingerboard's cream dot inlays finish things off nicely on a guitar holding the crazy '80s fever for modding Stratocasters in equilibrium with the idea that, yes, you can class up a shred machine – even if the hockey stick headstock looks even more like a hockey stick when fashioned from plain maple.
The Limited Edition 5150 Deluxe Ash is available now, priced $1,599. See EVH Gear for more details.
All the latest guitar news, interviews, lessons, reviews, deals and more, direct to your inbox!