David Lee Roth Says that Frankenstein's Stripes Were "My Work," Experts Disagree
Eddie Van Halen expert and longtime Guitar World contributor Chris Gill details the factual shortcomings of the Van Halen frontman's recent claims.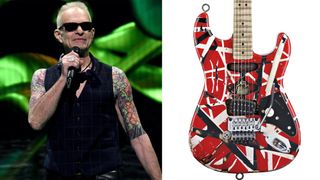 (Image credit: Kevin Mazur/MTV VMAs 2021/Getty Images for MTV/ViacomCBS, )
Always one of rock's most quotable frontmen, David Lee Roth has raised some eyebrows with a story he told in a recently released video on his YouTube channel.
Roth made the video in response to fans who felt that the stripes in one of his newly-premiered paintings, "Big Wave," bore a striking resemblance to those found on the legendary "Frankenstein" guitar wielded by his one-time bandmate, electric guitar hero Eddie Van Halen.
Roth begins the video – titled "Separated At Birth?" – by saying "We've been getting a lot of cards and letters – digitally, so to speak – in regards to that there's similarities between my work and the stripes on Eddie's guitar, and that's because it's my work."
Over the next six-and-a-half minutes or so, Roth proceeds to detail how, in "'75, '76," he convinced the soon-to-be guitar hero to visually spice up his white Stratocaster, due to the association of white Strats with Jimi Hendrix at the time.
Armed with three rolls of tape – one of grey duct tape, one of black electrician's tape, and one of blue art tape – Roth says he sat Eddie down and "laid out" the none-more-iconic striped design.
Roth even says that the red reflectors affixed to the guitar's back were items he bought from a San Bernardino, California truck stop, and brought to Eddie with the exclamation, "cherry on top!"
In essence, Roth says, "I invented coffee, they invented a cup."
Chris Gill, a longtime Guitar World contributor and co-author – along with Brad Tolinski – of the recently-released Eruption: Conversations with Eddie Van Halen biography, is one of the world's foremost experts on the guitar gear Eddie Van Halen used during his illustrious career.
According to Gill, under scrutiny, Roth's story doesn't add up.
"Three key factual errors in Roth's statement prove that his story is a complete revisionist fabrication," Gill said in a statement shared with Guitar Player.
First, Gill pointed out, "Accurately dated photographic evidence shows that Eddie Van Halen's Frankenstein guitar did not appear until February 1977, first with an unfinished body, then with an all-black finish (first photographed in late May 1977, but possibly earlier), then with the famous black and white striped finish in July 1977.
"Eddie did not have the Frankenstein in '75 or '76 as Roth stated, although he did use a 1961 Stratocaster in '76, which he painted white in early 1977 (specifically January).
"The white '61 Strat was taken apart very soon afterwards with its neck, serial number plate, and vibrato tailpiece/bridge showing up in February 1977 on the unfinished Frankenstein body, so the '61 Strat with the white finish existed for less than a month."
Second, Gill says, "the 'white Stratocaster' that Roth mentions was not the foundation of the Frankenstein. It is very well documented that Ed created the black and white finish by placing strips of masking tape on the black finished Frankenstein body, then spraying coats of white paint on the exposed portions and subsequently removing the tape, leaving behind black stripes. Roth gets this essential detail completely wrong."
Finally, Gill says, "the 'blue tape' that Roth referred to (3M blue painters tape) was not invented until 1988. Roth was already out of Van Halen for three years by that time.
"Because it didn't even exist yet, there is no way way Eddie could have used 3M blue tape, neither in the summer of 1977 when he first painted the black and white stripe motif nor in March of 1979 when he added the red coats of paint to the Frankenstein finish. In fact, Ed used torn strips of gaffer tape when applying the red coat – a piece of that gaffer tape still remains on the guitar."
Roth does mention at one point that he hasn't "looked at the guitar in years, and I haven't done research.
"This isn't a science lesson," Roth said, "this is just my memory."
For all of the significant claims he makes based on said memory though, Roth does acknowledge – toward the end of "Separated At Birth?" – that "That design wouldn't have gone anywhere without Eddie sending it, and giving it the shape and shine that it [had.]"
All the latest guitar news, interviews, lessons, reviews, deals and more, direct to your inbox!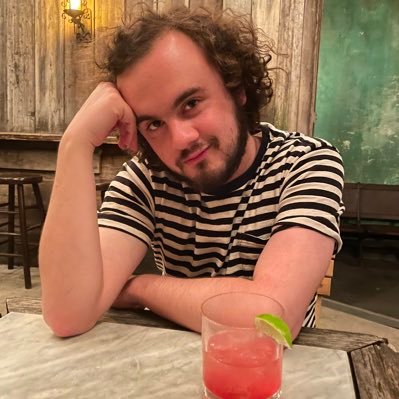 Associate Editor, GuitarWorld.com and GuitarPlayer.com
Jackson is an Associate Editor at GuitarWorld.com and GuitarPlayer.com. He's been writing and editing stories about new gear, technique and guitar-driven music both old and new since 2014, and has also written extensively on the same topics for Guitar Player. Elsewhere, his album reviews and essays have appeared in Louder and Unrecorded. Though open to music of all kinds, his greatest love has always been indie, and everything that falls under its massive umbrella. To that end, you can find him on Twitter crowing about whatever great new guitar band you need to drop everything to hear right now.