Cooper FX Unveils New Arcades Multi-Effects Pedal
Like a video game system, this fascinating pedal allows users to create a massive array of sounds via small cartridges.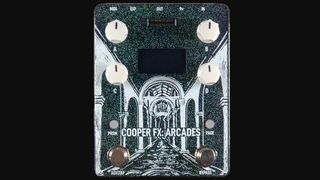 (Image credit: Cooper FX)
Cooper FX has unveiled its new Arcades multi-effects pedal.
Unlike your Line 6s, Headrushes or Eventides of the world, the Arcades pedal gets its multitude of effects from cartridges that users can swap out at their will for different sounds, just like you would swap out games in a video game console.
Four cartridges - delay, reverb, pitch and lo-fi - are available. Each of these contain eight effects, which can be manipulated by a control set featuring one screen and four knobs.
Once users insert a card, a dedicated button page allowing users to toggle between the two main pages on the screen appears. One of these pages accesses general controls like wet/dry mix and tone, while the other allows users to adjust parameters related to the cards - such as reverb/decay and pitch intervals.
The pedal's footswitch and expression pedal pages can also tackle additional parameter shifts, while another page is devoted to storing and loading presets on each card, quantization and MIDI information.
Cooper FX is currently limiting customers to two cartridges each, due to coronavirus-related supply chain shortages. The Delay/Reverb combo is available now for $329, while The Lo-Fi/Pitch combo is currently sold out.
For more info on the pedal, and an in-depth breakdown of each cartridge, stop by cooperfx.com.
Get the latest news, reviews and product advice straight to your inbox.
Thank you for signing up to TO_UPDATE_FROM_FLEXI_UI. You will receive a verification email shortly.
There was a problem. Please refresh the page and try again.