Catalinbread Debuts New Epoch Boost Preamp, Buffer
This preamp is modeled after that found on the Maestro Echoplex EP-3.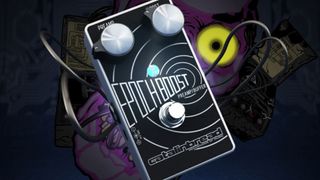 (Image credit: Catalinbread)
Catalinbread has debuted its new Epoch Boost preamp/buffer pedal.
Modeled after the preamp found on the beloved Maestro Echoplex EP-3 - even using the same circuitry - the Epoch Boost is designed to be used as a "mastering pedal," taking guitarists' base tones and outputting more constructed, complex sounds.
For those who wish to use the Epoch Boost as a stompbox only, the pedal features a switchable hi-Z input buffer. The pedal draws 2mA of power at 9V, and is upped to 22V internally to capture the original EP-3's headroom.
When cranked up, the pedal's boost control offers 20dB of boost. When rolled off, users can simply enjoy the tone offered by the original EP-3.
The Catalinbread Epoch Boost preamp/buffer pedal can be preordered now for $149, and will be fully available on September 23.
For more info on the pedal, stop by catalinbread.com.
Get the latest news, reviews and product advice straight to your inbox.
Thank you for signing up to GuitarPlayer. You will receive a verification email shortly.
There was a problem. Please refresh the page and try again.