By June 1971, Fleetwood Mac Had Lost Two Guitarists. Watch Them Debut the New Guy on German TV...
Peter Green cracked up. Jeremy Spencer joined a cult. But for a little while it looked like Bob Welch might actually do just fine.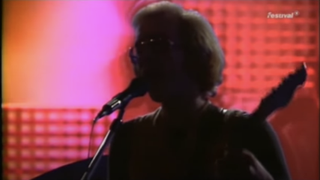 (Image credit: YouTube)
Fleetwood Mac were having a rough year. Founder member, frontman and guitarist Peter Green left the band in the spring of 1970, after a breakdown precipitated by an LSD binge in March.
Guitarists Danny Kirwan and Jeremy Spencer stepped up to fill his shoes and Christine Perfect (soon to be Christine McVie), a solo artist and keyboard player, joined permanently after the release of fourth album Kiln House.
They started work on new material, recording Dragonfly, a new single written by Danny Kirwan. But by the time it came out in March 1971, Jeremy Spencer had left. He'd gone out "to buy a magazine" (we like to think it was probably Guitar Player – see below) and never returned, having joined religious group, Children Of God.
To top it off, after a run of six top 40 singles in the UK that marked one of the greatest runs in rock music – Black Magic Woman, Need Your Love So Bad, Albatross (a UK number 1), Man Of The World, Oh Well and The Green Manalishi – Dragonfly didn't even dent the charts.
Guitar Player February, 1971
If the magazine that Jeremy Spencer popped out to buy in February 1971 was Guitar Player, we think he would've liked it. Spencer was a huge fan of early rock'n'roll and that issue of GP featured an interview with the original rock guitar hero and songwriter extraordinaire, Chuck Berry.
"A lyric is poetry with a melody," said Chuck inside, "a message with a melody. And phrasing is all mathematics. If it's eight beats to two bars, then you can sing 18 syllables. It's always best to sing 15, though, so you can grab a breath now and then. In fact – you won't believe it – but my biggest influence was my mathematics teacher. Music is so much mathematics that it's pathetic."
Lesser bands would have given up, but not the Mac. Guitarist Bob Welch joined in April '71 and the band entered a different era. According to Christine McVie, Welch's arrival in the band really marked the beginning of the classic Fleetwood Mac sound.
"He had a West Coast, Wes Montgomery jazz sound that had a really great feel to it, and I just started harmonising with him," McVie told Mojo magazine. "In the past no one did harmonies. I remember saying to Danny Kirwan, 'Harmonies?' And he'd be, 'Ooh no no! I don't want harmonies!' So it was only really with Bob that we started to develop a three-part harmony vibe.
"Mick was very supportive, and it worked. Bob had this honey voice, and so did I. We sounded great together and worked well in the studio, me at the piano and him on guitar. Mick would make sure Bob stayed within the boundaries of a commercial song, because, given the chance, Bob could just take off into space."
And for a while he did. Just a couple of months after joining, Welch was fronting the band on German TV's Beat Club. Watch him and Danny Kirwan blaze on Welch's own Lay It Down (later recorded for the Future Games album) and Kirwan's trippy Albatross-like Dragonfly.
All the latest guitar news, interviews, lessons, reviews, deals and more, direct to your inbox!
Tom Poak has written for the Hull Daily Mail, Esquire, The Big Issue, Total Guitar, Classic Rock, Metal Hammer and more. In a writing career that has spanned decades, he has interviewed Brian May, Brian Cant, and cadged a light off Brian Molko. He has stood on a glacier with Thunder, in a forest by a fjord with Ozzy and Slash, and on the roof of the Houses of Parliament with Thin Lizzy's Scott Gorham (until some nice men with guns came and told them to get down). He has drank with Shane MacGowan, mortally offended Lightning Seed Ian Broudie and been asked if he was homeless by Echo & The Bunnymen's Ian McCulloch.