Brian May Names His Best Solo: "It Was Quite a Step into the Unknown"
May also revealed his favorite guitar solo of all time: "the hottest burning high-passion piece I've ever heard in my life."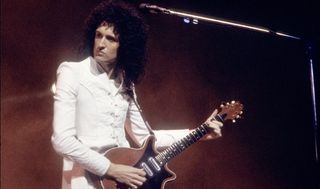 (Image credit: Richard E. Aaron/Redferns/Getty Images)
Though Brian May's soaring, breathtakingly melodic solo on Queen's "Bohemian Rhapsody" was recently named by Total Guitar readers as the greatest guitar solo of all time (besting even "Eruption"), May himself, as it turns out, doesn't quite consider it to be his best lead guitar work. 
In a new interview with Total Guitar – about, ironically, his "Bohemian Rhapsody" solo – May was asked if there are any solos of his that he considers a particular favorite. 
The one May holds in the highest regard? His solo on Queen's 1974 hit, "Killer Queen."
"'Killer Queen' has always been a favorite of mine," May said. "And again, that was always in my head. It was something a bit more complex, an adventure in putting guitar harmonies into the solo. 
"It was quite a step into the unknown, that solo, and it has a melody that I put in there which doesn't appear anywhere else in the song, so in a sense they're quite comparable, that and 'Bohemian Rhapsody.'"
Elsewhere in the interview, May also happily expounded on his all-time favorite guitar solo in general.
"It's Clapton, 'Key To Love,' from the John Mayall's Blues Breakers [1966's Blues Breakers with Eric Clapton] album," May said. "It's the hottest burning high-passion piece I've ever heard in my life – still to this day. I just love it. It totally rips, and I'll never get over that. That's one of my great inspirations.
"He burned in that solo," May continued. "The whole track revolves around that solo. Every time I put it on, I'm just waiting. John Mayall's great, but you're waiting for that moment when Eric rips out and suddenly he's whacking into those top notes. It's incredible. Absolutely spine-chilling."
Get the latest news, reviews and product advice straight to your inbox.
Thank you for signing up to The Pick. You will receive a verification email shortly.
There was a problem. Please refresh the page and try again.